Spooky Swag for Halloween Giveaways
Halloween is a fun holiday that brings special opportunities for your company to delight employees, connect with the community and promote itself. You can celebrate this time of the year by providing Halloween giveaway items that are especially spooky. Gifting Halloween promotional items brings awareness to your brand through cost-effective marketing that gets employees ready for the spooky holiday. Keep reading to get some ideas for fun, tasteful promotional Halloween items that fit the atmosphere of the season.
10 Bewitching Promotional Items to Celebrate Halloween
Since your company can celebrate Halloween in a range of ways, the variety of related promotional products is expansive, but items in the colors black and orange and recognizable shapes like pumpkins are favorites. Receiving promotional items during a popular holiday helps build brand affinity, instill loyalty, build partnerships and increase retention rates. Below are 10 ideas for Halloween promotional items:
1. Pumpkin Tote Bags
Give your employees tote bags with a Jack o' Lantern pattern just for Halloween. These bags are useful for storing candy, and they will continue to serve a purpose long after the holiday is over. Employees can use them while they're out and about, helping draw attention to your brand and encouraging a sense of pride as they showcase a special item made just for them. Pumpkin tote bags are:
Practical: Tote bags are always useful for home organization. A Halloween-themed bag is the perfect storage tool for labeling seasonal decor that will need to come out the next year.
Compact: Tote bags are stackable, making them convenient to store, so you can keep a large order in supply.
2. Candy and Cookie Gift sets
Candy is a simple giveaway item that has long been associated with Halloween. Providing gift sets of candies and other sweets for this holiday is a special way to show your appreciation to your employees. Many people have a sweet tooth, so it's an excellent gift to brighten your employees' day and let them know that you're thinking of them. Gift sets of sweets that would fit the spirit of Halloween can be:
Luxurious: Gift sets are luxury items that will show your recipients how much effort you put into your promotional gifts for their enjoyment of Halloween. When employees feel appreciated, they're more likely to stay loyal to the brand, helping improve retention rates.
Festive: Trick or treat is the slogan of Halloween. These sweet gift sets are fitting for a holiday where candy is offered as a free gift.
3. Promotional Flashlights
A flashlight is a helpful item to have for the many outdoor activities that your coworkers will likely participate in during spooky season. Promotional flashlights with special features come in many size options, and several have additional capabilities for a wider range of use. You can order anything from lanterns with Bluetooth® speakers to flashlights with screwdrivers. Promotional flashlights are a good choice for your next Halloween marketing campaign because they are:
Safety-oriented: If your industry is concerned with safety, this item makes a thoughtful gift and can even help out on the job. Additionally, your coworkers will probably spend time outdoors with their families enjoying the autumn festivities, and flashlights are a practical gift for the occasion. Your employees will make fond memories with a flashlight that has your brand attached, building a sense of loyalty and appreciation for your business.
Personalizable: Custom flashlights come in a variety of styles, and each type has several features to make it a unique item. Your company can select the type of flashlight that would fit its message and goals the best. Customizing a flashlight shows your employees that you care about them as individuals rather than considering them part of a number. Showing genuine care and compassion for employees helps increase retention and productivity rates.
4. Halloween Stress Balls
For a simple gift that would appeal to most people, give your employees or customers promotional stress balls shaped like pumpkins or another style of stress balls in the shape of skulls. Themed stress balls are fun for everyone and are:
Spooky: These items are themed for the season. They are fitting for any Halloween or fall event.
Affordable: Stress balls can be of a high quality while still being affordable and easy to stock.
Stress balls also show your employees that you care about their mental well-being and want to help them decompress in the office. Investing in the little things that show that you care about your employees can go a long way.
5. Folding Wagons
Halloween is the perfect time of the year to experience the childhood joy of going on a wagon ride. A folding wagon is a good promotional gift for families with children that offers these qualities:
Valuable: Folding wagons are an affordable version of a valuable product, but they are designed to be just as sturdy as non-collapsable wagons.
Useful: If you're hosting a shopping event or anything similar, your recipients can use the wagons to take home their purchases. These items are also useful for transporting certain pets.
Wagon rides are a great way for your employees to connect with one another and encourage strong relationships that will help in the workplace. These rides also show employees that you care about them having a good time outside of work, which helps build loyalty and increase retention.
6. Light-Up Shoelaces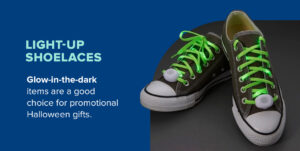 For something a little different, light-up shoelaces are another fun product for outdoor activities that can be given to adults or children. Glow-in-the-dark items are a good choice for promotional Halloween gifts because they are:
Fun: Light-up shoelaces in multiple colors are a fun gift, especially for kids. Your recipients can choose their favorite colors to wear while representing your brand.
Unique: Shoelaces can be used in many different ways. If your company is artistic and values creativity, this gift will bring personality to your Halloween event or marketing campaign that also has some utility for your employees.
7. Light-Up Logo Bracelets
Like glow-in-the-dark shoelaces, these light-up logo bracelets will make it easier for your recipients to see each other or keep track of their kids in the dark. Glow-in-the-dark bracelets are:
Fun: This is another bright and colorful item that children love and are also fun for adults.
Compact: The bracelets are small enough to store in bulk and can be given out to large groups of people.
These bracelets are an excellent way to showcase your brand while bringing your employees together during the holiday and building a bond with each other. They can make your employees feel more connected to your brand throughout their day, helping increase their sense of loyalty.
8. Pumpkin Drawstring Backpacks
A drawstring backpack with a seasonal theme is a useful item with many practical purposes. A pumpkin drawstring backpack offers the following advantages:
Practicality: A drawstring bag can store a variety of products or other promotional materials.
Festivity: The spooky jack-o'-lantern face on these bags make them a fitting gift for celebrating Halloween.
Your employees will appreciate the thoughtful gift that they can use during the holiday season and for the months after. They'll also promote your brand as they carry it around.
9. Pumpkin Shopping Bags
Reusable shopping bags are an eco-friendly item that your company can use to market its sustainability efforts. Pumpkin-themed shopping bags are a good choice for giveaways, as they are:
Stackable: Shopping bags are easy to store, so you can store them in bulk and give away multiples if needed.
Festive: These items are the ideal gifts to customers for spooky season. If you're hosting a shopping event around Halloween, shopping bags with a festive jack-o'-lantern pattern are the perfect giveaway items.
Shopping bags are a great way to encourage sustainability among your employees and show them that you care about the environment.
10. Individually-Wrapped Candies
If you want to award your customers or workers with candies for the holiday and would rather go the affordable route with your giveaway items, individually-wrapped lollipops are the perfect item because they are:
Affordable: These candies are one of the most affordable items on the list, making it easy for you to stock up for a large crowd or audience.
Small: If you are specifically looking for an item that is small or compact, lolipops are the perfect fit. You can hand them out to anyone or use them to stock a candy dish.
Enjoy a Spooktacular Halloween With ePromos Gifts and Giveaways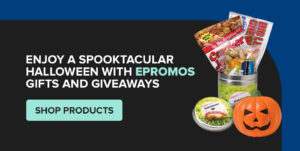 At ePromos, we have all of these promotional items and many others just in time for Halloween. We carry only exclusive, high-quality products for any occasion. Our promotional items are a great way to build brand awareness while improving employee retention. Browse our Halloween inventory for your company's fall plans today!