The Ultimate Guide to Promotional Apparel
Promotional apparel is a powerhouse gift item. 58% of U.S. consumers own a promotional t-shirt and 41% own baseball caps or other headwear – examples of just how popular and well-received apparel is as a giveaway. Another appeal is the many, many uses it has; it's functional, stylish, and a fantastic way to gain tremendous impressions. A promotional hat, for example, is estimated to earn over 3,000 impressions over its lifetime! In this guide we'll be discussing the various types of promotional apparel available, as well as answering the questions we hear the most.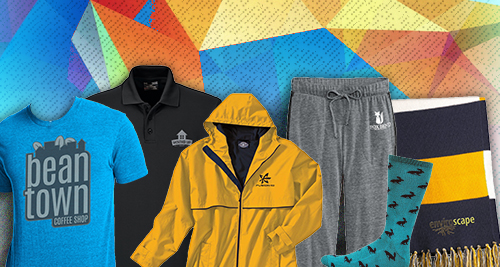 Types of Promotional Apparel
This section covers some of the most popular types of apparel used for promotional giveaways and/or uniforms. We also highlight a few of our favorites within each category.
• T-shirts
T-shirts are a tried and true promotional gift. Extremely versatile, they work great for men and women, no matter their age. Here are five of our favorites, including why they've made the list!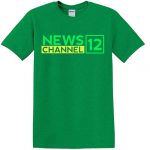 1. This classic, basic t-shirt is likely what pops into your mind straightaway when thinking of a promotional t-shirt. They're 100% cotton, preshrunk, and have a comfortable, loose fit. Perhaps even better, they come in at a great price (average price of about $5/each, depending on order quantity), which is helpful for mass giveaways. Bonus: these tees are durable enough (and affordable) to use for company uniforms.
2. This tee is buttery soft for ultimate comfort thanks to its tri-blend makeup (a lux blend of ring-spun cotton, rayon, and polyester), which also helps it maintain its shape and avoid shrinkage. They're also available in a more youthful cut (more fitting/less boxy) which is a great option for a youth organization or giveaway for a school-age crowd.
3. The ultimate t-shirt for sport buffs, this Under Armour® branded tee (which is fully customizable) makes an ideal gift for gyms, coaches, fitness groups, and sport teams. It wicks away sweat and moisture and has odor-fighting technology to keep you smelling fresh all-day long.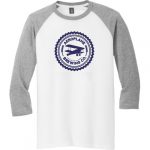 4. This throwback, vintage-style baseball tee offers a relaxed fit, three-quarter length sleeves, and is available in a range of colors – all heathered. It's a great option for any sports-related team, function, or theme.
5. Tie dye is back, and frankly, raging on the style meter. It is fun, laid-back, and totally on trend, making it a great choice for a promotional item. Offered in two color schemes, classic rainbow and a moody black/gray palette, these customizable tees are a winning choice for a brand that wants a hip, in-touch-with-today vibe, and to stand out – there's just something about tie dye that screams for attention.
• Polos
Looking for a more professional, preppy style of apparel for your next promotional giveaway? Look no further than the ever-loved, classic polo-style shirt. Just as comfy as a t-shirt, but thanks to the collar, has an upgraded, polished look. Some of our favorites for customizing include:
1. This top selling polo, designed by Nike®, is one of our favorite branded options. Sporty, well-designed, and elegant, this tee is engineered to keep you dry thanks to its unique moisture management technology.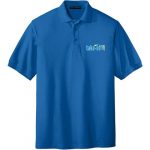 2. The devils' in the details, and the ones in this polo don't disappoint. The metal buttons, double-needle-stitched sleeves and bottom hem, and even side vents make this a stand-out. It's available in a wide range of colors, and ready for your branding to complete it. Competitively priced, this polo makes for a winning uniform top.
3. A nice polo that oozes executive quality, this Under Armour branded polo offers ultimate all-day comfort thanks to its four-way stretch fabrication, anti-odor technology, and integrated UV protection.
4. This polo offers style and ease, making it a great golf option. It's made with breathable fabric with "wash 'n wear" convenience – what more could you want? It's tone on tone gradient makes it a stand-out choice on the golf course, in the office, or anywhere else.
• Sweats
Workout gear is no longer just for the gym – not by a long stretch. Athleisure has been trending for years, with basics such as leggings, hoodies, and sweats, making up daily wear in the office, street, and okay, yeah, the gym. Looking to create a customized promotional apparel item that speaks to today's style – look no further than these top picks.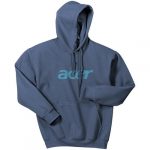 1. This classic hoodie is incredibly versatile, no wonder it's a Top Seller! It's available in nearly 30 different colors, ensuring a match for whatever colors may be in your own branding.
2. Another classic hoodie, this one comes from much loved brand Champion®, an on-trend label of the moment. This adds a youthful appeal, though it's also a hit for any age. Regardless of trends, it's super comfy – sure to become an instant favorite.
3. This basic sweatshirt ticks all the boxes when it comes to comfort and ultimate athleisure wear. It's available in a large variety of colors and at a fantastic price point (as low as $10 each depending on quantity ordered). Throw your branding on, and it instantly becomes a great company uniform piece.
4. A lightweight, zip-up style, this hoodie offers cool comfort, and easy layering. It has a wonderfully youthful, hip vibe, and makes a cool gift for employees, students, or customers.
5. These joggers are perfection. Comfortable, lightweight, loose-fitting-yet-fitted – what's not to love? The cuffed leg offers a polished finish. These joggers are great for everyday wear – just add your branding and they're ready to go!
• Outerwear
Outerwear is an extremely valuable promotional item. Functional, yet typically a more expensive item (especially compared to a t-shirt), employees and clients alike will appreciate the high-quality value of this gift. Here are some of our top picks for all your branded needs.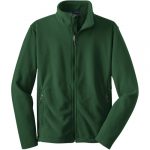 1. This classic fleece is incredibly soft and cozy. Fleeces tend to get a lot of mileage thanks to how versatile they can be – they work well in chilly weather but can easily stretch into colder temperatures thanks to layering.
2. This basic softshell jacket is the Swiss army knife of outwear – it's breathable, waterproof, easily layer-able, and has a microfleece lining for superior warmth and comfort. Its sleek design makes it a great corporate option; stylish and professional.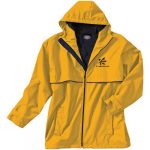 3. A classic rain jacket will always be well received, especially when given as a promotional gift to employees, clients, or customers. This durable, waterproof rain jacket comes in a handful of colors, and is the perfect option if you live in a rainy locale or require employees to be outside even in poor weather conditions.
4. This versatile puffer is a dream. Not only is it warm and stylish, but also convenient – it features a built-in sack to fold it up and stash it away when traveling. This puffer is a great gift for traveling employees, or on-the-go clients.

5. The powerhouse of winter outerwear, this Carhartt® Duck coat is a must-have for employees or clients who work outdoors. Incredibly durable, high-quality, and warm, this jacket makes for a generous promotional gift – and definitely lets employees know you value them.
• Footwear
Footwear is a unique promotional apparel item. For starters, it's much smaller size-wise than most other apparel items, making it easier to store, travel with, and also hand out. Sizing is less of an issue, too, since most are designed as One Size Fits Most. Promotional footwear is also memorable, as it's an item that isn't traditionally given out, such as a t-shirt or baseball cap. Here are some of our favorites.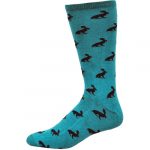 1. These dress trouser socks make for an amazing promotional gift, or as part of a company uniform. They come in a wide range of color options (over 30 choices!) and are practically begging for your unique logo to be splashed across them.
2. This performance sock is perfect for any sports-related brand. Your custom logo will be knit-in for a high-quality finish. They're available in a variety of colors and in youth, ladies, and men's sizing.
3. Need a classic knee high sock? Look no further! They're a fun option for schools and sports teams in particular, though they're not all fun and games – these socks really deliver. Moisture-wicking fabric keeps feet dry, and the upper part is mesh for breathability.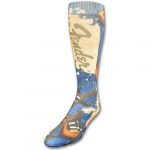 4. These tube socks are a complete stand out thanks to their full color – meaning you can have your logo/design/picture cover them from top to bottom. They are a great choice for schools or a fundraising event looking to infuse some fun and creativity into it.
5. This basic flip flop is everything you want in a flip flop. Comfortable, simple, available in a range of colors…and they're just waiting for you to blast your logo/branding onto them. They are a great choice for schools, summer-oriented companies, resorts, and even weddings.
• Accessories
Similar to footwear, accessories are also a notable apparel gift. They're small, serve a specific function, and perhaps best of all, sizing isn't really an issue, especially in the items we've highlighted below.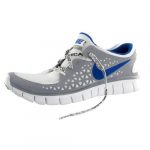 1. These full-color shoelaces are a scream! They're a fun way to infuse some spirit and branding without being too loud or in your face. They just the right giveaway at fundraisers, races, schools, and sporting events.
2. These classic winter scarves help keep the chill away while keeping your brand close. Your logo or design is embroidered onto them for a high-quality finish. They are great for schools, sports teams or other winter events.
3. These Sweaty Bands® headbands are a cult favorite for good reasons – they're high-quality, stay in place, and provide maximum comfort thanks to their velvet lining. Plus, full-color design is available. A great fit for fitness-type businesses, gyms, races, and other health and wellness brands.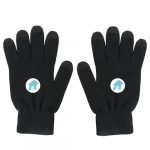 4. These touch screen winter gloves are the answer to cold, winter days combined with your smartphone – stay warm and retain nimble typing with them. They make a clever promotional gift for any tech-oriented crowd…or anyone with a smartphone, which is almost everyone…
Now that we've offered you a load of apparel offerings, a word on the beauty of custom logo apparel for company uniforms. Having a cohesive, comfortable, and stylish branded uniform for employees is a great way to promote company unity. It also is a smart way to represent your brand when employees are out in the world, whether they're traveling in the field, at conventions, or even on-site. And let's not forget, it's another form of advertising that doesn't require the expense of buying ad space!
While we love all types of promotional apparel, some items are better suited than others for company apparel and uniforms. T-shirts are a great option for jobs that require physical activity – they're lightweight, comfortable, and generally loose fitting – and allow for casual wear. Looking for a more polished finish? We suggest a polo-style shirt, which can be worn in the office without breaking a company dress code and represent a refined style when out and about. Of course, if you're located in a cold climate and require employees be outdoors, what could be better than broadcasting your company on a jacket, which will get much use (and attention).
Or perhaps you're looking for promotional apparel for gifting (to either employees, clients, or potential customers). What tips can we offer? For starters, if you'll be gifting to a larger crowd, consider a hat or an accessory, which is more universal and doesn't have sizing constraints the way a t-shirt or hoodie does. Apparel makes for a great incentive to get people involved with your business or brand. Gift them a hat for signing up for emails or as an add-on for ordering products. And of course, apparel makes a great gift for sports teams, whether you're providing the apparel for a youth team or their parents, who will wear it proudly (and likely often).
Ready to get some customized promotional apparel made up? Reach out today! Our knowledgeable reps are standing by to help you with any questions you might have, as well as walk you through the ordering process. Of course, you're welcome to order yourself through our simple, online system at ePromos.com. We look forward to hearing from you, and helping put your brand on the high-quality apparel that meets your needs, so recipients can start wearing it (and representing your company) asap!