Guide to Promotional Healthcare Products
With coronavirus once again sweeping the globe at a shocking pace, health care is on everyone's mind. We're all realizing the importance of having health care products on hand (especially as items such as hand sanitizer are sold out everywhere), and taking a step back to reevaluate our health and wellness—as a nation, as part of a global economy, and as an individual. While the painful impact of novel Covid-19 was impossible for most of us to gauge at its onset, each day it becomes clearer how serious it needs to be taken in order to preserve our health and economy—small and big businesses alike, we know you are suffering and we send our best wishes to your employees and you while you weather this storm.
We all anticipate the day when life can go back to normal. As you prep for future business meetings, trade shows, festivals, and the like, we offer a guide on choosing the perfect health care promotional items for your brand. These items serve a very real function and are sure to be appreciated and used by whoever receives them. Of course, you can also consider gifting them to customers and/or employees now, or choose to make a purchase solely for the purpose of donation. We are grateful to have access to essential healthcare products and to have continuous inventory replacement. Your custom logo/artwork serve as a reminder of your business each time they use the item.
In this guide, we explore the many different types of promotional health care products available at ePromos.
Types of Promotional Healthcare Products (and Their Uses)
Health care is a very broad topic, with a full range of products to consider. Are you looking to address the current pandemic or future flu season? Will hand sanitizer and antibacterial items fulfill that need? Are you going for more of a holistic health and wellness vibe? Keep reading for more categories, and suggested uses for each.
Hand Sanitizers and Antibacterial Items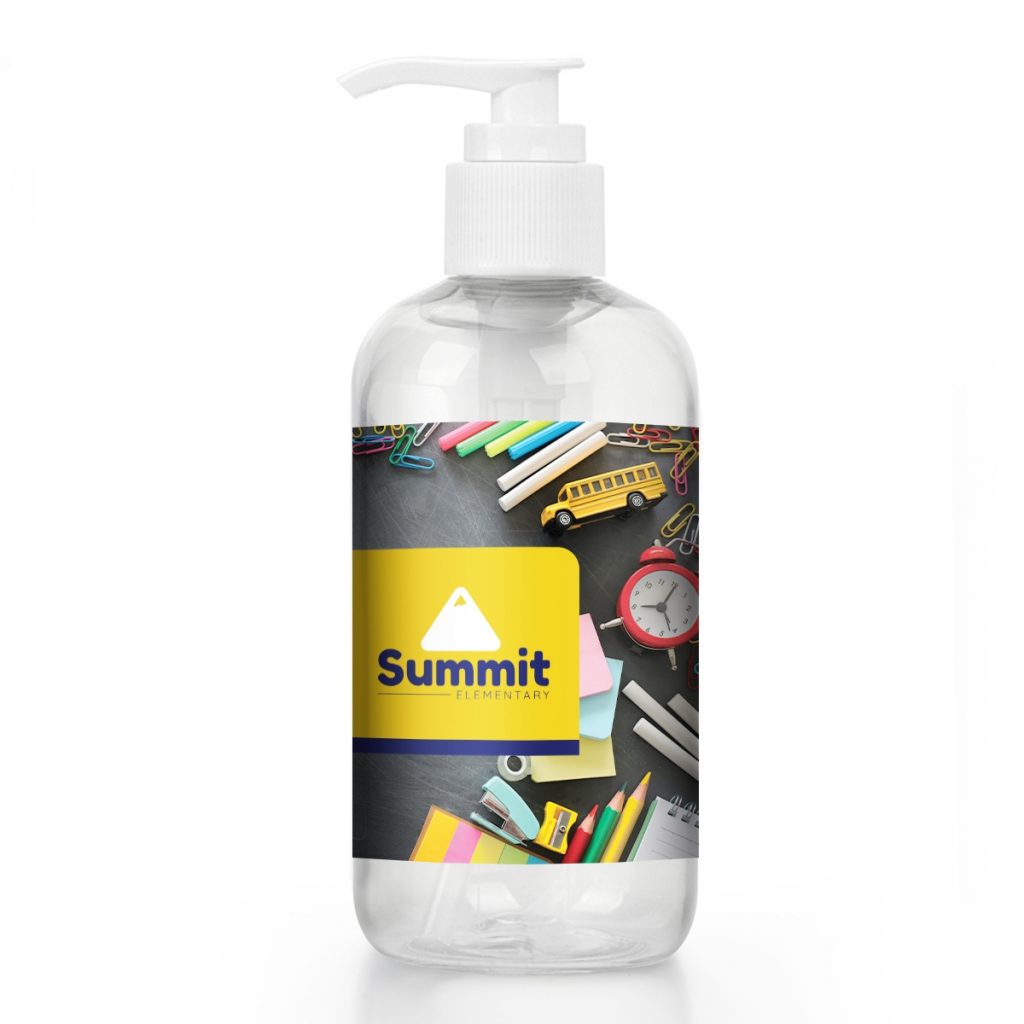 Want to gift something that will definitely be used? Hand sanitizers and antibacterial items are it. While these items have been an important safety product, especially during flu season, the pandemic spread of coronavirus has created a desperation for these products—not to mention a short supply. More than ever, people are realizing how important good hand hygiene is when out in public. Hand sanitizers and antibacterial items are a convenient way to keep your hands germ-free while out and about, something people will be paying attention to more than ever post-coronavirus. From a professional perspective, this includes daily commuters using public transportation, conference attendees, and those on business travel. We're loving this 15-pack of hand sanitizer wipes, exactly for this purpose. Make sure all hand sanitizers meet or exceed the minimum of Ethyl alcohol content recommended by the CDC before purchasing.
What Makes Hand Sanitizers and Antibacterial Items Unique
These items have been used widely for years, but as we see the effects of the coronavirus unfold, they are suddenly an essential item. While it's nearly impossible to get your hands on any in the retail space at the moment, it's likely most households will carry a small stock of them when the pandemic has eased. Gifting hand sanitizers and antibacterial items is a thoughtful way to show your customers and employees you care about their health and safety.
Hand sanitizer and antibacterial items are a smart promotional giveaway in particular at a conference or trade show. Crowds, a steady stream of handshaking, and close seating quarters are unfortunately a perfect environment for spreading germs. Help keep attendees healthy with these useful, anti-germ promotional products. 
Masks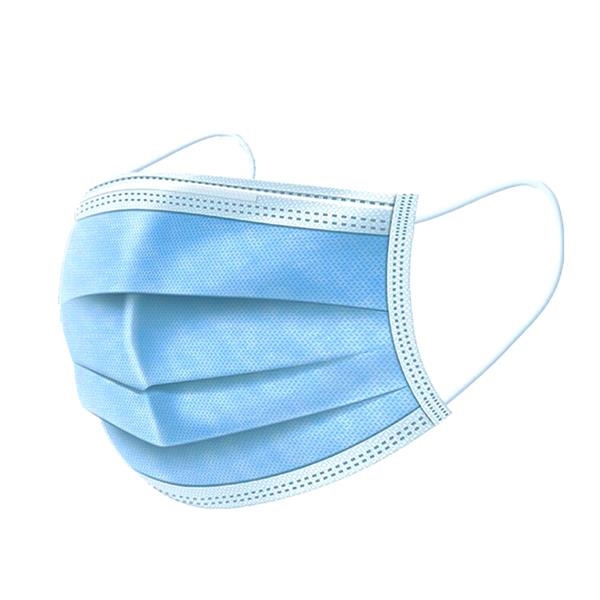 Primarily worn in the medical space, masks are used to filter out unwanted bacteria and dust. There are many different types of face masks recommended by the CDC to be used in response to the coronavirus. The more protective types, such as the 3-Ply mask shown here, are useful in many capacities. As mentioned earlier, we are grateful to have access to these masks and recommend you consider purchasing them for the purpose of donation to the frontline, or for your employees and clients to stay protected.
There are also many other types of "everyday" reusable masks which were created for the general public and come in a variety of colors and fabrics.
What Makes Masks Unique
Masks are universally useful and effective. Be sure to review the ASTM (American Society of Testing & Materials) Level, which indicate the barrier protection of each mask before you purchase, and ensure that, like ours, they meet all rules and regulations including FDA requirements. It is important to understand these rules so you don't end up with counterfeit goods.
Antimicrobial Products
One of the best ways to stay germ-free is with antimicrobial promotional products. These are items for daily use that protect you from high-traffic surfaces. The most common instance here are custom multi-tools that can go right on your key chain. They feature a stylus point that can be used from pressing buttons on payment pads, elevators, or anywhere else. Other great products include antimicrobial pens, mouse pads, and water bottles – items that get used on a daily basis and might not get washed very often.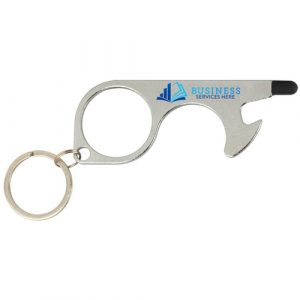 What Makes Antimicrobial Products Unique
Antimicrobial promotional products are unique in that the items themselves fight the spread of germs. Many items available feature an additive that keep germs off their surface and help stop them from spreading. Maintaining a germ-free environment in the workplace is an important part of keeping your employees healthy and feeling safe. 
First Aid Kits
Similar to hand sanitizers and antibacterial items, first aid kits are all about being prepared before an issue arises. Promotional first aid kits come in a wide variety of options, from compact kits stocked with the essentials, to niche outdoor survival kits, to deluxe automotive safety kits, and simple but useful bandage dispensers. They are also available at a range of price points to ensure you can find something to fit your budget, starting at less than 50 cents per item and going up from there.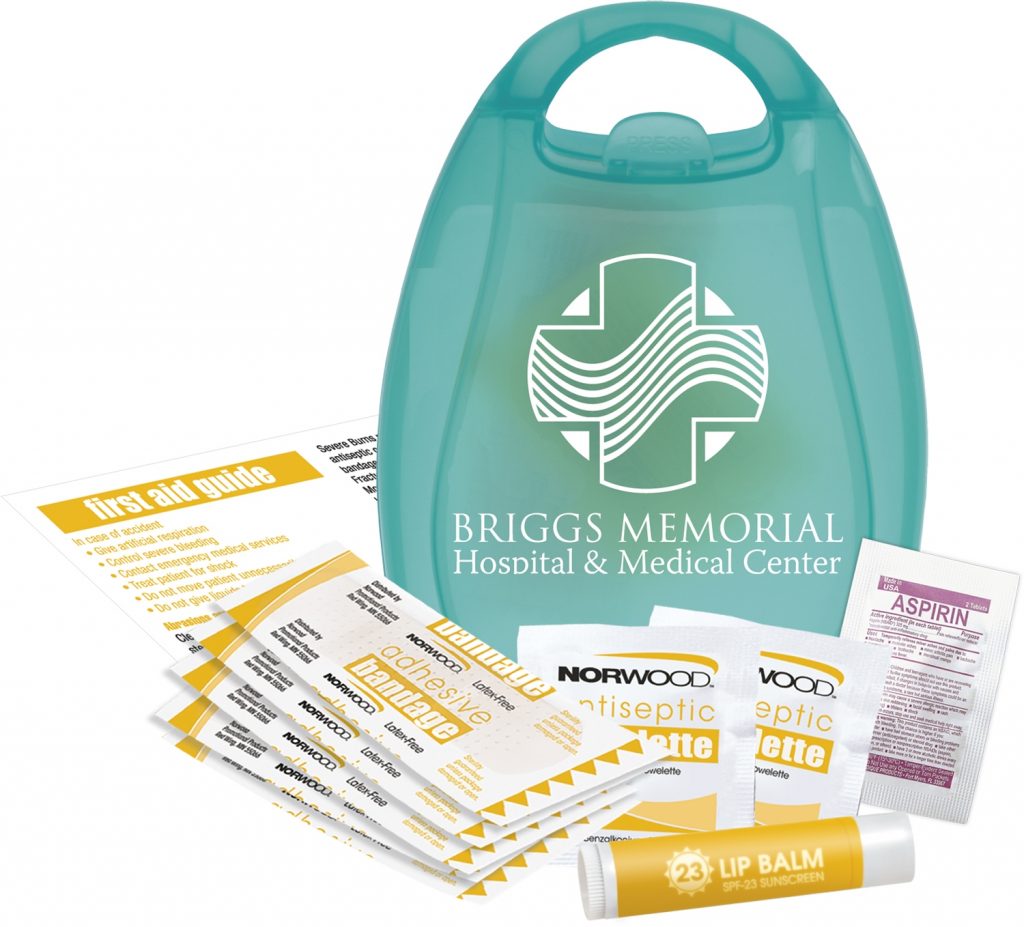 What Makes First Aid Kits Unique
First aid kits are wonderfully universal—they aren't restricted to any one industry or population. They're a great gift for employees to keep at their workstations; for parents with little ones prone to bumps and bruises; and for those on-the-go (this pretty much encompasses…everyone).
Consider gifting these at a health and wellness conference, a family-friendly event, or any event held in the beginning of summer—a time when people are more likely to be out and about having fun…and potentially earning some minor cuts and bruises along the way.
Stress Balls
A tried-and-true method to de-stressing (that actually helps), stress balls are a standard desk item in many offices and cubicles around America. There are a ton of different types available, from a classic ball, to a mop top with dual uses, to a puzzle-style stress ball—just to name a few. To go broader, there are stress balls with themes like sports, automotive, animals, and more.
What Makes Stress Balls Unique
Stress is unfortunately an all too common component of everyday life. In fact, more than 50% of American adults say they experience some form of stress during "much of their day". But, just because it's common doesn't make it any less dangerous to one's health—similar to weight gain, disease onset, and weakening of the immune system. Gifting stress balls is a lighthearted and thoughtful way to approach a difficult and serious issue for many people.
Stress balls are a great idea to gift at a wellness convention, to employees around the office, or even to students—it's never too early to begin teaching anti-stress tactics.
Pedometers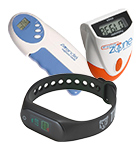 Being active is an important component of staying healthy. With the creation of walking shoes and fit bits, walking—specifically counting your steps—has become a popular way to infuse healthy activity into the everyday. It's great because it doesn't require heavy gym sessions or expensive studio classes; it's more about finding ways to get your daily step count up. Gifting promotional pedometers is a terrific way to get in on the trend and show your alignment and support for employees'/customers' healthy goals. They're available in a range of styles—consider this fun mood color-changing pedometer watch for a younger crowd, this classic clip-on pedometer for professionals, or this eco-friendly solar-powered pedometer for a green-focused crowd.
What Makes Pedometers Unique
Pedometers make for a cool promotional gift because they bridge wellness and technology—something people are tuned into now more than ever. Studies have shown that using a pedometer motivates people to exercise more—on average, wearing a pedometer makes people take an extra 2,000 steps a day, which is just under a mile. Use this information to market your promotional gift at a wellness, sporting, or any summer event (when everyone is more active).
Hot and Cold Packs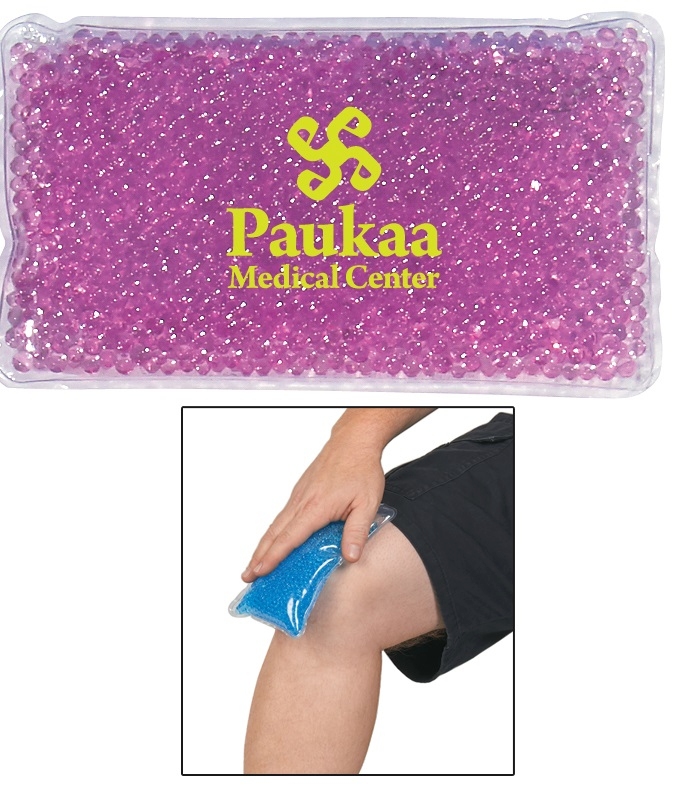 Hold and cold packs are the perfect antidote to minor sprains, muscle aches and pains, and headaches. They're particularly useful because of their ability to provide both coolness and heat—just toss them in the freezer or microwave. While they all have this same singular function, there are many different styles available. Go for something fun, like this superhero hot and cold pack. Looking for more of a spa-feel? Check out this gel beads eye mask. Using your promotional item to promote a cause? These ribbon-shaped hot and cold packs are perfect.
What Makes Hot and Cold Packs Unique
Hold and cold packs are a unique promotional item because they're universally used. Everyone has experienced the relief of a hot pack on a sore muscle, or respite from a cold pack on the back of the neck to ease headaches. Bottom line, these packs are a treasure when you are in pain. How nice to provide relief—with your brand/logo attached to it.
Skincare – Lotions, Lip Balm, and Sunscreen
Skincare items, like lotions, lip balms, and sunscreen are items we all have use for—and likely use regularly. These personal care items are a nice way to offer recipients something they'll find useful while promoting good health, hygiene, and wellness (along with your brand). A custom lip balm (scroll through the link for a slew of options) is the perfect item to stash in a desk drawer at work, or carry for use on-the-go. Our promotional sunscreen options include simple, classic bottles of lotions like this one, sunblock sticks, and these unique sunburn alert stickers.
What Makes Skincare Items Unique
Skincare items are a standout promotional gift because the beauty industry is booming. The industry is estimated to be worth over $500 billion—a clear signal people are heavily interested and invested in these type of items. For this industry, there are so many options for gifting them as promotional items. While they're a more obvious fit at a health care or wellness expo, they really work at almost any event where people are traveling to and may have forgotten to bring along these useful items (consider how drying to skin and lips a plane ride can be). Lotions and lip balm can fit any winter event, when skin tends to dry out; sunscreen is the perfect addition to any summer-related event.
Medical-related Fields
There are many promotional items available that fit more traditionally into the medical industry, like branded pill boxes, medical information packets and inserts, and lanyards/badge holders for health care workers. Scroll through the many available options here. Need some help sifting through what's available or brainstorming the perfect item for your brand? Our knowledgeable reps are always a phone call away.
Ordering Promotional Health Care Products
We aim to make ordering promotional health care products, or any products, as easy as possible. While we're more than happy to talk you through each step on the phone, over email, or through our live online chat, the basics are as follows:
1. Choose the product you'd like, or at least narrow it down to a handful. If you have trouble deciding between a few different options, get in touch. We'll be able to share the pros and cons of each to help you decide which one is the perfect fit.
2. After deciding on a product, you'll need to determine quantity. Is this for a one-time event, or are you looking to stock up on a promotional gift to give out over time to new customers or employees? Check out this guide which should help.  One thing to keep in mind is that the higher the quantity ordered, the cheaper per item cost. For this reason, it may make sense to stock up (assuming you have space to hold the promotional product inventory for a long period of time).
3. Next you'll need to determine printing method and artwork. Options include single color, full color, or embroidered. Not all of these options may be available for all products, so if you have your heart set on a specific one, consider giving us a call so we can help filter the available options. Here is a guide which should make this a bit clearer. Please note, none of the health care items we discussed above are eligible for embroidery, which is reserved for fabric items.
4. The final step is to simply order! This can be done on our website or over the phone through our customer service department.
Giving Away Promotional Health Care Items
There's almost no wrong way to give away a promotional health care item, especially now when we are all so consumed with our health and safety. Here are some ideas to get started:
Health care/medical field
This is one of the most appropriate and relatable destinations for promotional health care items. While we all need to take care of our health, it's especially important that those taking care of others remain healthy themselves in order to do their jobs.
Trade shows and conventions
Trade shows and conventions are a great way to expand your brand by getting in front of a ton of people all at once. The downside? Every other vendor is there to do the same thing. To make sure you stand out above the crowd, be sure to gift a promotional item to people who visit your booth, attend your presentation, or show interest in your company. Health-care-related products are a great fit to these types of events, especially as we're now all so cognizant of the downside of being around so many people at once. Be a positive beacon by promoting health and wellness at your next trade show or convention once they open back up.
Businesses
Offices and gyms are places where people spend a lot of their time and, unfortunately, can provide perfect conditions for spreading germs. Gifting promotional health care products to these places is a great way to show that you care about their health and wellness—and are actively providing a way to safeguard it.
Mailings
Mailings are a terrific way to reach a vast number of potential customers at once. With so much mail going digital these days, it's almost a treat to receive something physical, especially if it's a small, thoughtful useful gift.
There are so many different angles to pursue when gifting promotional health care items to customers and/or employees. We hope this guide has helped to inspire how you might approach your future promotional product needs. As mentioned above, the vast majority of these items are so wonderfully universal—used by men, women, and children of all ages—that you can  cast a wide net of interest by offering them as gifts. Ready to place an order? Give us a shout. We can be reached by phone, email, and even live chat on our website. We're happy to walk you through each step of the process to ensure you end up with a promotional product that fits your needs. We even offer samples on most products, and we always stand behind our 110% satisfaction guarantee.
In closing, know that we are thinking about your businesses, employees, families, and you during this alarming time. Together, and in time, we will get through this.
Updated on 8/27/2021 at 9:00 am