Warm and Cozy Gift Guide for Winter
Winter is coming. It's a time to wrap up in a blanket with a mug of hot chocolate and begin to watch favorite holiday movies.
As it begins to get colder outside, people tend to stay inside more. This makes it the perfect opportunity to start brainstorming gifts for someone who is always cold. And when you add a branded touch to these warm gifts like your logo, business colors or brand name, you can use the season to your marketing benefit.
13 Warm and Cozy Winter Gift Ideas
Stock winter items for customers to buy, or give them out as promotional seasonal gifts. No matter how you plan to pass on the warmth, get inspired with these winter-themed gifts and cozy ideas:
1. Mug With Spoon
Like salt and pepper, a mug is not complete without a spoon. This gift is ideal for the colder months when everyone enjoys warm beverages. It could even be used for something other than drinks, like soup or cupcakes. With its ceramic texture and matte finish, a mug and spoon combo will become a favorite year-round. Choose an interior color that suits your brand and add your logo to the front for a promotional touch.
2. Cinema Light Box
While the winter months can bring people's moods down, this gift is a great remedy. Writing an inspirational quote or putting a positive message on this board before delivering it could be the needed change in someone's day. A battery-operated light box makes a great addition to an office, waiting room or any room in a house. Add your company name on top for a branded reminder whenever someone admires this gift.
3. Scented Tumbler Candle
Candles are one of the more comforting gift ideas to give to someone during the colder seasons. Candles provide an ambiance of peace and tranquility. Choose among three fragrances available in this soy-based candle. The room will be filled with soft light and the winter-appropriate scent of sugar cookies, citrus verbena or berry spice. The option of a full-color imprint helps showcase your company.
4. Embroidered Stripe Scarf
In addition to being fashionable with its branded embroidery and fringed edges, a scarf is also a functional part of a wardrobe. Scarves are a versatile accessory that can be worn just about anywhere. Add your company name, brand logo or a special winter message between the stripes with embroidery options.
5. Warm Beanie
Beanies are one of the best warm gifts for the winter. Knit hats come in a variety of styles and colors. Choose from classic, simple options that'll suit a range of recipients, or opt for fun touches like fur pom-poms. You can even find beanies with built-in headphones for a winter gift that's sure to impress. There are so many knit textures available, and different color options are sure to suit your brand.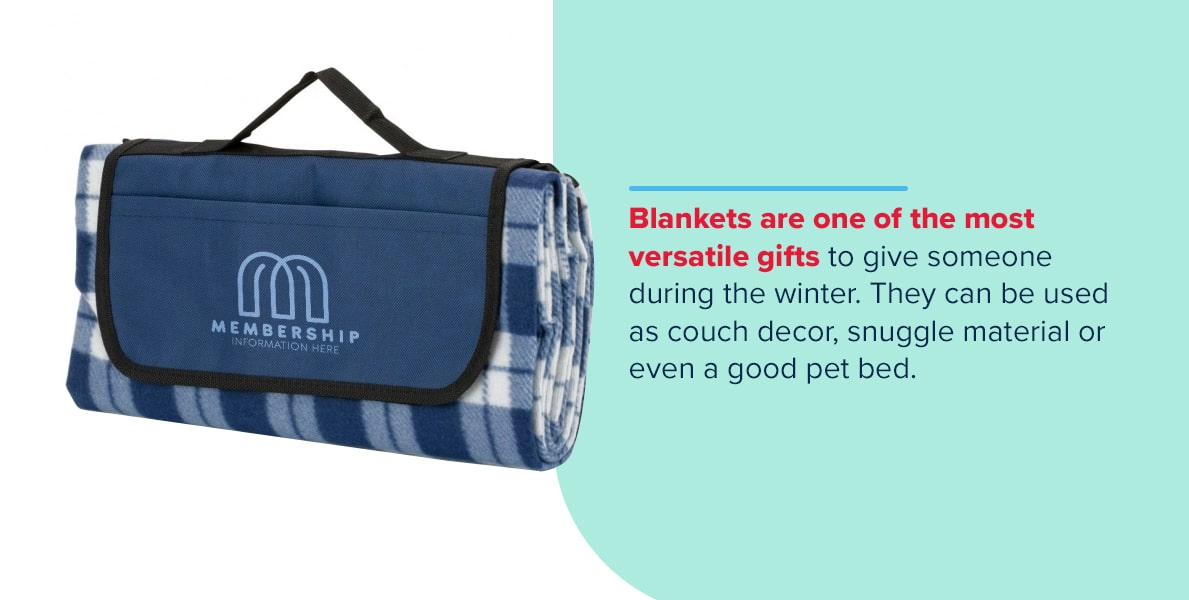 6. Cozy Blanket
Embroidered blankets are one of the most versatile gifts to give someone during the winter. They can be used as couch decor, snuggle material or even a good pet bed. These are cozy gift ideas loved by adults, children, friends and family. Fleece blankets, in particular, are soft and comfortable and would be suitable to bring to a hotel for the night when traveling or to college for a sports game.
Browse various styles, sizes, materials and colors to see what best suits your brand. Printed or embroidered logos add a promotional touch that lets recipients associate your company with comfort during the cold months.
7. Premium Popcorn Set
This winter, recipients won't have to look much further for a holiday movie snack. Premium popcorn sets, available in different colors, offer a mini popcorn maker along with corn kernels. Give these to employees as holiday gifts, or have winter giveaways for customers with this set as the prize.
8. Traveler Hot/Cold Bottle
Traveler hot/cold bottles are the perfect solution for enjoying a beverage on the go. These bottles are capable of keeping a beverage warm for up to 12 hours, and are easy to take on the go with their screw caps and handles. They are BPA-free, and when winter months are over, they'll be great for keeping summer drinks cold.
9. Branded Jacket
An important must-have in the winter is a cozy jacket. Find water-repellent and wind-resistant options, as well as jackets that include multiple pockets inside and outside for necessities. Packable jackets are great for travelers, while fleece outerwear is always a great option for cold winter months.
Jackets with your logo or company name are great winter gifts for employees. Your team will look cohesive, warm and stylish, and they're sure to appreciate these warm gifts. Even if you sell or give them as gifts to customers, everyone appreciates outerwear.
10. Ice Scraper with Mitt
When a big snowstorm moves in, people need ways to get into cars frozen over with ice and snow. That's where the practical gift of an ice scraper comes in. An added welcome is the fleece-lined interior of the mitt attached to the scraper that keeps hands warm while scraping all the windows. With your company name printed on the mitt, recipients will appreciate your brand as they clear off their cars.
11. Gourmet Gift Kit
A cozy gift kit filled with gourmet treats will delight everyone lucky enough to receive it. Assembled with assortments of chocolate, pretzels, cheese, nuts and more, this beautiful gift will have people basking in the luxuriousness of it all. Your logo will be stamped on the ribbon that ties the gift closed, and the basket itself is wrapped in decorative cellophane.
12. Fleece Ear Warmer
One part of the body that many people forget about keeping warm during the winter season is their ears. Choosing to get ear warmers as a gift will be a wise decision, especially for those who don't wear hats in the cold.
Breathable and soft, the 100% anti-pill polyester fleece ear warmers fit most and are exceptional at keeping ears warm during outside events like sports games. They can be kept in a jacket pocket and will be ready when needed. Imprinted with a logo, the ear warmers can also show off your brand.
13. Socks
Socks are a winter-weather must, especially for people who are cold all the time. Why not liven up this gift with a pair of branded socks? Fun, full-color socks show off personality, while ankle-style options are suitable for almost everyone. Grip socks are great gifts for people who want to wear a cozy accessory all day.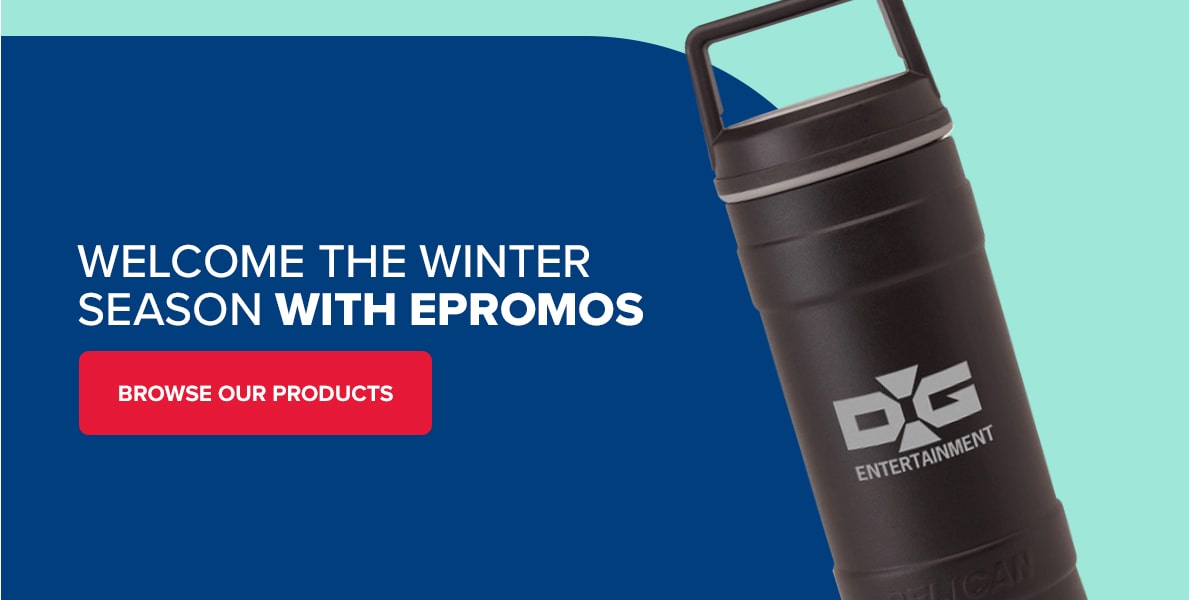 Welcome the Winter Season With ePromos
As it gets colder outside, there will soon be a need for winter-themed gifts. ePromos has a plethora of gift items to browse. These options make great holiday gifts at the office, for customers, for attendees at an event and, of course, for family and friends.
Winter gifts can be practical or a special treat, but no matter what you're looking for, ePromos has winter items that will delight everyone. Contact us to learn about our product options!