The month of July is nestled right in the middle of summer — synonymous with long, hot days. Summer vacation. Poolside lounging. Sticky, late nights. It's nostalgic, it's hectic (so many BBQs! school-free kids!), it's…kind of bliss, isn't it? The warm days bring people out of their homes, ready to mingle after long winter days curled up inside. From a business perspective, the summer is a dream time to push a new marketing strategy that includes promotional products, as there are practically unending amounts of festivals, carnivals, and other summer apropos events that often accept/need vendors and/or sponsors. Also, from a practical standpoint, potential customers may be more willing to engage with your brand at these events thanks to the carefree attitude of sweet summer days (and we know we tell you this all the time, but it's true — people love free stuff — whether it's summer, winter, or in between). In this piece, we discuss a handful of reasons people are celebrating this July and offer the perfect promotional pieces for each event.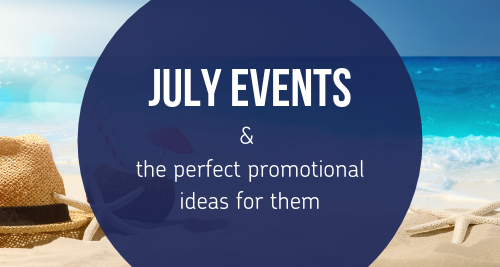 If summertime is the season of events, the 4th of July is the epicenter. America's independence from England nearly 250 years ago is still cause for mega celebration. Most employees get a day or two off from work for the holiday, which helps encourage everyone to get out of the house and have some fun. From fireworks displays, to parades, and both public and private parties, the celebration of the "red, white, and blue" knows no bounds on July 4th. Curious how to weave in some brand awareness à la promotional products at any one of these types of events? Keep reading for our suggestions.
Fireworks Displays
Who doesn't love the brilliant kaleidoscope of colors splashing across the night sky from a fireworks display? This type of event tends to be universally loved by all — single friends sharing wine and beer in the grass, couples cuddling under the romantic ambiance, and kids staring in wonder and excitement at each explosion.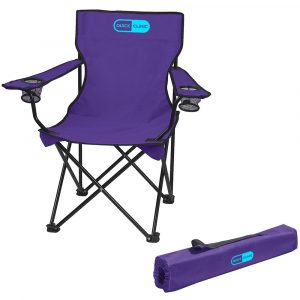 Pair this nighttime event with appropriate and practical promotional wares, such as sweatshirts, blankets, and chairs. Sweatshirts are a great choice for a chilly night, especially if being held at the beach or mountains, where temps tend to drop once the sun goes down. A blanket has the dual benefit of being used to sprawl out on, as well as wrapping around yourself if the temps dip. A chair is not only useful for sitting comfy during the actual display, but perfect for all summery, outdoor events to come.
Parades
Marching bands, drill teams, and outrageous floats milling down Main Street. Summertime parades provide the perfect backdrop for distributing promotional goods. Items like Koozies® and stress balls are soft and fun to throw — perfect for tossing from a float. If you're hosting a table, consider kid-friendly giveaways, such as our selection of promotional toys. From bubbles to fidget spinners to the classic, but much loved Silly Putty® egg, these toys are fun for kids of all ages — and a great way to not only get their attention, but their parents' appreciation.
Summer Parties
Is there a better time to host a party than summertime? Probably not, and especially if said party is poolside. One of the best promo items for this occasion is drinkware. Because ePromos offers so many options in this category, we'll keep things simple (and organized) with a handy dandy list: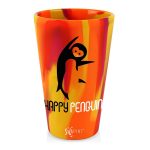 • Kick your party up a notch with these classy Moscow Mule copper mugs
• Keep the pool glass- and worry-free with these silicone tumblers
• Ditch single-use plastic and keep everyone hydrated with water bottles
• Help guests mingle spill-free with insulated, lidded wine tumblers
• Hand out these bottle openers for grab 'n go style coolers
Golf Events
Golfing events are a wonderfully relaxed but fun way to celebrate the 4th of July. There are a ton of opportunities to enhance your brand awareness via golf-themed promotional goods, too. To name a few:

• Golf Tees in logo bags
• Golf balls
• Golf towels
• Sun-shielding umbrellas
• Sun visors
There a zillion more ways to celebrate the 4th of July and include promotional goods along the way! For whatever your needs, check out our curated 4th of July collection.
Events in the Month of July
The month of July is also a prime time to partake in summer-themed days and months, which may include:
National Grilling Month
Summer time is synonymous with burgers, hot dogs, and veggies on the grill. As the temps turn up, many enjoy cooking and dining alfresco. The aim of this campaign is to not only encourage people to take advantage of all the fun of grilling outdoors, but to keep safe while at it, including food safety tips such as washing hands prior to food handling and cooking foods thoroughly on the grill. ePromos has the perfect promotional accessories to gift during National Grilling month, including BBQ accessories, like spatulas and knives, aprons, and even portable grills (perfect for tailgating). Of course, every grilled meal needs a cool beverage, so be sure to check out our assortment of coolers, too.
Family Reunion Month
As families grow, they tend to stretch out across the map, whether for new jobs, school, or just an exciting, new adventure.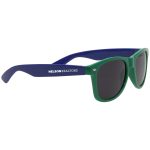 Social media is a great way to keep in touch on a daily basis, but it's not nearly the same as having your loved ones in front of you to hug, share a laugh, and reminisce. Summer is a popular time for family reunions, and July is offically Family Reunion Month — a perfect time to get the familial crew altogether. And while you're at it, why not commemorate the day with some self-promotion, à la family branded goods, such as beach towels, sunglasses, or a picture frame, perfect for holding a reunion family photo.
National Parks and Recreation Month
Parks and recreation are a crucial part to any town. They provide green space and facilities for residents to use for exercise or other outdoor activities. The many U.S. parks and recreation areas are celebrated every July. Each year offers a new theme that works as a month-long reminder of how much fun it can be to play outside in these open spaces.
July is chock full of additional awareness days that may be ripe for promoting your brand. Here's a list, which includes a descriptor of each to help decipher if joining in on these days fits your brand.
• World Youth Day — An event for young people organized by the Catholic Church that occurs every three years and includes a visit from the Pope in the host country. The next World Youth Day will take place in 2022, to be held in Portugal.
• Parents Day — Held annually on the fourth Sunday of every July, this day is meant to celebrate parents in the United States for their commitment and sacrifices in raising their children.
• Captive Nations Week — This weeklong event aims to call attention to the "oppression of nations" under control of non-democratic governments, including Communist nations. It occurs yearly during the third week of July.
• National Therapeutic Recreation Week — The goal is to raise awareness of therapeutic recreation programs and services that may help the lives of individuals with physical, mental and emotional disabilities. It occurs the second week each July.
• National Culinary Arts Month — This month-long celebration is the perfect way to recognize all of the professional chefs cooking in restaurants around the world.
• National Cell Phone Courtesy Month — The entire month of July is dedicated to this campaign to remind people to be more courteous with their cell phones when around others, such as not using it when dining with company or not speaking loudly in public spaces.
• Bioterrorism/Disaster Education and Awareness Month — The goal of this event is to encourage people to be proactive in preparedness and educate the public in the face of a bioterrorist or other disastrous event.
• National Make A Difference to Children Month — This awareness event calls to light the heart wrenching fact of children suffering around the globe and encourages people to donate time or money to a child-focused organization.
• UV Safety Month — The World Council of Optometry offers tips and advice to keep eyes healthy during the summer months, when people are more likely to be outdoors in UV light.
• Roots and Branches Month — Promotes the study of genealogy, the study of family history. Roots and Branches Month encourages people to take the time to reflect on their heritage and ponder about their futures by constructing family trees.
• National Hemochromatosis Screening and Awareness Month — Hemochromatosis is an iron storage disorder that causes the body to absorb too much iron, which can lead to tissue and organ damage. Knowing family history and screening can lead to early detection.
• National Black Family Month — July celebrates the black family, including the important role of everyone that makes up the family unit and to encourage families and communities to bond and celebrate the African-American culture and heritage.
• National Vehicle Theft Protection Month — Cars are a main mode of transportation in the US. This awareness event aims to educate people about the best ways to prevent vehicle theft, as well as the steps to take should they become victim to it.
• International Group B Strep Awareness Month — This campaign aims to promote awareness and prevention of Group B Strep disease in babies during pregnancy through early infancy. Group B Strep can be fatal to babies during the neonatal and infant months.
• Social Wellness Month — The goal of this month-long event is to nurture yourself and your relationships, as healthy relationships are a key part of overall good health and wellbeing.
As this piece shows, the month of July is teeming with celebrations, from the 4th of July, to a plethora of awareness-style events. We encourage our customers to get involved in any number of these events, especially those that are universally viewed and/or celebrated, or that are relevant to your business offerings. Partaking in a physical event, or simply promoting your support for one on social media is a great way to show another facet to your business — a more "human" side that potential customers may relate to, particularly if they're involved in the cause.