Promotional Stocking Stuffers for Christmas
Want to spread holiday cheer and promote your brand? Promotional items are an excellent way to show your appreciation for your co-workers or employees while garnering attention for your company. With these unique office stocking stuffer ideas, you can give your staff gifts they'll enjoy and use for years.
20 Promotional Stocking Stuffer Ideas for Christmas
As a business owner or team leader, you want to reward your staff for a job well done and what better time than Christmas? Branded promotional gifts are an excellent way to promote your company while sharing in the season of giving. Here are some promotional stocking stuffer ideas for employees:
1. Water Bottles
Water bottles make excellent stocking stuffers for your office staff. Water bottles come in handy whether employees use them at the office, during their workouts, along their daily commute or while at home. Water bottles also provide an excellent opportunity for increasing brand awareness since many employees keep their water bottles handy wherever they go.
2. Can Cooler Sleeves
Can cooler sleeves are perfect stocking stuffers for your co-workers. Staff can use the sleeves at work, at home, at the park or anywhere else. Can cooler sleeves are an amazing conversation starter at picnics, concerts or other gatherings.
3. Cell Phone Wallets
A cell phone wallet is perfect if you're looking to gift something that your staff can use daily. Cell phone wallets are excellent multipurpose stocking stuffers for employees. They are handy for keeping money, bank cards and identification. Plus, they come in stylish leather materials and various colors. Whether on their daily commute or during their morning coffee run, employees will likely have their phones nearby, and a cell phone wallet will showcase your brand wherever they go.
4. Ornaments
A promotional ornament is a creative gift for employees. You can get ornaments in various colors and materials, so you're sure to find something for every employee. Ornaments get used year after year and can become an important part of a family's Christmas traditions.
5. Wine Tumblers
A wine tumbler is one of those employee stocking stuffers that many people might not consider. However, it's a great option, especially for those office wine connoisseurs. Wine tumblers can come in handy on road trips or at festivals. Gifting them is an excellent way to get brand exposure.
6. Travel Mugs
Coffee and travel mugs make convenient stocking stuffers, especially for employees who bring coffee from home or go on frequent work road trips. Travel mugs are often staples for employees who are always on the go, making them the perfect promotional gift item.
7. Luggage Tags
Luggage tags are an excellent choice if you want a practical promotional corporate stocking stuffer. Luggage tags come in various colors and materials and are handy for corporate business trips and personal travel.
8. Sunglasses
Sunglasses are a staple accessory for many people. They are also suitable stocking stuffer ideas for everyone in the office. A stylish pair of sunglasses is likely to get the attention of many, meaning your company can get some extra attention, too.
9. Flashlight Kits
Flashlight kits come in handy on many occasions. They come in compact cases perfect for keeping in cars or laptop bags. Flashlights are also often loaned to neighbors, friends or family members, which can go a long way in promoting your brand.
10. Pen Sets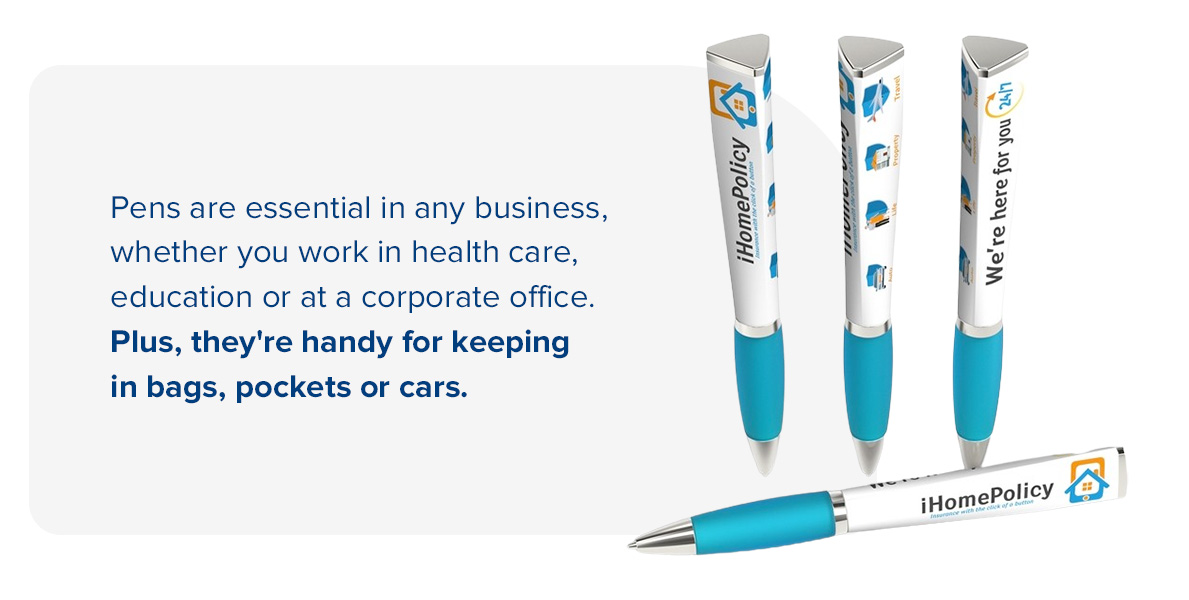 Everyone can benefit from a promotional pen set. Pens are essential in any business, whether you work in health care, education or at a corporate office. Plus, they're handy for keeping in bags, pockets or cars. Just consider how often someone asks to borrow a pen at a doctor's office or business meeting!
11. Key Chains
Key chains are small and handy items to gift to your employees. They are an excellent way to showcase your business and can be useful. Key chains come in various colors and are a perfect way to promote your company logo.
12. Candle Sets
Candle sets are timeless and thoughtful gifts and popular items in many homes. Promotional candles make for wonderful decorative gifts. Whether employees use their candles for outages or aesthetics, they can be fun and functional accessories.
13. Tea Bag Tins
A tea bag tin is an excellent option if you want a unique corporate stocking stuffer. A tea bag tin is a thoughtful gift for tea lovers. It can also be a perfect way to get people talking about your company at weekly lunches or book clubs.
14. Tool Kits
Tool kits are valuable promotional items for employees. They come in compact cases and can have various handy tools like screwdrivers and utility knives. Toolkits can also garner attention for your brand when employees loan them to friends or family members.
15. Portable Wireless Speakers
A portable wireless speaker comes in handy on many occasions. Employees can use them in the office, at barbeques, on camp trips or whenever the occasion calls for some music.
16. Candy and Chocolate
Adding candy and chocolate to Christmas stockings is an excellent way to get everyone's attention. Candy can be enjoyed by one person or shared with friends and family over the holidays.
17. Journals
A journal is a valuable promotional item that many people would appreciate, especially those looking for a place to organize their goals for the following year. Whether for personal or work use, a journal is a thoughtful gift and can help your staff prepare for the new year.
18. Alarm Clock Speakers
If you want a promotional gift that all your staff members can appreciate every day, an alarm clock is the perfect item. You can help your team get off to a timely start in the new year.
19. Scarfs
Scarves are wonderful accessories during the winter season. Gift your employees scarves that match your brand colors and help them keep warm during the holidays. Scarves are excellent promotional items your employees can keep and use for years.
20. Domino Sets
If you want a fun corporate stocking stuffer, consider a domino set. Dominos are a crowd favorite and an excellent promotional gift, especially during the holiday season. Staff can round up family and friends for a fun or competitive game of dominos.
Show Your Gratitude With Christmas Stocking Stuffers From ePromos
Want to spread holiday cheer and promote your company? ePromos offers a selection of high-quality promotional items to help you reward your employees. With many options to choose from, you can gift your employees useful and fun items. From candy to pens and everything in between, ePromos provides excellent stocking stuffers to show your appreciation for your employees and promote your brand.
Shop our wide selection of promotional products today.