7 Ways to Boost Employee Engagement With Promotional Products
The impact of branded promotional products on employees can be very positive. Whether you plan to give out incentives to promote better productivity or want to congratulate an employee on a job well done, finding ways to boost their engagement and confidence can create a good work environment. Using promotional products will ensure your employees feel cared for and appreciated at your company.
Many businesses wonder how branded promotional products impact employees and organizations. From team T-shirts to commemorative plaques to gift baskets, promotional products may drive employees to work harder and engage more in workplace culture. Here are seven more ways promotional products boost employee engagement.
1. They Make Employees Feel Welcome and Valued
Onboarding welcome baskets often make new employees feel welcome and valued at the company. While new employees may feel anxious or uncomfortable on their first days, a welcome basket or kit eases stress and introduces the team members to the company culture. You can include items like an employee handbook, a coffee mug, a notebook or tech accessories in your employee onboarding kits.
2. They Unify Team Members
Promotional products can unite your internal teams by connecting them through similar company swag. For example, if members of specific groups have a favorite saying or a team name, you can buy them shirts to build camaraderie and employee pride. Unifying products help employees feel like they're personally invested in workplace culture.
3. They Boost Your Company's Brand
When you want to encourage employee engagement and boost your company brand, try gifting your employees new promotional products. Products with your logo can create a good impression of your business and enhance your company's brand. When your employees wear merch with your logo, you give the impression that your business is high-quality and valuable.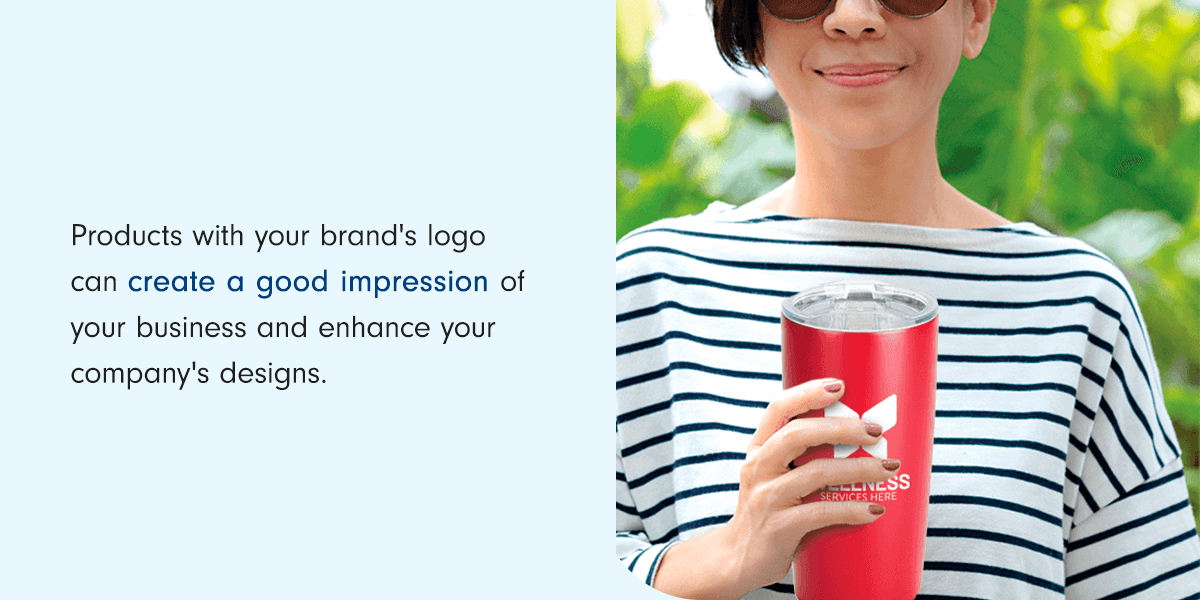 4. They Promote Company Values
For companies that want to promote their core values, try including mission statements in a printed form or statement. Employees can become familiar with your values, especially when they're reminded about them consistently through gifts or products. Gifts will ultimately increase your team's engagement with the company once they better understand the company values.
5. They Boost Morale and Energy
Promotional products help boost employee morale and energy. For those companies that want to build a healthy atmosphere with engaged employees, new gifts and products can help form team bonds and shared experiences. Many employees love receiving gifts and incentives, creating higher morale and interaction with company culture.
6. They Improve Company Pride
By giving out merchandise with your brand and logo, you can increase company pride, as employees will love wearing their merch and showing off where they work. Plus, this idea can be a great marketing tool. Friends and family may ask your employees about the company and want to learn more about what you offer.
7. They Build Appreciation
Promotional products can also create a special appreciation of the company. Instead of rewarding employees with small products and the occasional souvenir, try giving thoughtful products and meaningful commemorative objects.
These items ensure your employees feel genuinely cared for while emotionally linking the employee with the organization. It's also beneficial if you remember to give out a gift on special occasions like birthdays and company anniversaries.
When to Gift Promotional Products to Build Employee Culture
By using branded merchandise to build a company culture, your business can build a healthy work environment with loyal, passionate employees. Here are some examples of when you should give out promotional products:
As a Welcome
On an employee's first day, giving them a welcome kit can help them feel comfortable and appreciated. Consider giving them a new shirt, a manual or a welcome letter from the employee's manager or the company CEO.
New hires often feel more welcome when they know they have all the information needed to succeed and thrive in their roles. Make the gift personal or create a welcome basket for the employee. Ensure they feel valued and supported with gifts that fit their preferences.
To Show Appreciation
Showing that you appreciate your employees is essential for long-term employee engagement. Promotional products can show new and current employees they're valued and respected for as long as they work there.
Consider investing in gifts like a unique water bottle or mug with their name or a team message. You can also ensure the employee is reminded of the company whenever they use the item.
As a Reward
When employees do exceptional work, they deserve to be rewarded with a promotional product or gift basket. Consider gifting your employees a restaurant gift card, a spa voucher or something you know they'll use and appreciate.
Rewards show you appreciate all your employees do for your company and want to incentivize them to work even harder. It also builds pride in the workplace when employees feel they can do good work and be rewarded for it.
As Recognition
Promotional products can act as a recognition of your employee's current efforts or overall contribution to the company. You can implement promotional products into your Employee of the Month or employee recognition programs. These products ensure your team members feel thanked for their hard work and help them celebrate a milestone in their careers.
As a Thank You
A thank-you gift is a terrific way to appreciate and acknowledge the years of service your employee has given to the company. Give them a gift basket with items catered to their taste, or hand out gift cards to their favorite restaurant or store. However you plan to commemorate their hard work, ensure you also write a thank-you note dedicated to their service.
Find Promotional Products at ePromos
When your business invests in promotional products and hands them out to team members, you'll likely see an increase in engagement and productivity. From shirts with special names or logos to mugs and cups with commemorative designs, you can create a lasting impression and truly show your team members how much you appreciate them.
At ePromos, we work hard to provide promotional products and services to businesses, schools, teams or other organizations. You can find gear featuring your company name, individual names or brand logo. Whether you plan to sell the products yourself or hand them out to employees, explore our various products, from bags and cups to apparel and accessories.
Contact us today to speak to a representative or explore our services online.