The Best Fabric for Promotional Apparel
No matter what type or size of business you own, promotional apparel can transform the way you market your business. Whether it's a hat or a shirt, promotional products can help you reach new customers and keep current ones interested by building brand awareness and recognition and promoting customer loyalty.
But before you go ahead and select just any material for your branded clothing, you should know that putting a bit of time and effort into curating the right promotional apparel can make your approach that much more effective. When your promotional apparel is comfortable and durable, you can have a greater impact.
Learn more about the best fabrics to print on and how to print on clothing with our guide.
Why Is It Important to Choose the Right Material for Your Promotional Apparel?
While you should spend time developing the design of your apparel, one of the most important things to decide is the type of material you'll use. This is because different materials can influence:
How the apparel looks
How well the print applies
How the apparel feels
How long the apparel lasts
Not every material is suitable for all printing techniques and uses. For example, some thicker materials tend to absorb more ink during the printing process. These are the three main types of materials used for clothing:
Natural: These materials come from either an animal or a plant and can include elements ranging from sheep's wool to linen that originates from flax plants.
Synthetic: Unlike natural materials, synthetic materials come from chemical reactions which produce polymers.
Blend: This option combines natural and synthetic fibers.
Choosing the right type of material ensures your apparel looks good, feels good and lasts — qualities your customers will appreciate.
Types of Promotional Apparel
The options are truly endless when you decide to produce promotional apparel for your business. There are several types to choose from, including:
Shirts: A comfortable T-shirt is one of the most popular mediums to promote your business or messaging. Available in a range of styles, from v-neck to long sleeve, you'll be providing your customers with something they can wear all the time.
Jackets: During cooler weather, provide your customers with something they can throw on to stay warm. Whether you add small print on one side of the jacket or a large print on the back, you can promote your business all winter long.
Hats: Keep your customers protected from the sun with a promotional hat. Having your messaging or logo prominently displayed on the front will make it easier for you to build brand awareness, as every passerby will see your logo.
Socks: Individuals of all ages will love wearing a cozy sock that displays your brand's logo.
The Best Fabrics for Promotional Prints
Not sure where to begin? Among the three types of materials we listed above, you'll find numerous fabrics that make up clothing, so it can be tricky to find the best one for your apparel goals. Here are some of the best fabrics to print on to help you get started:
1. Cotton
Without a doubt, cotton is the most popular natural fiber. When used to produce shirts, it offers a comfortable lightweight feel that's great for daily wear. It's also hypoallergenic, making it perfect for those who have sensitive skin.
Printing on cotton fabric is simple, as the material works well with all kinds of designs and inks, allowing the colors to really stand out. Also, because of how inexpensive cotton is, it's a cost-effective solution when you need to produce a large number of shirts.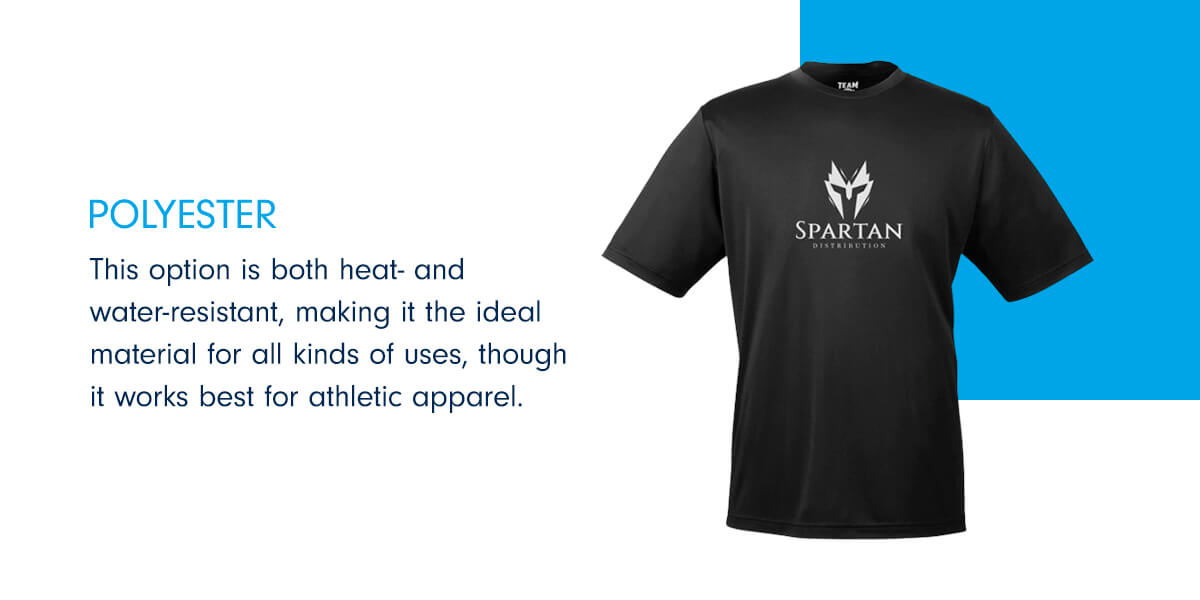 2. Polyester
If you need moisture-wicking fabric, polyester is the way to go. This option is both heat- and water-resistant, making it the ideal material for all kinds of uses, though it works best for athletic apparel. It also offers the added benefit of being durable and long-lasting so you won't have to worry about the material getting stretched out or shrinking over time. It resists wrinkles, keeping the material looking its best for longer.
3. Rayon
Rayon, which is an artificial silk substitute, offers benefits found in both natural and synthetic materials. Just like silk, it's a very lightweight and smooth material, and the elasticity makes it comfortable to wear when moving around. It dyes easily, so it's a versatile option for all kinds of shirt designs.
4. Nylon
Similar to rayon, nylon is a silk substitute. This synthetic material offers exceptional durability. Plus, you can dye it in all kinds of shades and experience lasting color. It can withstand both mechanical damage and tensile strength, providing you with a dependable material you can count on.
5. Tri-Blend
Just like its name suggests, tri-blend is made out of a combination of three different materials — cotton, polyester and rayon. This blend of both natural and synthetic fibers makes it one of the best shirt materials and a great choice for different kinds of promotional apparel. The resulting apparel is both soft and lightweight.
How to Choose the Best Material for Printing T-Shirts
With various materials to choose from, it can be hard to decide on the best fabric for your specific T-shirt printing needs. There are several basic questions you can ask yourself to help guide the decision-making process:
How will the apparel be used? If your promotional apparel will be used for an indoor company event or for general, everyday wear, you could most likely use any kind of material. If you need shirts for an activity, like a company sports day, choose a material like polyester that offers moisture-wicking properties to keep employees cool and comfortable.
How do you want the apparel to look? Each material has a unique finished look. A lightweight fabric like rayon or nylon will have more flow than a cotton T-shirt. Similarly, the stretchiness of a material will affect how it fits and drapes when worn. Keep in mind that a very stretchy material could potentially stretch out the design.
What kind of print results do you want to achieve? Because of the properties of each type of material, the print results can vary. For example, lighter fabrics will absorb inks more readily but could potentially wash out over time. In comparison, heavy materials will absorb more ink and offer more of a saturated look.
Where will you be placing artwork? On T-shirts, you have several different locations where you can print or place your artwork. From front and center designs to small logos on a pocket or sleeve, it's important to think about where the placement will be because it can affect the overall style and visibility.
Start Designing Promotional Apparel Today
At ePromos, we can help you design and develop promotional apparel that helps you reach your brand awareness and sales goals. Whether you want to print on clothing or footwear, we can help you find the right printing method that meets your needs and helps you achieve the desired results.
Browse our selection of promotional apparel and reach out today to learn more!
Additional Apparel Resources: