How to Easily Find Your Shirt Size
Finding your ideal t-shirt size is less complicated when you know how sizing typically works. Some brands have their own house sizing, but most t-shirts are sized in the same way. Keep reading to learn what size shirt you should wear.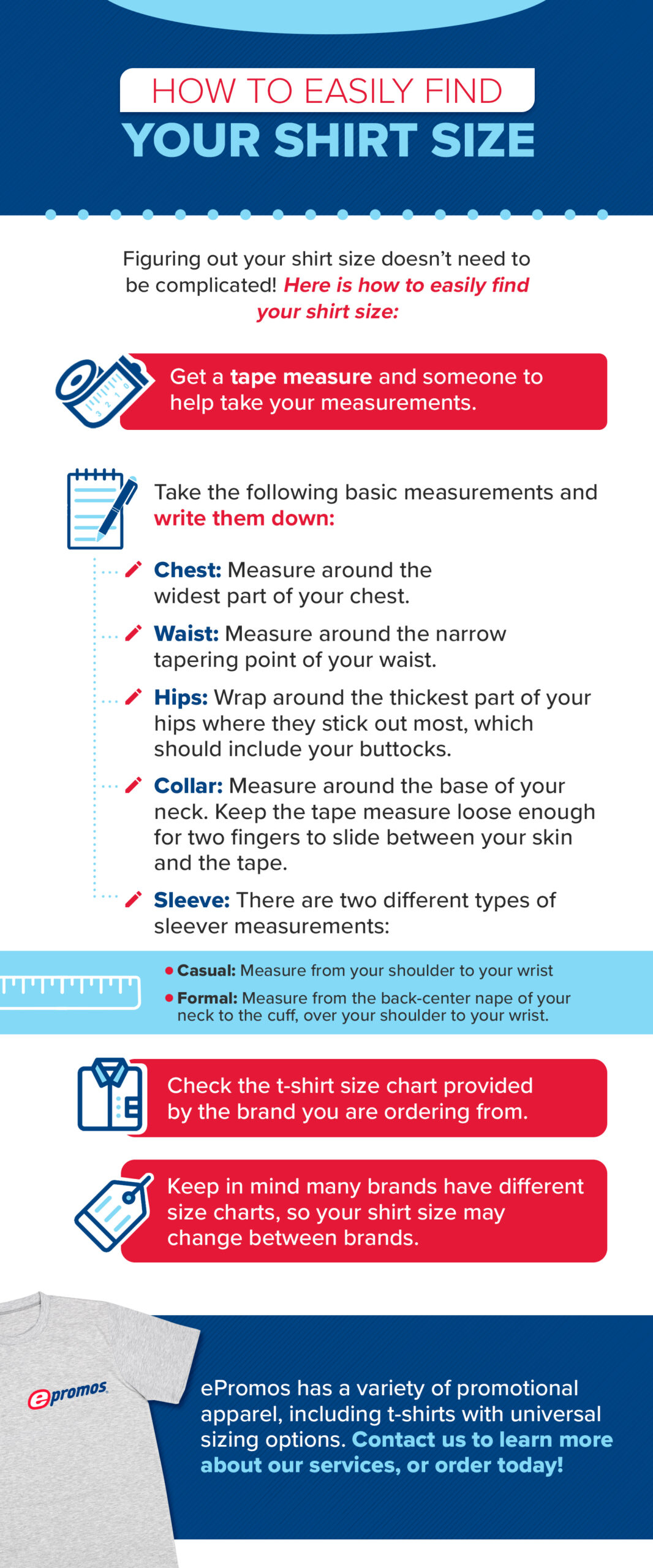 How to Measure Your Shirt Size
What size shirt you should wear when ordering promotional clothes depends on your shirt size. If you're ordering for a group, be sure to order a range of sizes or collect everyone's measurements before placing an order.
Here's how to find your shirt size:
1. Get a Tape Measure and a Helper
If you want the most accurate size possible, you will have to use a tape measure. If you guess your measurements, you could be off significantly. Ask someone to take your measurements for you, which is easier than trying to do it yourself.
Stay relaxed and stand straight while you have your measurements taken. If you suck your belly in or tense your muscles, the measurements will be inaccurate and you might end up with a shirt that fits poorly.
2. Take Basic Measurements
Write down all of your measurements as you take them. Have your helper measure these areas of your body for the best results:
Your chest: The tape measure should wrap around the widest part of your chest. Avoid puffing your chest out.
Your waist: The tape measure should wrap around the narrow tapering point of your waist. Avoid sucking in your belly, and keep the measure loose enough to feel comfortable.
Your hips: The tape measure should wrap around the thickest part of your hips where they stick out the most, which should also include your buttocks. Some shirts show this measurement in the sizing chart, but it's common for men's shirt sizes to discount the hips.
The collar: Some shirts require this additional measurement, especially if the shirt has alternate neck sizes. The tape measure should wrap around the base of your neck. Avoid wrapping it around the middle or top of your neck, which may result in an inaccurate measurement. Keep the tape measure loose enough for two fingers to slide between your skin and the tape.
The sleeve: Some shirts require a sleeve measurement if the sleeve length varies, and you may also notice a difference in sizing between casual and formal clothing for men when this measurement is used. For a casual measurement, the tape measure should run from your shoulder to your wrist, where the cuff will be. To take a formal measurement, have your helper position the tape measure from the back-center area of your neck to the cuff, running it over your shoulder to reach your wrist.
3. Check the T-Shirt Size Chart
Now that you have accurate measurements, compare them to the size chart of the brand you want to order from. Always check your measurements before ordering something new. Brands have different size charts from one another, so you might find you are a different size than expected, depending on where you shop.
Your measurements might be slightly different from the size chart's estimations. For example, it's possible to have a slightly larger waist and smaller hips than the closest available size. If this happens, find the size your measurements correlate to the most closely.
How to Calculate Your T-Shirt Size by Height and Weight
It can be tough to determine your shirt size without a fitting room. Since manufacturers tend to have their own guidelines for sizing, it's possible to get a size medium that fits perfectly from one store when the same size is way too small at another. If you're unsure what size will work best, calculate your shirt size by your height and weight if this option is available on the company's sizing chart.
You will get a more accurate estimation using a tape measure, but if you have limited time, you can calculate an estimate of your shirt size based on how tall you are and how much you weigh.
The Size Difference Between Men's and Women's Shirts
Clothes such as t-shirts are often gendered through unique tailoring. Below are some examples:
Men's shirts tend to have:
Buttons on the right side when present.
Wide shoulders.
Few neckline options.
Long, loose sleeves.
Short sleeves designed to touch the mid-arm near the elbow.
A straight cut seam without any shaping, running from the underarm down to the hem.
Women's shirts offer plenty of options and tend to have:
Buttons on the left side when present.
Narrow shoulders.
More neckline options, including a square, round, scoop, v, cowl or turtleneck.
Shorter, fitted sleeves for long-sleeved shirts.
Short sleeves extend only a few inches from the underarm.
Extra space in the bust.
A cinched waist, where the seam tapers inward and expands toward the bottom.
Another option for gendering is unisex. Shirts designed as unisex are made so that most people can wear them easily, regardless of body type. A men's cut shirt is different from a unisex shirt, although the cut is more similar to a men's cut than a women's.
Unisex shirts have:
A straight seam from the top to the hem.
Loose sleeves.
Smaller sizing than men's sizes.
Some retailers may group unisex and men's shirt sizes in the same category — always check specific measurements if you're unsure which fit is best.
Youth Shirt Size Guide
If you need to order clothes for children, you will have to look through your options for youth t-shirt sizes. These are tricky to determine, even when you frequently shop for kids. Youth shirt sizes are usually XS through XL, just like adult sizes. They are cut shorter and smaller than adult clothes.
Very young kids may fall into the following suggested categories:
Newborn (NB): These are the smallest available clothing options for babies.
0-3 months: A shirt in this size typically runs a little larger than an NB shirt.
6-9 months: This option will vary depending on the brand, but it is meant to universally fit most babies within this age range.
12 months: This shirt is designed to fit most one-year-old babies, but some children are large enough for a size up or small enough for a size down.
18 months: This shirt size is for a child too large for a one-year-old's clothing but too small to fit into toddler's sizes.
2T – 5T: Once your child reaches two years of age, you can find their size designation until they age beyond five years.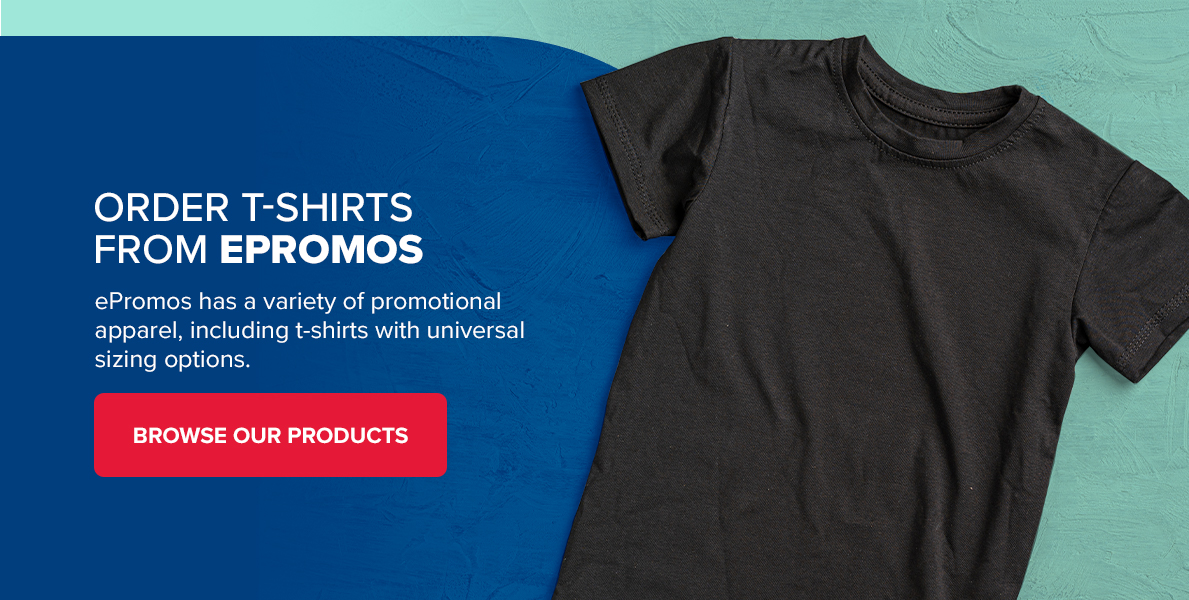 Additional Apparel Resources: