Choosing the Right Apparel Thread Count
Have you ever walked into a store and seen advertisements for high-thread-count fabrics? You may walk by without thinking about the meaning. However, thread count plays a considerable role in the comfort and quality of clothes, sheets and other materials.
When placing your business's logos and slogans on apparel, you want to make sure that your employees and target audience have comfortable clothing options as they represent your image. To determine the appropriate thread count for your apparel, get to know what this term means and how you can utilize the quality for your business's promotional methods.
What Does Thread Count Mean?
Understanding thread count is pretty straightforward. This concept is simply how many threads are in each square inch of material. You will often hear this term when shopping for sheets or towels since buyers prioritize optimal comfort and warmth from these items.
Most retailers will specify the thread count by the interwoven strings — horizontal and vertical weaves — that create the fabric. Tighter weaves in one square foot indicate a higher thread count because more yarn is needed to weave smaller holes. More open weaves are the opposite. You will notice a lighter feel in loose fabrics because the thread count is less than the smaller amount of yarn in one square foot.
So, what does thread count mean for your apparel? The thread count you choose will determine the heaviness and texture of your promotional clothing options. How to determine the thread count for your garments will depend on your preference for the clothes you want your representatives to wear.
Before ordering your promotional apparel, see how thread count ranges can make a difference for your customers.
Understanding Different Thread Counts
Each fabric you notice in sheets, clothing, towels and other items have different thread counts and typically comes in various options. When finding the correct thread count for your business's apparel, consider how you want the texture to feel to ensure that your employees and consumers are comfortable. The general rule for thread counts is the higher the number, the silkier the feel.
Thread count can determine quality, feel, price and durability. Before choosing the best fabric for your apparel, look at the thread count range characteristics.
Less Than 200 Thread Count
Choosing a thread count of 200 or less fabric creates the loosest weave of any material. When you choose a fabric with a thread count of 200 or less, your apparel will have the following qualities:
Soft and textured material
Ability to trap cooler temperatures
More inexpensive price
A life span of a few years
A lighter feel
200-400 Thread Count
A low-to-medium thread count for fabrics is a comfortable and flexible option for all business apparel. Typical traits of a 200-400 thread count include:
Soft, more refined feel
Silky smooth texture
Ability to trap cool temperatures
Light material
Beneficial for sensitive skin
400-500 Thread Count
A medium-to-high thread count is slightly heavier, with more layers and a silkier feel. Characteristics of 400-500 thread count fabrics include:
Crisp feel
Keeping cool in warmer months
A balance between light and heavy weight
Slightly longer life span than fabric with less than a 200 thread count
Being perfect for those who enjoy a heavy material with a soft feel
More Than 600 Thread Count
The highest thread count for any fabric will guarantee silkiness and multiple layers to keep your employees and customers warm for years to come. The traits of 600 and higher thread counts include:
Heavy and crisp feel
Warmness due to heaviness
Lasting 2-3 years with careful washing cycles
Durability and delicateness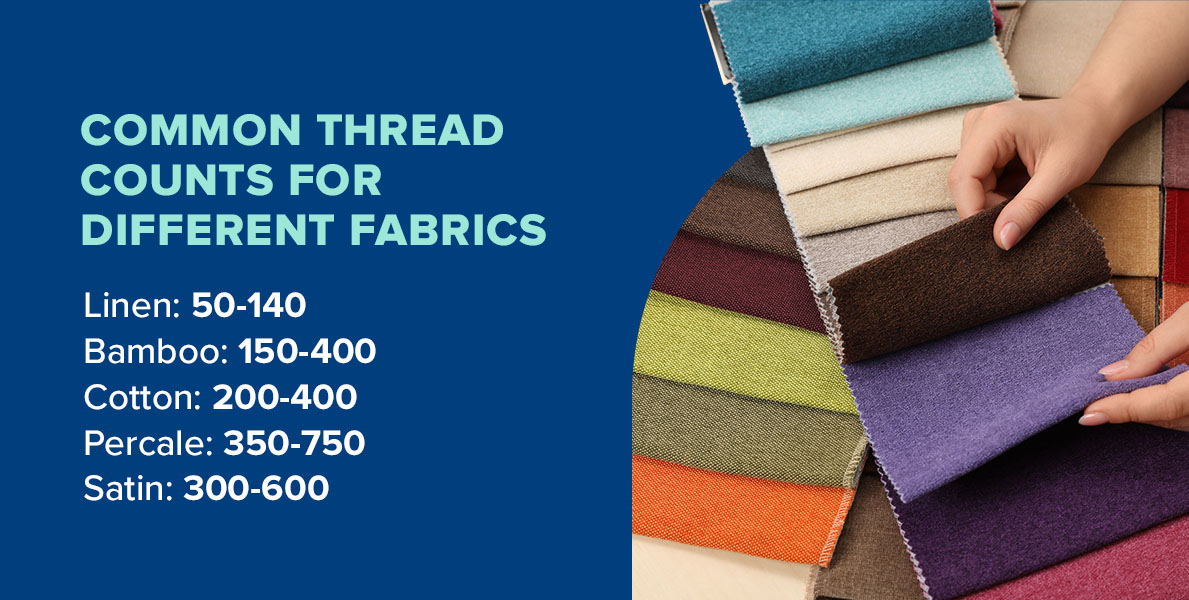 Common Thread Counts for Different Fabrics
You can determine the thread count for different products by the material. Most options you would see in clothing and sheets have a range of thread counts that the material should fall within to guarantee the product's typical softness and quality.
Fabrics can also sell in single- and multi-ply. This factor can determine the layers of thread in each square foot and help calculate the thread count you intend to purchase. For example, if you choose a fabric with 150 horizontal and vertical threads and the material has three layers, your thread count will reach 450 — comfortable enough for a stylish t-shirt, hoodie or jacket for your business.
The apparel thread count for the most common fabrics include:
Linen: 50-140
Bamboo: 150-400
Cotton: 200-400
Percale: 350-750
Satin: 300-600
How to Choose the Right Thread Count for Promotional Apparel
Promotional apparel is an excellent marketing tactic that allows others to recognize your brand with a simple print on a t-shirt or other clothing item. When you think of representing your brand through custom designs, consider the message you are trying to distribute to potential consumers and how you want them to perceive your business.
Displaying your logo on promotional apparel with the correct thread count can mean the difference between a successful marketing tactic and a few extra t-shirts lying around the office.
To choose the proper thread count for your brand, consider the purpose of your business and the target audience you need to reach.
If your brand focuses on a laidback approach to your products, marketing and key audience, consider choosing cotton or linen for your t-shirts or jackets. Any thread count from 50-400 will offer a sturdy, light and stylish option that your business partners and customers can wear for any casual location. They will be able to sport your logo in public in a fabric that rests comfortably on anyone and allows room to breathe.
Satin and percale are great for your office if you prioritize professionalism and business casual apparel. The silk material and durable fabric create stylish button-down shirts and work jackets for your team to wear. These clothing options will last for years, so you can always have comfortable and highly durable selections for work apparel.
Businesses with a love for the outdoors can benefit from having cotton and bamboo hoodies, jackets and gloves. The medium-heaviness and breathable materials keep your team and customers warm in chilly climates so they can enjoy representing your brand in any corner of the world. The fabric is durable enough to withstand multiple washes and remains soft to the touch.
Trust ePromos for High-Quality Promotional Apparel
For stylish, high-quality apparel you can trust to market your brand, ePromos has you covered! You can choose from a wide selection of clothing items to market your brand, including t-shirts, jackets, scarves, hoodies, cardigans and many other comfortable options.
You can utilize our quality material for promoting your business in numerous ways to attract your target audience. Create designs for promotional events or commemorating special milestones and anniversaries. However you choose to market your brand, you can trust ePromos to create designs with comfortable fabrics to keep your audience satisfied.
Shop custom embroidered printed apparel from ePromos today.
Additional Apparel Resources: