How to Start an Apparel Program for Your Employees
Supplying employees with high-quality, custom corporate apparel can be a time-consuming task, especially if your business or organization has hundreds of employees and multiple locations. An employee apparel program simplifies and streamlines the otherwise confusing process of creating and distributing your branded clothing.
Keep reading to learn how to effortlessly start an apparel program that benefits you and your employees.
What Is an Employee Apparel Program?
Also known as a uniform or professional dress program, an employee apparel program is the streamlined organization and management of branded business apparel. A professional dress program includes the selection, production and distribution of branded clothing, from choosing the best apparel and imprint method to creating a corporate clothing website and shipping the clothing straight to your employee's doorsteps.
How Do Employee Apparel Programs Work?
There are three main phases of implementing an employee apparel program — selection, creation and distribution.
1. Selection
When selecting your corporate apparel, it's best to start with your budget, then consider the clothing types and materials that suit your business's and employees' needs. You can also customize branded apparel for your corporate uniforms, such as well-known brands like Nike® and The North Face®.
2. Creation
Once you've chosen your apparel, it's time for production. During this phase, the company you partner with creates your corporate garments by imprinting them with your logo using your chosen imprint method. An imprint method is how the logo or text is transferred onto the apparel.
If you don't have a logo or would like to rebrand before implementing your corporate apparel program, be sure to partner with an employee apparel provider with professional logo design services.
3. Distribution
The last step is the successful distribution of your new branded apparel. When you create an online company apparel store for employees, team members can purchase the clothing at their convenience. They can also have it shipped straight from your provider to their doorstep, eliminating the need for large orders and on-site storage.
Plus, your online branded apparel portal allows you to check stock availability, make specific apparel available to particular departments and save time and money on shipping.
Benefits of Offering an Employee Apparel Program
From boosting brand awareness to presenting a professional, cohesive business image, there are several advantages to outfitting your team with branded apparel. Learn more about the benefits of an employee apparel program below.
1. Promote Brand Awareness
Whether your team members are in the office or out in the field, branded apparel catches the eye. Your employees might be on or off the clock, but their branded apparel is a conversation starter wherever they go. It's also free advertising for your company's products or services.
An employee apparel program benefits all kinds of industries and organizations, including but not limited to:
Healthcare
Schools
Construction
Retail
Manufacturing
2. Present a Professional Image
A professional, cohesive brand image starts with a memorable uniform or a professionally imprinted logo. Uniforms and logos help customers and other professionals identify your team members. This apparel makes a lasting first impression by communicating trustworthiness, ultimately building confidence in your company.
3. Boost Employee Morale
Outfitting your team with branded corporate dress offers a sense of belonging and promotes unity amongst colleagues. Your company logo is also a physical representation of your organization's mission and values. Branded apparel gives your hardworking employees a boost in morale and confidence knowing they're representing the brand.
How to Start an Employee Apparel Program for Your Business
When you partner with an experienced branded apparel distributor, you can start your employee apparel program in four simple steps.
1. Identify Your Needs
To begin, consider your company-wide apparel needs. They'll determine the best course of action, from choosing the clothing type to selecting the suitable shipping method. Then, keep them in mind as you move through the following steps.
Are you interested in creating a branded T-shirt for a sponsored or volunteer event? Do your company values call for sustainable branded apparel and promotional products? These are just a couple of questions you can ask yourself and your team to narrow down your company's apparel needs.
2. Select an Imprint Method
Next, select an imprint method — otherwise known as a logo embellishment. Each transfer method uses a different technology and has unique advantages depending on the apparel fabric and your preferences. For example, raised embroidery is an excellent way to add dimensional logos to outerwear like hats and jackets.
Popular clothing imprint methods include:
Screen printing
Heat transfer
Dye sublimation
Offset printing
Embroidery
Embossing and debossing
If you're unsure about the best imprint method for your choice of apparel, we recommend requesting expert guidance and product samples from your provider.
Choosing the Apparel Type
The next step is to select the clothing types and materials that best suit your employees' needs. The apparel should be comfortable and appropriate for the work environment and your company culture. Here are a few questions to consider when selecting apparel:
What's the working climate or environment? Do your employees need warm-weather clothing like T-shirts and shorts or coats, gloves and hats for cooler temperatures?
What kind of materials would be best? Is breathable cotton or a warmer, moisture-wicking merino wool material best for the nature of the work?
What apparel styles align with your company culture? Would blazers and button-downs or polos and T-shirts make the most sense?
Learn more about selecting the right apparel for your business or organization with our Ultimate Guide to Promotional Apparel.
Selecting a Shipping Method
Select the shipping method that suits your company's and employees' needs — split shipping, drop shipping or international shipping:
Split shipping: Send your products to different addresses if you have multiple business locations.
Drop shipping: Send your branded apparel straight to your employee's doorsteps when they order from your corporate clothing store.
International shipping: Ship your corporate uniform apparel internationally if your business operates from multiple countries.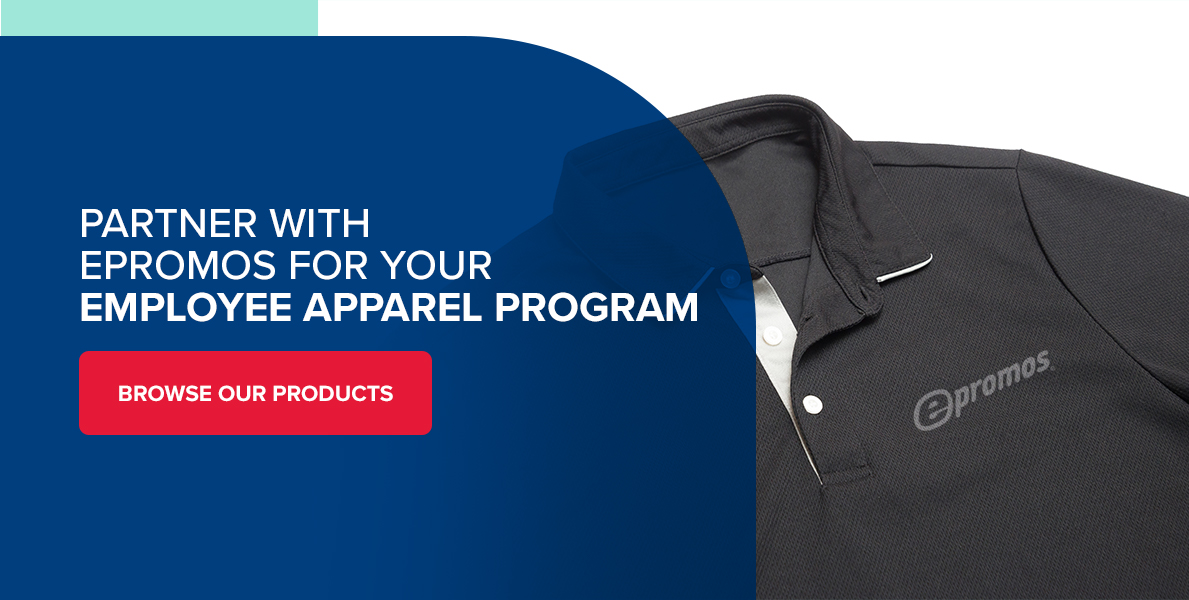 Partner With ePromos for Your Employee Apparel Program
Are you ready to design a custom employee apparel program? Partner with ePromos! We're experts at creating corporate apparel programs for brands and businesses, regardless of the industry.
We'll walk you through selecting the apparel fabric materials, imprint methods and shipping options that are the most cost-effective and efficient for your business. Browse our selection of apparel styles and brands or call 877-377-6667 to speak with an ePromos expert today!
Additional Apparel Resources: