Sustainable Fabrics for Eco-Friendly Promotional Items
Many industries are looking to use sustainable materials to produce fabrics and products. Sustainable materials are materials that don't deplete nonrenewable resources or harm the environment and natural resource systems. Sustainable materials include recyclable materials and bio-based polymers derived from renewable resources like biomass instead of oil or gas.
You may be surprised by how many different eco-friendly fabrics are available from various resources. With so many sustainable fabrics to choose from, it's time to invest in eco-conscious clothing and products to improve the planet and environment.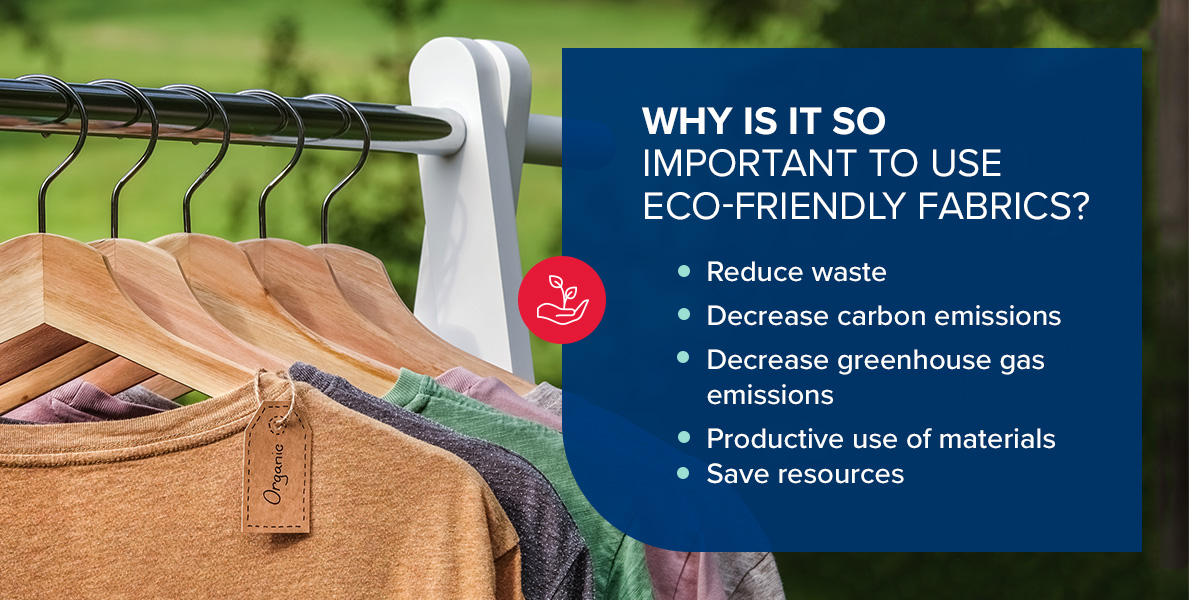 Why Is It So Important to Use Eco-Friendly Fabrics?
Using eco-friendly fabrics and recyclable clothing materials positively impacts the environment. Air pollution causes 7 million premature deaths a year. Making clothes out of eco-friendly fabrics and recyclable materials uses resources more productively and reduces air pollution, waste, toxic chemicals and environmental impacts.
Reduce waste: Most clothes end up in landfills. Landfills receive 85% of textiles or 21 billion tons a year. Eco-friendly fabrics can help prevent this unnecessary waste.
Decrease carbon emissions: The apparel industry emits 10% of global carbon emissions, and cotton farming releases 24% of the world's insecticides and 11% of the world's pesticides into the environment. Farmers who grow organic resources do not use pesticides or insecticides, lowering carbon emissions.
Decrease greenhouse gas emissions: Up to half of global greenhouse gas emissions come from extracting and processing fuel, materials and food. By reusing and recycling, global greenhouse gas emissions will decrease.
Productive use of materials: Repurposing materials gives resources a longer life in circulation and uses them as effectively as possible.
Save resources: Saving nonrenewable resources by using sustainable ones helps ensure there will be enough to meet humanity's needs now and in the future.
Taking care of the planet and its resources preserves it for future generations. A polluted environment will cause adverse health effects. If businesses notice a trend in purchasing environmentally friendly products, they will produce more of these products. Many sustainable fabrics are available for clothing, and you might want to know what some of them are when shopping.
12 Sustainable Fabrics and Recyclable Clothing Materials
When creating ecological goods, various raw materials are available for use. Thanks to the numerous sustainable fabric options, more eco-friendly products and clothes are on the market. Here are the top 12 sustainable fabrics and recyclable clothing materials:
1. Organic Cotton
Cotton is one of the most commonly used materials in the textile and fashion industry. Non-organic cotton is considered the world's dirtiest crop, but organic cotton eliminates environmental toxins and provides long-term benefits for people and the planet. Organic farming works with nature, not against it.
Fights climate change: Natural fertilizers keep the soil healthy and allow it to store more carbon dioxide instead of releasing it.
Saves water: Healthy soils absorb and keep water for longer, especially rainwater, which is useful during a drought.
Feeds families: Organic cotton farmers grow additional crops alongside the cotton, providing food for their families and communities.
Supports farmers: Farmers save their seeds yearly because genetically modified (GM) seeds are banned in organic farming. When you buy organic cotton, you support farmers instead of GM companies.
Eliminates pesticides: Organic farmers use methods like crop rotation for natural pesticides. Avoiding synthetic pesticides prevents damaging the ecosystem and poisoning waterways.
2. Recycled Cotton
The fashion industry converts used cotton fabric into fibers and makes new clothes with them. Recycling cotton reuses old garments and textiles and puts them back in circulation instead of sourcing and harvesting new materials. It also prevents them from being wasted and ending up in landfills.
3. Organic Hemp
Hemp is a plant grown from seeds. Hemp has few pests, making it easier to grow organically and leaving a smaller carbon footprint than organic cotton. It is also more durable than cotton, and more of the plant is useful.
Uses less water: Hemp only requires 500-700 millimeters of water per growing season, but cotton requires 763-915 millimeters of water.
Has multiple uses: Hemp is a multi-use crop, meaning all parts of the plant is usable. You can make food or oil from the seeds and fiber from the stalk. Hemp also replenishes nutrients in the soil, creating healthy soil for other crops.
Uses no pesticides: Hemp is naturally pest-free and resistant to mold, so no pesticides are needed when growing it.
Uses less land: Hemp requires half the amount of land as cotton to produce the same amount. For example, four acres of hemp produces the same amount of usable fibers as eight acres of cotton.
Is durable: Hemp has three times the tensile strength of cotton, making it more durable.
4. Recycled Polyester
Polyester is an artificial fiber derived from petroleum. The primary use of polyester is in the creation of plastic water bottles. These plastic bottles can be melted or broken down and recycled to make yarn. The benefits of recycled polyester are:
Reduces plastic in the environment: Recycling plastic bottles that would have ended up in landfills and oceans benefits the environment and the marine animals that might unwittingly consume the plastic.
Requires fewer resources than polyester: Recycled polyester consumes 30%-50% less energy and produces 60% fewer carbon emissions than polyester.
5. Bamboo
Bamboo is a type of grass that grows quickly. It doesn't require fertilizer or replanting because the roots will grow back after harvesting. Organic farming practices and chemical-free mechanical processing methods make bamboo an even more sustainable fabric.
6. Jute
Jute is made from fibers collected from the stem of Corchorus plants, which grow in the tropics. Jute fibers make paper, clothes and rope. Jute consumes a good amount of carbon dioxide and releases close to the same amount of oxygen. It is a durable, breathable fabric that is affordable and resistant to rips and static.
7. Organic Linen
Linen is made from the fibers of the flax plant. Flax doesn't need much irrigation, fertilizer or pesticides. The fibers are long, so they produce soft, strong textiles. Linen fabrics are breathable and biodegradable and can be added to compost or worm farms at the end of their life.
8. Cork
The bark of the cork oak tree is used to create fashionable items from shoes to bags. It is a highly sustainable material because the bark grows back once harvested, and it absorbs more carbon dioxide than other trees while it's regrowing.
9. Lyocell
Lyocell is a green, eco-friendly fabric. The manufacturing process is nontoxic and uses a closed loop system to reuse the chemicals. Lyocell is usually made from eucalyptus trees, which can grow almost anywhere, don't require as much land as cotton, grow rapidly and don't require pesticides or irrigation. It can also come from bamboo.
10. Piñatex
Piñatex is a vegan, plastic-free alternative to leather and PVC fabrics. It's made mechanically from dried pineapple leaves. The leaves are dried naturally in the sun and mixed with a corn-based polylactic acid to produce the fabric.
11. Sheep Wool
Sheep wool is a renewable resource. Many sheep are on the planet, and farmers must shear them, or the sheep might die from heat exhaustion because of how hot and heavy their wool is. The wool is extremely durable and lasts a long time. It's also biodegradable and will compost if buried in the ground.
12. QMILK
QMILK is a fabric produced from proteins in cow's milk that is no longer suitable as food. Milk fiber is biodegradable, skin-friendly and naturally antibacterial. Making it only uses renewable resources — milk is mixed with acid to extract the fibers, which can be spun into yarn or felted. Because QMILK fibers resemble silk, it is a more ethical alternative to silk.
Various options for eco-friendly fabrics exist today, and scientists are researching and studying many others. With the increased care and focus on taking care of the planet and environment and preserving nonrenewable resources, the demand for environmentally friendly or green products and apparel has increased.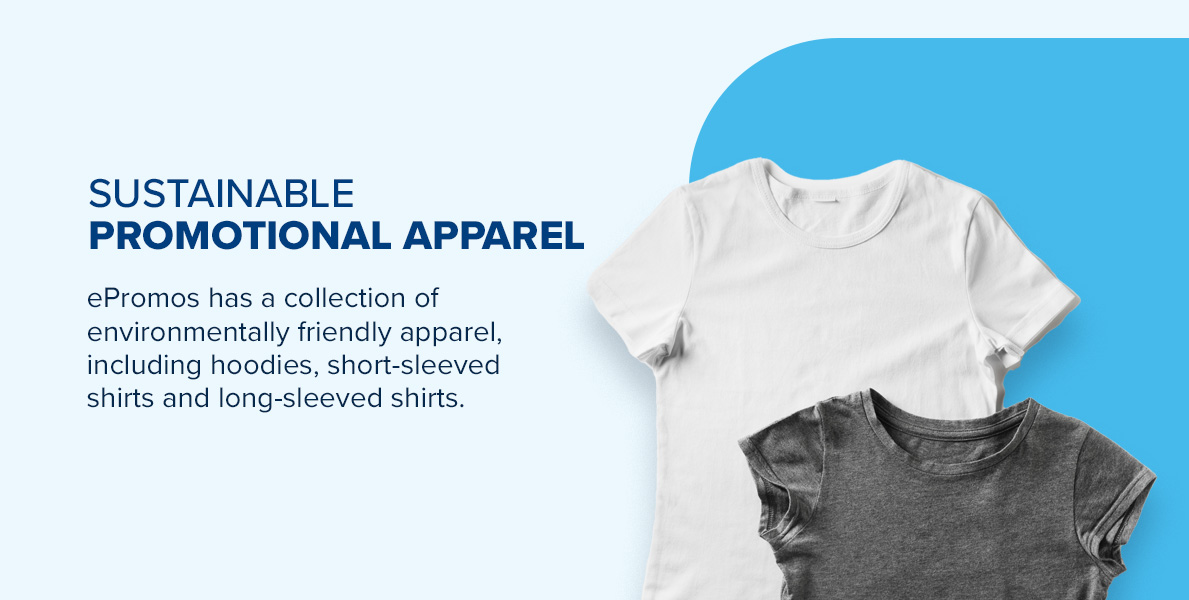 Sustainable Promotional Apparel
ePromos has a collection of environmentally friendly apparel, including hoodies, short-sleeved shirts and long-sleeved shirts. ePromos partnered with 1% For the Planet, so we donate 1% of sales from all Eco products to the organization.
Hoodies
Here are our top eco hoodies:
Short-Sleeved Shirts
Threadfast Triblend shirts are eco-friendly and comfortable.
The Threadfast Triblend Short-Sleeved Promo Unisex T-Shirt is stylish and comfortable. It comes in various colors and will look great with your custom logo or corporate brand. Made from 50% recycled polyester, 38% cotton and 12% rayon, every shirt purchased contributes to the "Plant with Threadfast" program, which plants trees, preps land and does seeding projects.
The Threadfast Triblend Short-Sleeved Custom Women's T-Shirt is available in multiple colors. It's also made from 50% recycled polyester, 38% cotton and 12% rayon. Every purchase of this shirt contributes to the "Plant with Threadfast" program.
The Threadfast Triblend Custom Logo Unisex Tank allows you to go sleeveless on hot summer days. You can choose from three color options — black tri-blend, grey tri-blend or royal blue tri-blend. Like the other Threadfast shirts, this tank consists of 50% recycled polyester, 38% cotton and 12% rayon, and purchasing this product contributes to the "Plant with Threadfast" program.
Long-Sleeved Shirts
These are some of our favorite long-sleeved shirts:
Other Sustainable Promotional Products and Giveaway Items
Whether you need to buy gifts for your employees or order giveaway items for a promotional event, ePromos has a wide array of eco-friendly promotional products.
Gifts
Some gift options are a bamboo notebook, a bamboo barbecue set and a recycled cotton bag.
The Albany Custom Bamboo Notebook comes with a matching pen. It is a spiral-bound notebook with 80 eco-friendly printed pages and an elastic closure. It would be an excellent gift for a co-worker who enjoys taking notes.
The Bamboo Promotional BBQ Set is a five-piece set perfect for anyone who loves grilling outdoors. It has a matching case to hold the serrated spatula, bottle-opener, barbecue fork, knife, tongs and basting brush.
The Recycled Cotton Custom Tote Bag is made from clothing waste cuttings blended with polyester. This durable, eco-friendly bag is the perfect alternative to single-use plastic bags.
Giveaway Items
Giveaway items include a custom drawstring backpack, a collapsible custom can cooler and custom pens.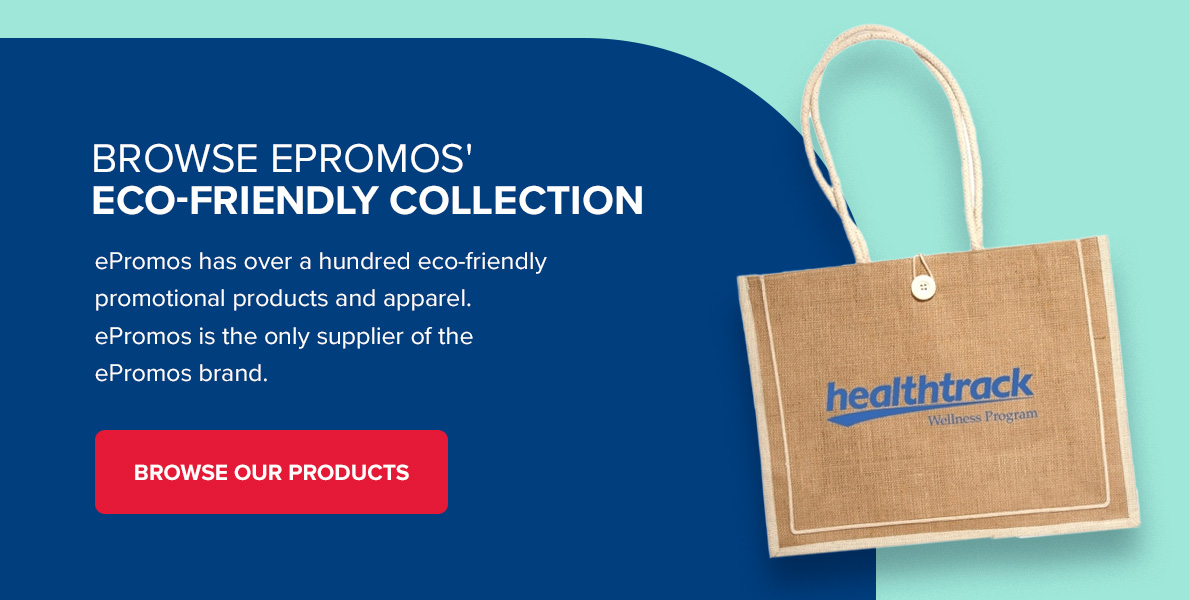 Browse ePromos' Eco-Friendly Collection
ePromos has over a hundred eco-friendly promotional products and apparel. ePromos is the only supplier of the ePromos brand. By purchasing environmentally friendly products and apparel, you take the first step in the right direction to protect the planet. Eco-friendly products use sustainable and recyclable materials instead of nonrenewable resources, preserving resources for future generations and reducing the amount of waste and plastic in landfills and oceans.
Additional Apparel Resources: