The Ultimate Promotional Outerwear Buying Guide
When you're planning to invest in the perfect promotional jackets for your company, you want to order affordable, quality products with a professional design. You have plenty of reasons for getting promotional outerwear. Matching jackets impress your clients and make your company feel like part of the team.
If you want to know more about your options for promotional jackets, this comprehensive buying guide is for you. Whether you're planning to order jackets for a business, youth program or team, this promotional outerwear guide can help you invest in a product that fits your specific goals.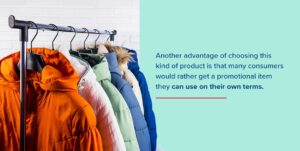 Why Purchase Branded Outwear for Your Company?
Wearable products are a favorite for consumers, especially when it comes to company swag and promotional items. Jackets are a higher value item and will endure much longer when designed to last. If you're willing to invest in a wearable item, your employees and clients will appreciate having it.
Another advantage of choosing this kind of product is that many consumers would rather get a promotional item they can use on their own terms. Personalized promotional jackets are one of the best advertising tools available. With a striking design, company-branded jackets can make a statement to the public that you care about quality.
Some of the other benefits of promotional jackets are that they:
Promote brand awareness outside of the company with a unique look
Encourage a teamwork mindset
Give employees a valuable keepsake to wear for the years to come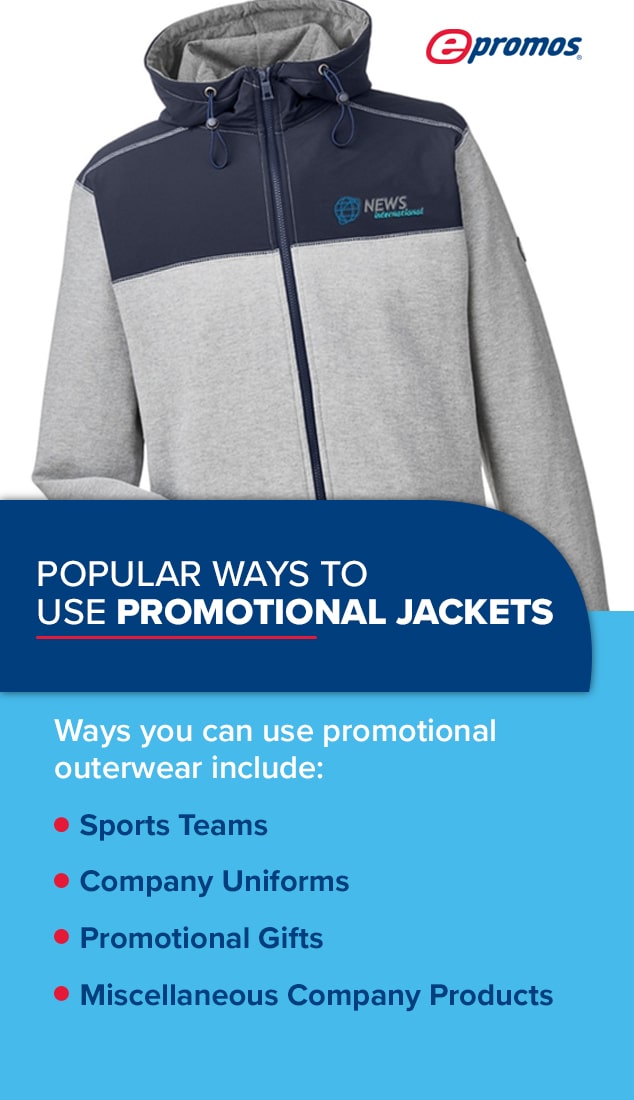 Popular Ways to Use Promotional Outerwear
Consider what your employees or clients might want to get out of their promotional wear before you select the type of company-branded jackets. Ways you can use promotional outerwear include:
Sports Teams
Are you preparing for a company sporting event? Maybe you sponsor a sports team. Jackets with the logo of your company would be perfect for these and other sporting event uses.
People will continue to wear a good sports jacket long after the event is over. The jacket will serve as a memory of a good experience, a conversation starter and a favorite go-to for when the weather is looking dreary.
Company Uniforms
Depending on your industry, you might be able to encourage your employees to wear branded jackets when they meet with clients or go about their daily responsibilities. Promotional outerwear has a professional aesthetic that you can easily incorporate into a uniform. Company outerwear greatly benefits employees who work outdoors in cold environments, like delivery workers. If you make branded jackets that employees can use on the job, everyone will look cohesive when they engage with customers or travel to job sites, regardless of the weather.
Promotional Gifts
Whether you're giving your jackets to new hires or as gifts for important milestones or holidays, your employees will always appreciate receiving a gift. You can boost morale and encourage loyalty by giving your employees promotional items.
You can also include the jacket as an additional item with a purchase, or you can offer one as a freebie when a client donates so much money. There are many ways you can organize promotional gifts.
Branded Swag that You Can Sell to Your Brand Loyalists
If you want to make a profit on your company's promotional jackets, you can sell them to your clients or employees on your online store or a physical location. This would give anyone who wants to order outerwear an opportunity to get a new company-sponsored jacket at a price. Remember that you'll have to re-order jackets if you sell them instead of ordering a set amount for an annual or one-time event.

How to Choose the Perfect Promotional Jacket
You have many options for what your order can look like when you get branded outerwear. Below are some of the available design options for how to make custom branded jackets:
1. Material
The jacket's material will determine many of its properties. Some fabrics are warmer than others, which makes them best for use as winterwear in colder locations. Other materials are waterproof, making them suitable for activewear or rainy climates. When you're deciding on the material, also look at other factors, like the style and type of jacket.
Below are some possibilities for the material of your jackets:
Cotton: A classic fabric for all kinds of clothing, cotton is highly durable and eco-friendly, with 100% cotton items being made of all organic matter.
Polyester: This is often an affordable choice with several desirable features. Polyester is flexible, lightweight and water-resistant.
Nylon: This material is cost-effective and shares many similarities with polyester. It is also water-resistant and is light enough to be layered with other materials.
Canvas: This material is made from strong fibers, usually cotton or linen in combination with synthetics. Clothing made from canvas is especially durable and is often resistant to tearing or ripping.
Fleece: This is a soft material that adds a good amount of insulation to clothing, making it great as winterwear. Fleece is very soft and comfortable.
2. Style
It's best to choose a style that is universal enough for most people to like. Below are some great options:
Standard: This style appears looser and less fitted, making it great for those who enjoy roomy outerwear.
Puffer: If you want outerwear that is highly functional in its design, this style is known for being lightweight and well insulated.
Bomber: This easily recognizable jacket fashion is produced to be stylish. When combined with your branding, it's sure to make a statement.
Soft shell: This style is designed to serve as activewear, with its form made to be lightweight enough to offer slight protection from the cold while still breathable and stretchy.
Hard shell: This is a thicker, more durable version of the soft shell built to last the wearer many years.
3. Fit
Everyone has a different idea about how they want the fit of their jacket to feel. For some of these options, it can help if you already know what the outerwear will be designed for. If you want sporty outerwear that people can go jogging in, for example, select a snugger fit to be comfortable for exercising in.
Below are some options for the fit in detail:
Fitted to shape: Fitted jackets are made to hug the wearer, especially around the waist. This look is slimming and is preferred for its aesthetic value.
Relaxed fit: Jackets with a relaxed fit are comfortable to wear, with a little extra room to move around in. This style would be a good universal option.
Loose fit: Baggier than the relaxed fit jackets, this option gives the wearer the roomiest outerwear possible.
Slim fit: This type of jacket is the most fitted, often made of a stretchy material to look tailored to the wearer.
Heavyweight: Jackets with extra weight have more insulation for the maximum level of warmth and can look more like a relaxed fit.
4. Sizing
Before you place an order, check the sizing of your preferred products to ensure you will have the options you need. Look for inclusive sizes that range from XS to 5XL, and consider whether you'll need youth options.
Order a variety of sizes if you'll be giving out or selling branded outerwear to a general audience. If you're supplying employees or a set list of individuals with outerwear, you can send out forms asking for sizing information.
5. Type
Think carefully about your area's typical climate and what times of the year you want to see your employees wearing the jackets before you select the type.
Below are your options:
Three-season jacket: Designed for colder climates, this type of outerwear has extra insulation such as a microfleece lining and micro-fill stuffing to protect the wearer. It is often made using fleece, one of the warmest materials available, and might also have a waterproof nylon outer coating to block out cold rain or snow.
Windbreaker: This often colorful style of jacket provides sufficient protection from cool weather and dampness in most climates during the spring and fall months. Windbreakers are known for being especially lightweight and simple to wear and store. Nylon is a popular material for windbreakers.
Microfleece: Fleece jackets are popular for their warmth and plush softness, making them an attractive option. Although they lack the ability to keep out dampness and are less suitable for rainy weather, they are warm enough for use in colder areas.
6. Features
The additional features you might want to consider before you order your jackets include:
Hooded or hoodless: A hooded jacket creates a distinct style with a practical purpose, while a hoodless option is sleek.
Moisture-wicking: Some jackets that resist water can wick moisture to the surface, preventing dampness from collecting against the wearer's skin. This feature would be useful for active outerwear.
Wind resistance: Jackets can have a special type of insulation that will break a cold wind, leaving the wearer comfortable on windy days.
Waterproof: Some jacket materials are resistant to water or are waterproof, which is ideal if you live in a particularly rainy area.
Insulation: More insulation is best for keeping the wearer warm on cold days.
Packability: A packable jacket folds up more easily. This style could be a good option if your employees travel often for work.
Special zippers: A jacket's zipper can be a full zip, half zip or quarter zip. So these are typically classified as just either being a full zip or a pullover 1/2 or 1/4 zip.
Pockets: Consider whether a jacket has a full front pouch, two side pockets, none of these features or another style.
7. Colors
Part of the fun of ordering promotional jackets is that you can even select the color scheme or pattern. The type of jacket, material and printing method used might limit your options, but below are some ideas:
Colors for three-seasons jackets: This type of jacket is designed with its functionality in cold weather as its major appeal, but it comes with several professional color options. These jackets tend to look more stylish than a standard sports coat and can be worn over business attire with a universal color scheme.
Colors for windbreakers: You can choose from a wide variety of bright colors for this type of jacket. They are designed to be high-visibility in dark conditions or inclement weather. In fact, construction workers and safety technicians often wear windbreakers as part of their standard equipment.
Colors for microfleece jackets: Fleece jacket colors tend to be bright and fresh without coming across as overwhelming. This is one of the reasons fleece jackets are often used for student or club uniforms.
Factor your logo and branding into your color choice. You might choose one of your company colors to pair with your logo. Or, you may opt for a neutral black that lets your logo stand out and appeals to more employees or clients.
8. Printing Method
One of the last things you have to decide on is the printing method used for branding your jackets. Keep in mind that certain types of fabric will take dye more easily with a compatible printing method.
If you want your company logo or a short message to appear on the jacket, you can order some of these printing methods:
Patches: Available in both leather or woven, patches are a great way to add a retail look to outerwear.
Direct to garment (DTG) printing: A DTG printer is used to create the design on the jacket, which sprays the ink directly onto the fabric. This method produces high-quality full-color prints.
Embroidery: Offering a quality aesthetic, embroidery uses a mechanized needle to weave the design onto the jacket.
Heat transfer printing: This method prints the design onto heat transfer paper and then presses the design onto the jacket. The paper is then peeled off to reveal the finished work.
*Note, not all materials and jacket construction will support every imprint type.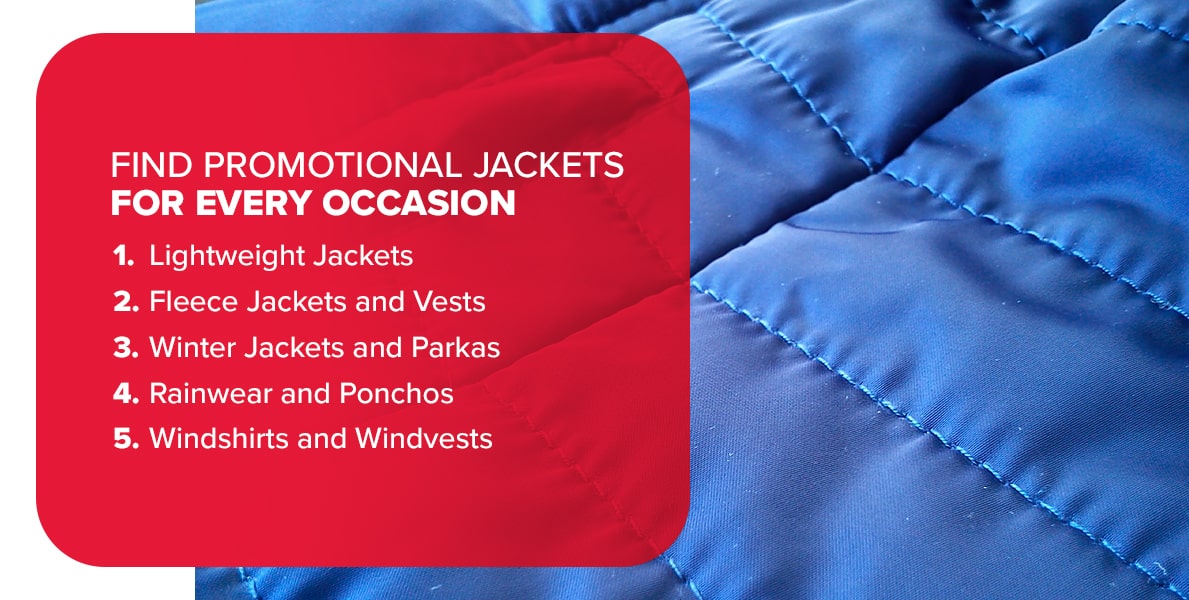 Find Promotional Jackets for Every Occasion
ePromos carries several types of promotional jackets of a high quality that would work for various uses. Below are some of our popular options.
1. Lightweight Jackets
Our collection of lightweight jackets provides plenty of options, whether you're looking for a product that focuses on style or the comfort of the wearer. Your choices include puffer jackets, fleeces and jackets with lightweight insulation. Many of the jackets in this category are also packable and easy to store, but make sure you check each product for its specific features.
2. Fleece Jackets and Vests
The fleece jackets available in our store include luxurious premium options and stylish everyday wear. Explore the features of different products, including multiple zippers, packability and puffer shells. We also have pullovers and vests if you're undecided about your outerwear order.
3. Winter Jackets and Parkas
If you're looking for jackets with superior insulation, check out our winterwear and three-season jackets. We have products with a thermal lining and other types of insulation. These jackets are ideal if you are located in a colder climate where a typical windbreaker might be too light for most of the year. This outerwear option is also fun when created for a ski trip or another special winter event.
4. Rainwear and Ponchos
For jackets that can withstand the weather, look at our available collection of rainwear and weather-proof jackets. Made of waterproof materials that repel rain and snow, these jackets are perfect for camping and outdoor venues during the rainiest months of the year.
5. Windshirts and Windvests
If you're looking for a very popular promotional jacket, select the windbreaker option. This type of jacket is casual enough to wear anywhere while still being professional in its aesthetic. Windbreakers are especially popular for youth and students who spend a lot of time on the go.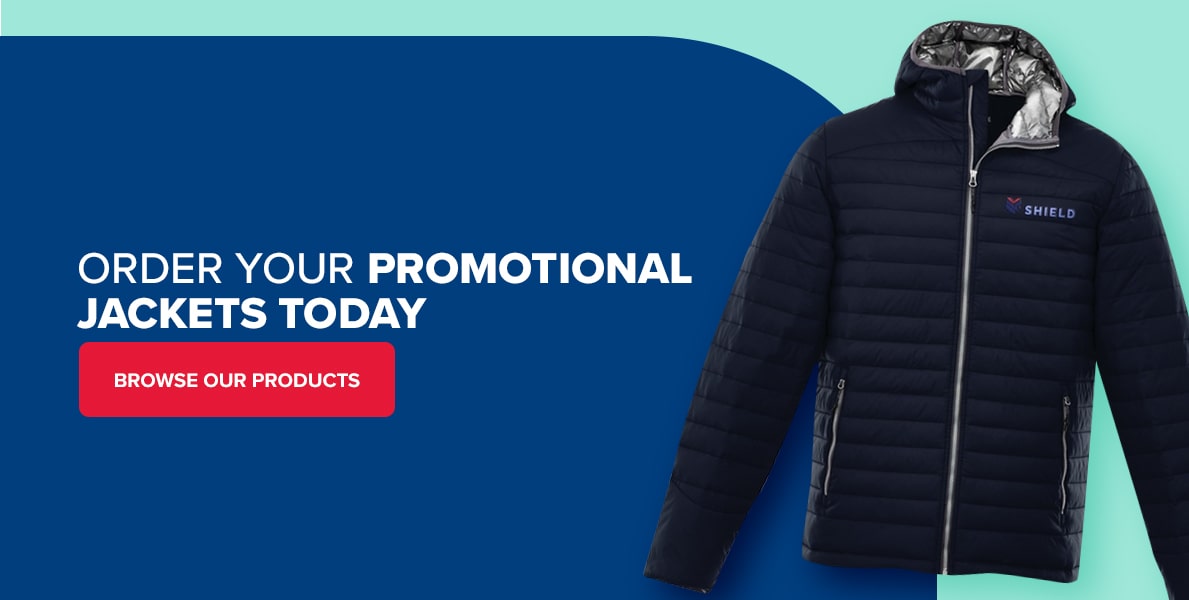 Order Your Promotional Jackets Today
ePromos carries a variety of clothing and outerwear products for companies or teams. Reach out to us at 877-377-6667 if you have questions about our ordering process. If you're ready to order, browse promotional jackets for your business, and let us professionally manufacture and print outerwear that you can be proud of.
Additional Apparel Resources: