June is an exciting month in the U.S. — the official start of summer. Warm weather, vacations, and for educators and students — summer break! With longer days and summer heat, people tend to get much more active in June — and they're often seeking fun things to do outdoors, such as festivals, carnivals, and summer sports like hiking and swimming. All of these activities make June the perfect month to get your brand involved in an awareness campaign. In this blog we'll give you the details on every awareness event this month, which range from month-long to a single day, so you have flexibility in how much time and energy you need to put into it. Even better, these are all national (if not global events), so you'll be in good company when it comes to celebrating — and you don't necessarily have to tackle the whole event soup to nuts. As these are official awareness events, there are plenty of existing ideas and materials you can customize to fit your own unique branch of an event. To ensure your event has a lasting impact, consider adding promotional items into the mix. This can be a small item for all participants, or something higher value as part of a prize for a competition. Whichever route you go, a promotional item serves to not only commemorate your involvement in the event, but as a reminder of your brand and the products/services you offer year-round.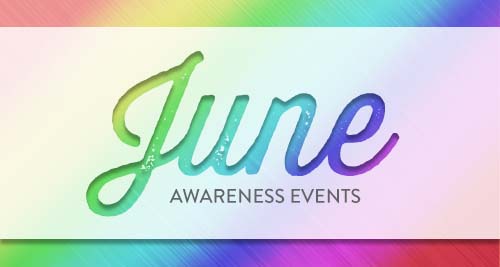 Below, we offer insight on all June awareness events, complete with a link to learn more about the event, and a few suggestions for how to get your brand involved.
Holidays and Observances in June
While there are no major holidays in June, there are still plenty of reasons to celebrate. Check out the handful of awareness events, from LGBT Pride to World Environment Day.
Medical Awareness in June
June has a handful of different medical awareness days that may be appropriate for your brand to promote, particularly if you are in the health, wellness, or medical-related field, such as a hospital, research, or pharmaceutical company. Below you'll find the list of June awareness days with a brief description of each to help determine if joining in on any of these days fits your brand and messaging. If you do opt to join any of these campaigns, we suggest reaching out to the organizers, or incorporating some of their communication pieces (many have available toolkits that include items like promotional posters and social media copy you can tailor) into your work to ensure you are representing the cause accurately.
As you can see, there are plenty of opportunities to get your brand involved in an awareness event this June — we hope we have sparked your imagination on just how big you can go, whether you hold a local, in-person event, or go broad with an online social media campaign. Once you've decided on an event that aligns with your brand, reach out to ePromos to brainstorm what promotional product can be the icing to your cake. We'll walk you through each step of the process, from dreaming up the perfect customized product, to ensuring easy, on-time delivery — all backed by our 110% satisfaction guarantee.
I don't see where this is a good prize —  just a single selfie stick? But, if there are numerous winners, then the company would need to order many of them.