ePromos for Good Winner: USO of Hampton Roads and Central Virginia
Although almost everyone in the United States of America knows about the USO, the acronym is so famous that most people would need to think awhile to remember what the USO abbreviation stands for. The United Service Organization has been in existence since 1941. It was founded in preparation for World War II by leaders who understood that maintaining high morale in a fighting force is vital to a nation's military success. The USO stands by our troops through every step of their service. From deployment to rehabilitation and reintegration, the USO is there for soldiers and their families.
The USO of Hampton Roads and Central Virginia (USOHRCV) has a mission that mirrors the national organization:  The needs and interests of our local troops are the top priority. The USOHRCV takes personal responsibility to ensure soldiers and their families receive the support they deserve.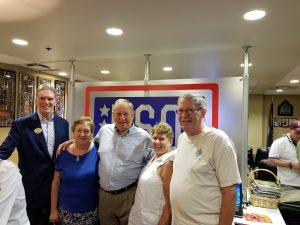 The Hampton Roads and Central Virginia USO has programs and events that are powerful expressions of gratitude to the men and women who secure the nation's freedoms. These include:
Father's Day Events
Networking Activities
"Lunch & Learn" Get Togethers
Canine Comfort Crew
Adopt-A-Serviceman Program
Entertainment like Sesame Street and much more!
Over time, the USO has become the vital bridge between Americans and their military service members. The USO is a family of volunteers, sustained by the charitable contributions of millions of generous Americans. Volunteers are united in the commitment to support America's service members by keeping them connected to the people, places and things. It is these volunteers that Hampton Roads and Central Virginia USO wants to honor with special gifts created by ePromos.
Results
USO ordered these bags to thank their volunteers and sponsors. They came out great!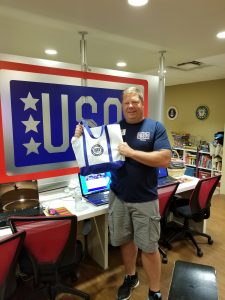 About USOHRCV
The USO of Hampton Roads and Central Virginia (USOHRCV) is the premier service organization of the United States military and their families in the region serving the largest concentration of military personnel in the country. They are a non-governmental, non-profit 501c (3) organization that receives no direct government funding but relies solely on the generosity of the American People.
"100% of Americans enjoy freedom, but only 1% are willing to defend it. We need them. They need us. We need you. It's your community and your USO, and we matter to those who need us most."
ePromos for Good
ePromos believes promotional products are much more than items imprinted with a logo – they have the power to drive action, inspire change, and make a lasting impact. We want to make a difference by sharing promotional products with organizations that are helping to create a better world. That's why ePromos for Good was created. Selected organizations may use the promotional items as they see fit – whether it's thanking volunteers, recruiting donors, or spreading the word about the organization. Winners are chosen every other month. Apply here.