Project Sanctuary: Restoring Hope and Empowering Military Families to Recover and Thrive
Support for Those Who Serve Our Country by Helping Their Whole Family
Protecting and serving our country is one of the most noble career paths a person can take. The brave members of our military and their families deserve the best care once they come home because when one person serves, the whole family serves. That notion inspired Heather Ehle, who founded Project Sanctuary in 2007 while working as a registered nurse. During that time she discovered that no organization was helping military families as a unit.
What began as one retreat in the Colorado mountains has since grown into a national organization serving thousands of at-risk military families. Today, Project Sanctuary is proud to be one of the only organizations serving veterans, spouses, caregivers, and children as a family unit. Veterans have a 50 percent higher risk of dying by suicide than civilians. Active duty suicide rates have reached an all-time high since 2012, and in 2017 alone, 123 military spouses succumbed to suicide. Military families relocate every other year, isolating spouses and children and making it even more difficult to cope with the challenges and stress of military life.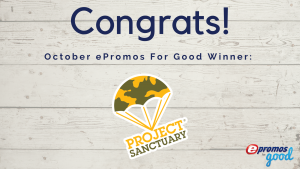 Project Sanctuary, takes a human-centered, solution-based approach to helping military families heal and move forward in life. Through innovative, long-term programming focused on connectedness, they restore hope and empower families to recover and thrive. They take on this worthy cause in a rather simple way. Through the generosity of their donors, they serve at-risk military families across the country through Therapeutic Retreats and year-round Family Support.
These successful Six-Day Therapeutic Retreats are staffed and designed by the Certified Therapeutic Recreation Specialists (CTRS) and the licensed counselors and social workers on Project Sanctuary's staff. Retreats are open to active duty service members and veterans of all branches of the military and all eras. All types of families, including single individuals and the LGBTQ+ community, are welcome at their retreats.
Family Support provides year-round case management services addressing critical needs such as financial assistance, caregiver support and veteran resources. Project Sanctuary's goal is to help every military family become self-sufficient, high-functioning members of society. They provide human-centric care from the beginning and throughout each family's journey. Since their inception over 12 years ago, they have served nearly 2,000 military families.
According to families who have participated in the retreats and Family Support Program, Project Sanctuary has had a huge impact on their lives. A Morgan family member explains, "After my service in the Navy, I came back changed. I no longer wanted to participate in life. I was just a passenger. I applied for Project Sanctuary right after I had my daughter Elizabeth. Right then, I knew I had to change. Someone else was relying on me to support them. The retreat was lifechanging. My family began talking to one another and we opened the lines of communication."
Similarly, the Davis family was greatly helped by the program. They tell us, "We had been growing more detached, stressed, and less cohesive as a family. To put it plainly, we were a hot mess. At the retreat, we pressed pause as a family. We were able to connect as husband and wife through the marriage seminar, take a real look at where we are financially, and learn some tools to help us when we returned to our lives. Project Sanctuary helped us begin to heal as a family when we didn't even realize the extent of our wounds."
Like many organizations, Project Sanctuary relies heavily on individual donors to support the important work they do. In 2020, many people have lost their jobs or have seen pay cuts, making it harder to give to charities the way they used to. To honor the generous donors who continue to donate their hard earned money to help these military families, Project Sanctuary is planning on sending recurring donors and those who donate on their birthday, a customized, reusable shopping bag or lunch box made by ePromos. This will not only be a nice "thank you" to those who make Project Sanctuary possible, but it will also help spread awareness.
Project Sanctuary is a critical lifeline to families in need and will continue to help military families heal and thrive. We could not think of a worthier cause than helping serve those who serve our country and we are thrilled to help send families on retreats and find Family Support year-round.
About ePromos for Good
Each month, ePromos selects a new non-profit to receive $500 in free promotional items of their choosing and can use these products for anything—fundraising, recruitment, simply getting the word out or anything in between. Organizations are chosen based on their commitment to doing good—good we've seen in each of our winners, including Words Alive! , Paradox Sports and The Mentor Foundation USA, to name a few.