February ePromos for Good Winner: Paradox Sports
Defying Their Odds, Together
In 2007, more than 20 physically-disabled participants showed up at a local rock climbing gym outside of Washington DC. And that day, alongside injured Iraq war veteran D.J. Skelton and his friends, the group would defy their physical limitations – and the odds.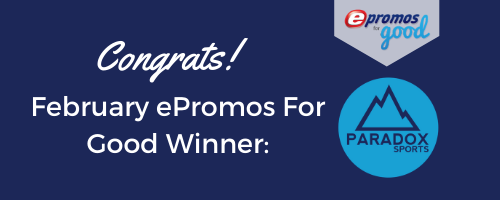 Participants representing a variety of disabilities, including blindness, amputations, paraplegia, and more gathered to climb with these goals: to shake off their supposed limitations, and to leave behind the narrative that their disabilities define who they are and what they can and cannot do.
Inspired by their climbing experience and in the months that followed, D.J. Skelton, Reid Olmstead, Jason Chang, Nelson Yang, Aubrey Ohlde, Kris Sandor, Joe Vollono, and Ocean Eiler founded Paradox Sports. This all-inclusive recreation community is designed to inspire post-traumatic movement and growth.
Each year, Paradox Sports' adaptive climbing programs enable over 450 people with a range of injuries such as visual impairments, spinal cord injuries, neuromuscular disorders, and PTSD, to discover a new sense of accomplishment, purpose, and self-worth through challenging outdoor sports.
With its "Climbing for All" mentality, the organization has empowered more than 4,500 injured civilians and war veterans with outdoor sports across the U.S.
Collectively, Paradox has conducted climbs in Colorado, California, New Hampshire, Wyoming, New York, Florida, Washington, Virginia, Texas, Vermont, Minnesota, Oklahoma, Maryland, Nevada, Illinois, and Massachusetts. And that's just the beginning.
ePromos for Good

At ePromos, promotional products are more than just branded premiums. Used right, they can inspire action and be a force for meaningful change – and that's exactly what ePromos for Good is about.

Each month, ePromos selects a new non-profit to receive $500 in free promotional items of their choosing and they can use these products for anything – fundraising, recruitment, simply getting the word out or anything in between.

Organizations are chosen based on their commitment to doing good – good we've seen in each of our winners, including the Rescue + Freedom Project, Save a Child's Heart and the National Youth Internet Safety and Cyberbullying Task Force.