How to Budget for Corporate Gifts
Holidays and annual events are excellent opportunities to show your appreciation to clients and employees through gifts. These items show that you value your employees' and clients' hard work and continued loyalty to your brand.
You don't need elaborate, expensive gifts to show your clients or employees how much you appreciate them. Learn more below about how you can budget for corporate gifts and some of the best budget-friendly gift options you have for any season!
How Much Should You Spend on Corporate Gifts?
The amount you should spend on corporate gifts depends on the number of holidays or gifting opportunities your employees have throughout the year. There are three primary gifting opportunities, and you should budget around $100 per employee to account for these events. The following are the three gifting opportunities and how much you should budget for each staff member and client:
During popular gift-giving holidays, such as Christmas or other holidays around that time, you could hold different events, like a white elephant or secret Santa. These events allow others to participate in the gift-giving, but remember to set a cap of around $10 to $15 to ensure that everyone can participate.
Budgeting for Corporate Gifts
Now that you know how much you will spend on corporate gifts each year per employee and client, you can start creating a budget. Follow these steps to ensure you budget enough to meet the monetary needs of each employee during holidays, personal events or random events:
1. Set an Overall Budget
The first step is setting an overall budget that encompasses the amount you'll need for each holiday or event for every employee and client. If you're meant to budget around $100 per person, you'll need to count the number of individuals and multiply that by 100. For example, if you have 25 employees and spend $100 on gifts for each of them throughout the year, you'll need to have an overall gifting budget of around $2,500.
Your budget may also be a high estimate, but it's better to be overprepared than underprepared. Not every employee or client will have a random individual event throughout the year since events like weddings and baby showers only happen a few times in a person's life. However, you still want to budget for these events in case they do happen. You can roll over into the following year's budget if you don't spend your entire budget on gifts.
2. Determine How Many Gifts You Need
The number of gifts you need will depend on the number of holidays and events you're celebrating and the number of employees or clients. If you're celebrating significant holidays and individual birthdays, you'll need a gift for each holiday and event.
For example, say you're celebrating four major holidays with your 10 employees. You'll have 40 holiday gifts, 10 birthday gifts and 10 employee anniversary gifts if this is something you're celebrating. You'll also need to account for at least one item per person for random events. In this example, you should plan for 70 gifts in a year.
Once you know how many people will receive gifts, you can determine what holidays you will send out items for and how many birthdays or anniversaries you need to account for.
3. Keep Track of Who Is Getting What and When
If you have a large company or client list, you may be more selective of who receives gifts since it would be a financial challenge to provide a gift for everyone. Instead of gifting every single client, you can be more selective. Choose clients you've worked with for a long time and have become a significant part of your business.
Remember that you don't want to pick favorites with your employees unless your gifts are results-driven. If only some of your employees receive gifts during the holidays while others don't, they could feel left out, alienated and undervalued. You'll also need to track who is getting what and when. You want to ensure that you deliver gifts on people's birthdays if this is something you're doing for others and that you have gifts ready for different holidays.
Gift Ideas for Employees on a Budget
With a budget in mind, you can start selecting your event and holiday gifts for team members! Promotional items are excellent options because they represent your brand while showing appreciation to your employees. Consider the following gift ideas for different events and holidays:
Office and Desktop Gifts
Choosing office equipment as gifts is an excellent way to help streamline the work day for employees and remind them that you support their career development. You have many options for office and desktop gifts, such as:
Travel Items
Many people enjoy traveling, whether it's taking a vacation, seeing family or going on a spontaneous trip. Travel items are an excellent option, especially as employee gifts for Christmas or other holidays where people travel. These gifts also encourage a life outside of work and showcase your appreciation. Some travel gift options include:
Experience Gifts
Many enjoy new experiences and branching out with their interests, making items related to these hobbies and interests excellent gifts. Employees can even share these gifts to bond through activities such as movie nights, cookouts, sporting events and more. Some experience-centered items include:
Personal Care and Beauty Supplies
Self-care is essential for a person's well-being, so choosing personal care items as gifts is an excellent way to help your employees decompress after long, stressful days. Some self-care gift ideas include: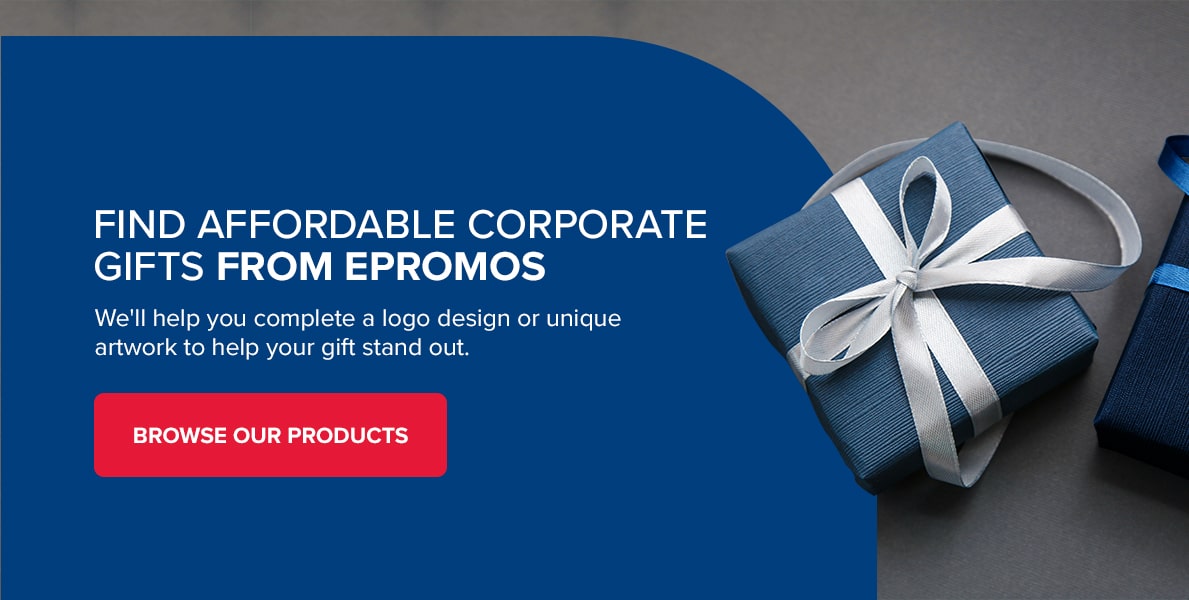 Find Affordable Corporate Gifts From ePromos
If you're looking for affordable branded corporate gifts for holidays or events, ePromos has everything you need. We have corporate gifts for any budget, whether you're looking for something around $5 for the holidays, $10 for a special event or $20 gifts to show someone you're thinking of them on their special day. We have everything you could need to make the most of any season.
We'll help you complete a logo design or unique artwork to help your gift stand out. We can also rush order certain items, so it's shipped in one business day, helping you meet tight deadlines. Browse our complete selection of corporate gifts today to find something special for your employees or clients!