How Many Promotional Items Should You Order?
Promotional products are a great way to earn buzz for your business by enticing potential new customers with free stuff — and people love free stuff. Not only that, but one study found 56% of participants said their impression of a business was improved after receiving a free promotional product. Also, the average lifespan of a promotional product is six months, and many people pass them onto others when finished. What does that mean? Your brand continues to spread with each passing of a promotional pen, mug, umbrella, etc. It's true, we're ever touting the value of promotional products — and frankly, we think you should, too. The data is just too good in support of the great return on investment and brand awareness you can garner from them. But, if you've ever ordered promotional products, we bet there's one thing that's given you pause — quantity.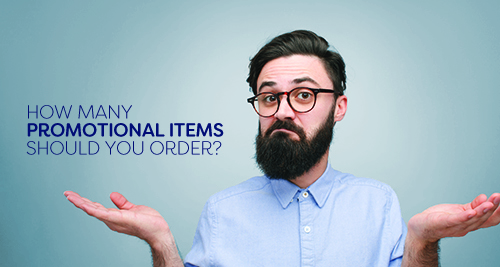 You've made the decision to order promotional giveaways. You've landed on the perfect product. You've settled on a design so good it practically brings tears to your eyes. Everything is going along so smoothly. Only thing left to do is determine the quantity of goods you want. And…you have no idea. It may even feel a little contradictory. You want to give out as many promotional products as possible to spread your brand reach…but you don't want to end up with a storage-sized amount of leftovers. In this piece, we offer our best tips for settling on the right quantity based on the type of event and/or purpose for giving them out.
Speaking generally, one very simple rule for ordering promotional items is to simply consider the size of your outreach. If you can pinpoint a desired number of people to reach with a specific campaign or event, just order 20-25% more than your target number. This is a healthy, safe 25% more than you think you'll need. That extra 25% is a safety net in case things go really well, and ensures you'll have extra products on hand.
Another approach is to order a small amount to begin with. This may be a better route if you are trying a more experimental approach to marketing, working on a rebrand, or otherwise don't have a clear view of what's ahead. You can always order more as you find your footing (and run low on products!), so stocking back up isn't really an issue. Of course, this approach wouldn't work for a one-time event, such as a convention. But, if you are planning to use the products to give out slowly over time, it's is a good, safe option.
The physical size of the promotional item is another thing to take into consideration when deciding on quantity. If opting for larger items, which may be more expensive and/or difficult to store, you may benefit from ordering smaller quantities. Large promotional items, such as a handsome golf umbrella, make for an excellent giveaway. But these larger items, though desirable, simply aren't that easy to give out en masse at a busy, crowded event.
Smaller items, such as pens, webcam covers, and PopSockets®, are easier to store, carry, and hand out — and still get your brand name out there! For these types of items, we encourage you to order as many as you can. Why? The more you order, the bigger the discount. For example, 300 pens may cost 71 cents each. But if you jump your order up to 5,000 pens, the price per pen lowers to only 55 cents for each one. Further, these types of items are easy to hand out, and are appropriate for nearly any type of event, meaning you'll have ample opportunities to give them out over time.
Trade Shows and Conventions
If you're interested in ordering promotional products for a trade show or convention, there is more specific wisdom we can share. If you'll be giving away products at a large trade show, find out the number of expected attendees. Then, plan to have enough giveaways to cover 25% of that number. For example, 500 products for 2,000 attendees. With so many people milling about, and vendor upon vendor to stop at, catching the attention of 25% of attendees is not only realistic, but admirable. Pro tip: if you'll be traveling to the convention, consider having your order shipped directly to the location of the event. This will save you the hassle (and potential headache) of traveling with hundreds of products.
Conversely, if you'll be giving away promotional items at a small convention, plan for a much higher number of attendees to receive a product from you. In this case, anticipate 75% of people to receive one, 375 products for 500 attendees. That's because with a crowd of this size there is a better chance for people to make their way around the entire event, and with less distractions — meaning more will end up at your table (percentage-wise).
At the Office
Ordering promotional products for the office may have a two-fold appeal — they may be for customers or employees. If you are planning to order promotional gifts for customers (or potential ones), our advice is to use your best judgement to calculate how much foot traffic your business regularly receives. Use this number as your quantity. Of course, you can also overshoot 20-25%, as we also suggested above when generally speaking about quantity. On the other hand, if you are ordering promotional gifts for employees, the quantity is much simpler to figure out. In addition to ordering for the number of employees you plan to gift the products to, we encourage you to tack on another 25%. This extra amount is perfect to keep on hand for new hires, or as a special gift to clients who may pop in around the office.
Community Events
Community events are a great way to drum up local goodwill for your business and brand and get involved in what matters to those who live in the same town you operate your business out of (and likely serve). If you are ordering promotional goods for an event with volunteers, make sure all volunteers receive one — think of it as a small "thank you" gift for their time and participation (and potentially a warm introduction to your business). While you should be able to get a tally of volunteers ahead of the event, we always suggest ordering a few extra, since some people may sign-up last minute.
We hope this piece has provided you with some useful tips when it comes to deciding the appropriate quantity of promotional goods to order. We know it can be confusing to decide, but it doesn't have to be! Of course, if you have more specific questions, or feel what you're looking for is a bit out of the box from what we've suggested here, please get in touch. Our customer service representatives are always available — by phone, email, online, or real-time chat — to help you with anything you may need.