Benefits of a Brand Ambassador for Your Business
"I'm not a promotional products guy." That's one of the first things you'll hear from Dan Nevins, a 15-year Army veteran who's built his professional life post-combat as a public speaker, yoga teacher, and retreat leader.  
But he is a guy who believes in the power of connection, as well as in all the ways we're called to build meaningful community with those who need it most. That's what led him to become the brand ambassador for Basecamp®, a product line of versatile and affordable high-quality gear like backpacks, water bottles, and multi-purpose tools that can be used anywhere from deep in the woods to your office desk.
Let's explore Dan's story and how playing such an important role in the Basecamp brand made an impact both for the brand and for him personally.
The Missing Link
In 2015, Senior VP of Sales and Marketing Kellie Claudio brought in Nevins as the guest speaker for their national sales meeting. The theme was "If it doesn't challenge you, it doesn't change you" and Nevins captivated the entire team from the moment he entered the room.
Nevins spoke for two hours about his experience as a war-injured veteran. "He had everyone crying, then everyone laughing," recounts Claudio. "His speech was incredible—it was motivating, captivating, emotional." The encounter highlighted not only the power of storytelling, but also the impact one person can have on the momentum and trajectory of an event. It was exactly what Claudio and her colleagues had been searching for.
"We'd started Basecamp three years earlier," Claudio says. "We had a vision for how big it could be, but it was missing a connection to the consumer. Nevins was that connection. He embodied the mantra—live bold, live Basecamp."
What's the Journey of a Promo Product?
Before his involvement with Basecamp, Nevins' own promotional products journey started years earlier, in 2004, with a backpack.
An IED explosion in post-9/11 Iraq resulted in the amputation of both of Nevins' legs and a lengthy hospital stay. This was only the beginning of a years-long recovery and rehabilitation process that would go on to include 36 surgeries and an emotional, hard-won transformation into the person Nevins is today.
During that initial period of physical healing, Nevins was visited by someone from the Wounded Warrior Project. The organization, he says, was "literally at my bedside from day one at Walter Reed Army Medical Center helping me discover that my disabilities didn't define me—I got to define what the rest of my life was going to be like."
In that first meeting, Nevins recalls, "They gave me a backpack and a promise that whatever my family or I needed, they'd be there." That commitment was best exemplified to Nevins in the backpack's logo—one warrior carrying another off the battlefield. As a symbol of support and community, the item became monumental. Nevins isn't being hyperbolic when he says, "That backpack changed my whole life. It was the most significant gift I've ever received or ever will receive."
Changing Lives as a Basecamp Ambassador
As Basecamp's brand ambassador, Nevins has discovered a new avenue for offering other veterans the same network of support he experienced more than a decade and a half ago. As an industry speaker, design consultant, and advocate for Basecamp's product line, he's helped propel the brand while giving back.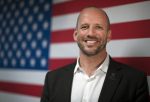 "The partnership and the impact it has had is real and tangible," Claudio explains. "Nevins is woven so deeply into the fabric of our company—he's an integral part of Basecamp's DNA now." Part of that impact is behind Basecamp's partnership this year with the Wounded Warrior Project (WWP). Founded in 2003 by John Melia, WWP helps post-9/11 wounded veterans and their families through more than a dozen programs focusing on mind, body, and spirit. The organization currently serves over 170,000 individuals, offering connection, physical and mental wellness efforts, career and VA benefits counseling, and programming for personal independence, among other services.
A portion of proceeds from the sale of every Basecamp item will be donated to the nonprofit, in addition to Basecamp directly providing the organization with $100,000 in promotional products—including supplies for their highly regarded Backpacks Program, which is still a core element of WWP's outreach today. "A backpack to me used to mean nothing," Nevins says. "Now it has this really special place in my heart."
As a result of their partnership, "Basecamp became the biggest cheerleaders I've ever had," Nevins explains. This included Basecamp's extensive support of Warrior Spirit Retreat—a workshop Nevins created as a yoga teacher to help heal the invisible wounds of war. As Basecamp grew thanks in part to Nevins' ambassadorship, it made sense to shift this support to Wounded Warrior Project, where an even larger community of veterans can be reached.
"These are people on the verge of divorce, suicide—they're retreating from the world," Claudio says. For a veteran on the brink, human connection can come in many forms. For Nevins and many others returning from war, it started with a backpack. And as a brand ambassador for Basecamp, Nevins is making sure that's how it will continue.
Promotional products provide a unique opportunity to communicate meaning or share a lasting message with recipients. Working with the right brand ambassador can help amplify that reach. To brand your business and support Basecamp's initiatives, start here.