How to Raise Awareness During Heart Health Month
Heart Health Month is in February, and you, your family, friends and coworkers can find ways to bring awareness to your community for some of the most common health conditions. Promoting healthy lifestyles and regular physical checks can highlight the importance of maintaining a healthy heart while enjoying your favorite activities.
Keep reading to find ways to raise heart health awareness in your community, one step at a time.
When Is Heart Health Month?
Heart Health Month takes place during the month of February each year. Over the course of the month, organizations, families and individuals focus on bringing worldwide awareness to high blood pressure, high cholesterol and smoking — the leading risk factors for heart disease and stroke for people of any age.
President Lyndon B. Johnson proclaimed February as American Heart Month in 1964. The goal of this declaration was to encourage Americans to support organizations fighting to end the threat of heart disease across the nation. Now, almost 60 years later, we can do our part to ensure heart health awareness continues to thrive.
Three Ideas to Celebrate American Heart Month
If you're interested in raising awareness for American Heart Month, you can participate in several exciting activities that bring heart disease and its causes to light. Whether you promote February's Heart Awareness Month through individual actions or community-wide events, even the smallest efforts make a huge difference.
Here are a few ideas that raise awareness for American Heart Month.
1. Organize a Community Walkathon
Physical activity is an excellent way to promote healthy lifestyles that diminish the possibility of heart disease. Did you know that just 30 minutes of walking a day can give you a 35% lower risk of heart disease and a 40% lower risk of diabetes? The impressive results of a short walk are an excellent way to celebrate American Heart Month and bring awareness to heart disease.
You can make an effort to walk for half an hour with your friends, family or coworkers or try a larger event such as a walkathon fundraiser. Walkathon participants collect donations, which can go to organizations specializing in heart health treatments and research. This idea is a fun way to unite the community while promoting healthy lifestyles to prevent heart disease.
2. Participate in National Wear Red Day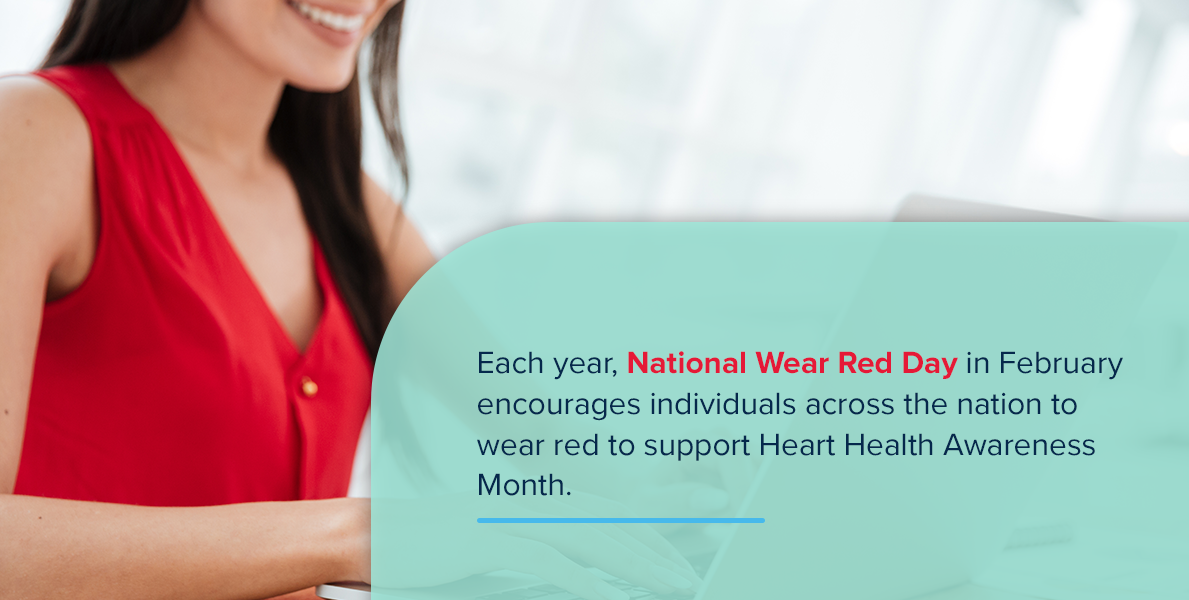 Each year, National Wear Red Day in February encourages individuals across the nation to wear red to support Heart Health Awareness Month. This day falls on February 3 in 2023. On this date, you can encourage people in your workplace to wear a red clothing item to commemorate this first week of February's Heart Awareness Month.
You can also spread awareness of this day through social media so others in your community can participate in National Wear Red Day. Although this act may seem small, you still encourage a kind-hearted message of support that others can look forward to each year when February arrives.
3. Host a Heart Healthy Potluck
Nothing brings a community together quite like a good old-fashioned potluck. You can organize a workplace or community-wide potluck using heart-healthy foods to bring awareness to heart conditions that impact individuals worldwide. As a bonus, it can also give people new ideas for delicious ways to maintain a healthy heart!
If you think this idea would be the perfect way to celebrate American Heart Month, you can add foods with heart-healthy ingredients to your organized potluck. Encourage people to bring dishes with:
Leafy green vegetables.
Lean meats such as ground beef, pork tenderloin, turkey and skinless chicken.
Whole grains, including brown rice and tortillas.
Fat-free and low-fat dairy foods.
Salmon, trout and tofu.
Avocados, seeds and nuts.
Promotional Items for Heart Health Awareness Month
Raising awareness for heart health can start small. Every little action that brings heart diseases and conditions to light can help others recognize the causes and signs of these common health issues.
One of the most common ways of celebrating Heart Health Awareness Month is to use promotional items that resemble hearts around your workplace or community. While many may associate these items with Valentine's Day celebrations, you can find ways to push the message of broader public heart health awareness anywhere you go.
Promotional items for Heart Health Awareness Month can include:
Spread Heart Health Awareness With ePromos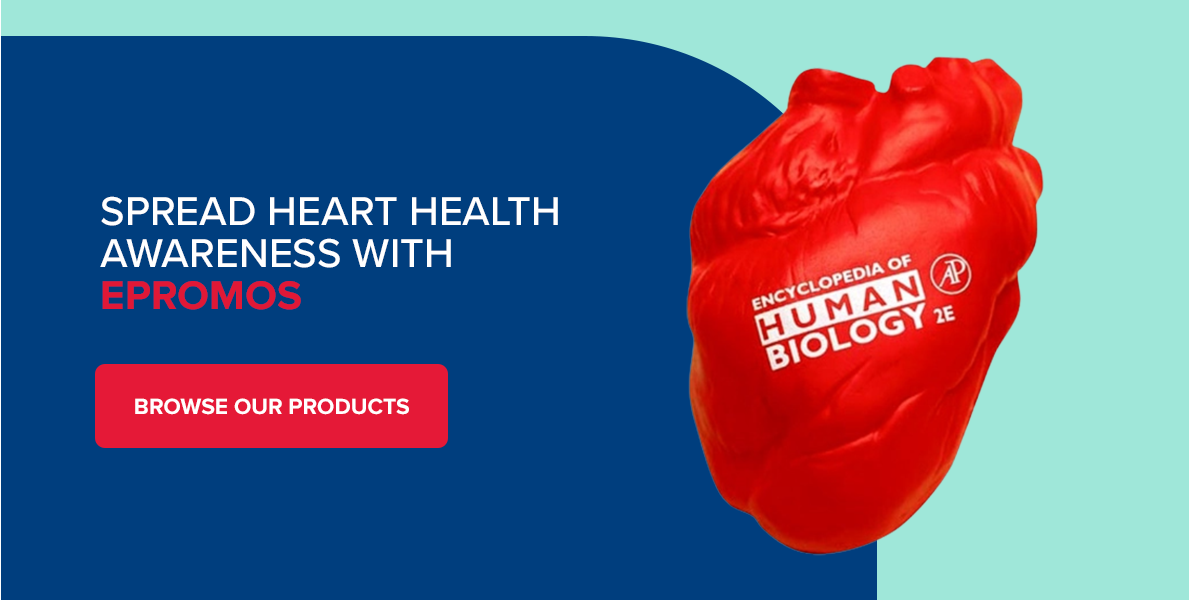 Make a difference in your community by raising heart health awareness with ePromos! Our promotional items are the perfect way for you and your community to spread information about preventing heart conditions for those around the country. Your efforts go a long way when you incorporate promotional items through fundraisers, workplace events or even in your home during February.
At ePromos, we prioritize bringing awareness to your cause, especially for the general public's benefit. We are excited to work with you to bring your dedication to light through each promotional item you create from our wide selection of available options. Browse through our collection of promotional heart products today!