Juneteenth Celebration Ideas That Will Make an Impact
Juneteenth is an annual celebration commemorating the end of slavery in the United States following the Civil War. Since the late 1800s, Black people have celebrated the historic day with community gatherings like parades, delicious meals, prayer services and more. The holiday champions Black culture, achievements and freedom.
Everyone can honor Juneteenth. You can participate in many activities and festivities to support and appreciate the historical legacy. From delving into history to buying from Black-owned businesses, you can get involved in many ways. Learn more about how to celebrate Juneteenth as an ally.
What is Juneteenth?
Juneteenth celebrates the anniversary of June 19, 1865, when federal troops arrived in Galveston, Texas, and informed the enslaved people they were free. Abraham Lincoln signed the Emancipation Proclamation on January 1, 1863, which declared the freedom of all enslaved people. However, slavery remained unaffected in Confederate-controlled Texas until the Union troops' arrival on Juneteenth nearly two and a half years later.
The Union troops marched through plantations and cities while reading copies of the Emancipation Proclamation. Celebrations broke out among the newly-freed Black people, marking the first Juneteenth festivities. The term "Juneteenth" means a blend of the words "June" and "nineteenth." Early activities included:
Prayer services
Readings of the Emancipation Proclamation
Large meals
Games
Rodeos
In the years following, Juneteenth commemorations continued to honor the historic and joyous day. Texas was the first state to officially recognize Juneteenth as a legal state holiday in 1980. Since then, the state has honored the day with parades, picnics and other community events.
On June 17, 2021, President Joe Biden signed a bill that made Juneteenth a federal United States holiday. The law went into effect right away as the United States observed the holiday in the following days. People across the country continue to celebrate the holiday with many festivities.
How to Celebrate Juneteenth
It's important to commemorate Juneteenth and support Black culture and history. Here are a few ideas for Juneteenth activities you can get involved with:
1. Support Black-Owned Businesses
A great way to celebrate Juneteenth is by supporting local Black-owned businesses. Research nearby Black-owned organizations. From self-care items to clothing to accessories, you can find any desired product from Black business owners. Your purchases help small businesses stay financially healthy and appreciate Black culture.
Another great Juneteenth idea is to order from Black-owned restaurants. Many holiday foods display Juneteenth colors, like red, which symbolizes Black resilience and joy. Celebrators commonly eat red foods like red velvet cake, watermelon, hot sauce and various red drinks. By ordering from Black-owned food establishments, you can enjoy authentic food and support them.
Other ways to support Black-owned businesses include:
Writing reviews: After your purchase or meal, you can write a review to share your experience with others. Review sites like Google and Yelp compile user reviews to rank and promote organizations. Your positive words can encourage others to visit and buy from businesses.
Spreading the word: You can also use word of mouth and social media to promote Black-owned small businesses. Social media posts let you attach pictures, location information and other details that can encourage others to visit. Or, mention the restaurant or shop to your family or friends to increase exposure.
2. Attend Juneteenth Events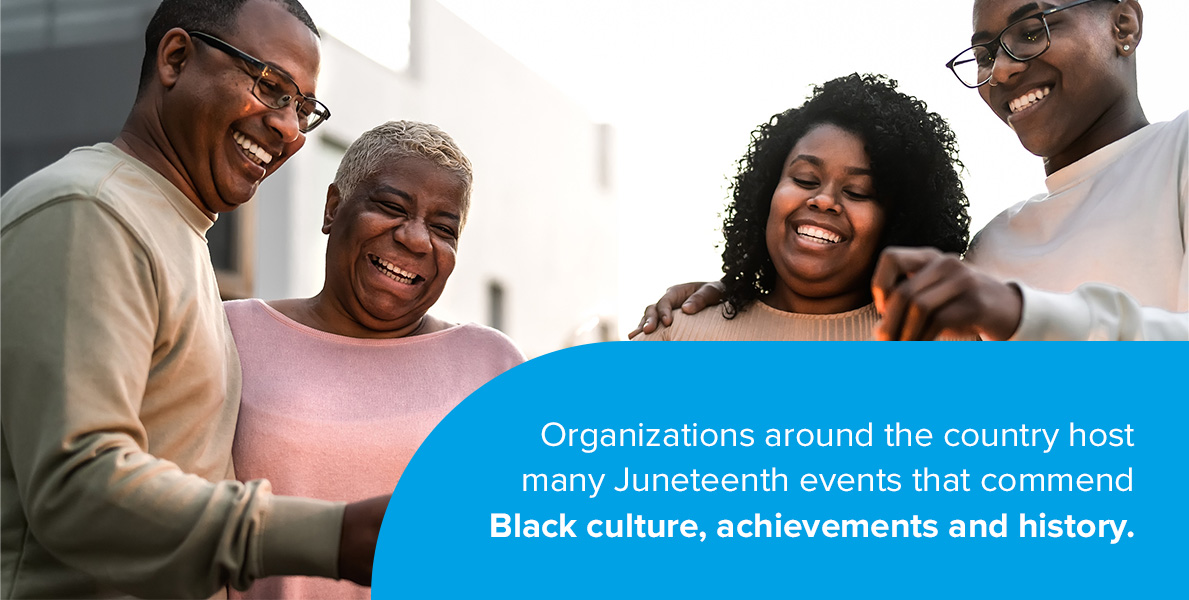 You can also honor Juneteenth by joining nearby events. Organizations around the country host many Juneteenth events that commend Black culture, achievements and history. Participating in these festivities lets you learn more about the holiday and get involved.
Exact Juneteenth activities vary by state. You can research nearby events online, in local newspapers or through social media channels. If there aren't any in your town, search for options in nearby towns or cities.
Common events can include:
Art exhibitions: Many locations feature art and photography exhibits from Black artists. Many Juneteenth celebrations use art walks, where multiple galleries and venues host artists and their work. You can walk through various locations and celebrate Black talent. Show your support by purchasing available art or donating to local artists.
Musical performances: Juneteenth fairs and festivities frequently have live performances from Black artists.
Parades: Juneteenth parades are city-wide events that usually include dancers, marching bands and other talented Black performers.
Street fairs: Street fairs celebrate local Black-owned businesses and culture. They often have booths from nearby shops, small food trucks and carnival games or rides.
3. Learn More About the Holiday's History
Many Americans have limited knowledge about Juneteenth, which can prevent them from celebrating the day fully. Juneteenth is an excellent opportunity for education about Black history and culture. The end of the Civil War and slavery has a complicated history, and you can learn more about the events leading up to and following Juneteenth.
You can further your knowledge by:
Visiting museums: Many museums develop Juneteenth exhibits for attendees to learn more about the holiday's history. You can also research nearby landmarks for further education.
Watching documentaries: You can find many documentaries and informational videos exploring Juneteenth's history. Free options are available on YouTube and historical websites, while streaming subscription services have other choices.
Reading historical books: You can also purchase or rent historical books about Juneteenth. It's best to read content from Black authors and contributors.
Attending lectures: Many Juneteenth celebrations include keynote speakers and scholars that discuss the holiday's legacy and impact.
4. Engage With Black Media
Support Black artists on Juneteenth by watching various forms of media made by Black artists. You could watch movies or television shows with Black directors, writers, creative teams and actors. Or, listen to music by Black musicians and singers. These art pieces showcase Black culture, joy, hardship and history.
5. Donate to Nonprofits
Juneteenth is also an opportunity to give back to Black communities. Show support by donating to Black organizations, businesses and communities. Your donations help organizations in the fight for social justice, equality and safety for Black people.
You can research groups that fight for causes you are passionate about. For instance, you could donate to:
Discuss ESG and DEI Spend Goals with ePromos
You can honor Juneteenth with many actions and activities. Big Juneteenth events are great opportunities for giveaways and promotional merchandise. Spread the word about your business with ePromos products. Our broad selection of promotional products includes apparel, drinkware, bags and more. Customize our items with your brand logo and name to increase brand awareness.
Browse ePromos products today to get started.