Celebrate National Chocolate Day on October 28
To many people, chocolate isn't just a nice-to-have treat. It's practically a food group! So-called chocoholics love their cocoa-rich candies and treats so much that they've turned chocolate-making into a multibillion-dollar industry worldwide.
National Chocolate Day on October 28 offers a chance to celebrate this sweet treat and ingredient. So, how do people celebrate National Chocolate Day? There are plenty of ways you can share the rich flavor of the day with everyone.
What and When Is National Chocolate Day?
Each year, October 28 is set aside as National Chocolate Day. No one knows who initiated this holiday, but you won't find us complaining about it. Additionally, the international World Chocolate Day takes place on July 7 every year, giving us two special days out of the year to celebrate the wonderful taste of chocolate.
National Chocolate Day offers a fun opportunity for your team to use promotional giveaways to get attention for your business. Whatever industry you're in, you'll be amazed at all the different promo items that can help you get the word out about your company on this sweet, sweet holiday.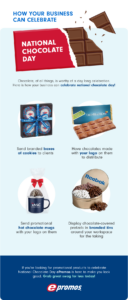 How Can Businesses and Organizations Celebrate National Chocolate Day?
Looking for the right promo products for National Chocolate Day? We've got plenty of ideas. Businesses can connect with clients and team members by sending thoughtful gifts and spreading brand awareness. Try these methods of building better relationships with prospects and customers:
Send branded boxes of cookies: Chocolate chip cookies are terrific pick-me-ups and unexpected treats. Your best clients will appreciate your thoughtfulness long after the last crumbs have disappeared.
Have chocolates made with your logo on them: You don't have to be a candy maker to have branded chocolates. You can buy a box of chocolates with your corporate logo front and center. What more appropriate way to link your name with National Chocolate Day?
Send promotional hot chocolate mugs:  Gift your customers and business partners with unique mugs with your logo. Gifting hot chocolate mugs is a unique way to celebrate National Chocolate Day. You can send a hot chocolate mix or a delicious chocolate bomb for your recipient to enjoy in their new mug.
Display chocolate-covered pretzels in branded tins: Chocolate pairs with so many snacks and goodies. Treat your team or visitors to chocolate-covered pretzels when they walk in the door. With a reusable logo branded tin, this also makes an excellent gift to keep your recipient thinking about you long after they've devoured the pretzels.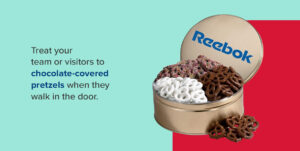 National Chocolate Promotional Giveaway Ideas
Handing out branded merchandise and goodies is just one way to use National Chocolate Day on October 28 to shine a spotlight on your organization. There are also plenty of opportunities to engage on social media and gain exposure through giveaways and contests. Check out some of these promotional giveaway ideas to celebrate National Chocolate Day:
Play chocolate trivia: Discuss some chocolate facts on your social media pages during the days leading up to October 28. Record the right answers and give your top winners a thoughtful gift like a Belgian Chocolate Trio Gift Set or a signature truffle set.
Host internal celebrations: Your employees want to celebrate this fun day, and an office celebration can make spirits soar.  Consider having a chocolate chip cookie bake-off and gifting the best-tasting sweets with a box of chocolates.
Plan a bake stand: For visiting clients and new partners, a small stand with wrapped chocolates or cookies can be a welcome sign of appreciation. Make small, individually wrapped chocolates with your logo available at all of your point-of-service locations.
Set up a giveaway on social media: Are you looking for something to freshen up your social media presence? Hosting a giveaway online can prompt people to share your message and link to your profiles. A thoughtfully crafted giveaway will allow you to engage your customer base and collect lead information. What could be sweeter?
Host a candy bar fundraiser: You can put your company colors on full display with a promotional chocolate bar. Encourage your team to sell candy bars to raise funds and awareness for your brand. Coworkers with children can prompt them to sell to classmates or friends or buy a box to enjoy at home whenever they please. Who doesn't want a stash of chocolate bars at home?
Prepare holiday gifts: Chocolate lovers can delight in the rich taste of cocoa on every occasion. Spread your business name by offering hot chocolate bombs for the holidays. Gift your business partners or encourage your team to craft a holiday gift for friends and family with a sweet treat on cold nights.
Celebrate National Chocolate Day With ePromos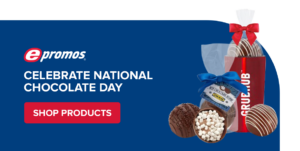 At ePromos, our goal is to make you look good. We offer logo design, artwork, business gift packaging and promotional product rush services. Whether you're planning for National Chocolate Day or want to show appreciation for your team, business partners and customers all year round, trust us to create unique products with your logo.
You have lots of choices when it comes to making National Chocolate Day a part of your promotional marketing efforts. If you're looking for promotional products that you can't find anywhere else, visit the ePromos store online. You can grab great swag for less, allowing you to expand your marketing and advertising in the most delicious way possible.
You can always be sure your logo looks great on our products because we send free samples and digital proofs. With thousands of orders already under our belt, you can trust ePromos to deliver high-quality promotional products that make your brand stand out. Browse our chocolate gifts and goodies to find plenty of ideas to celebrate National Chocolate Day.
Post updated on 10/26/22