How Physical Materials Can Make for an Unforgettable Press Kit
A press or media kit is a compilation of promotional materials about companies or businesses that are given to members of the media or even potential clients of that business. The intention is to get your brand and company into the hands of people who can help further your company's growth, and convince them you have something of unique value they should be sharing with their audience or using themselves.
In the digital age we live in, many companies rely on electronic press kits, or EPK's, instead of sending physical packages. If done correctly, sending a physical press kit gives you a big opportunity to stand out in the eyes of the recipient. The key is to include items relevant to your product that your target market will enjoy, and that will allow them to recognize the value of your product or service.
A typical press kit includes the following:
Business card
One-pager about the company, its growth, and specific features of the product/service
Past press coverage
Contact information
Promotional material such as postcard, buttons, etc.
Images of the business, staff, or product
While these items are important to include in any press kit, adding some additional personality can really mean the difference between your package ending up in the trash, or spread out across the recipient's desk.
Press Kits with Samples
Spy Optics is the company behind Happy Lens, a company that says their sunglass lenses help people see, feel, and perform better. A great example of a creative, unconventional press kit is the one put together by Spy Optic for the release of their Happy Lens sunglasses. Along with a sample of their new product, they included a soft case, promotion pins and buttons, and shipped them in medical related packaging, such as a pill bottle.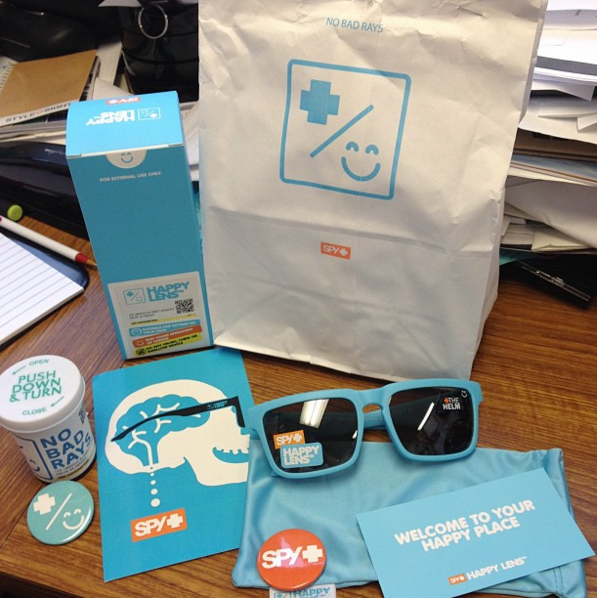 Spy Optic not only included the product itself and fun freebies, but they also packaged everything in very creative containers that go along with their theme of providing "health benefits." The items included in the press kit were very relevant to their target customer.
Notice the light blue and orange colors splashed throughout the entire media kit, making it more cohesive and relevant to the brand. While the press kit might not include any items far out of the ordinary, the presentation and packaging was both fun and specialized to cater to a specific audience.
Sunglasses Magazine, the recipient of this press kit, enjoyed it so much they took a picture of it and shared it on their Instagram account. For a smaller company, this kind of exposure can be a big deal.
The Advantage of a Physical Press Kit
A physical press kit allows a journalist or potential client to smell, touch, experience, and even taste your product. This offers an extreme advantage over something sent electronically, and savvy marketers should be taking advantage of this opportunity.
Another example of an impressive, physical press kit is that of Arbor Salon & Spa in Athens, GA. As an elite salon, they made sure to convey the message that they are highly professional, and among the best in the business.
Their press kit was made out of wood, and had their logo burned into the front to create a very "natural" aesthetic. They also included a pen made out of a bamboo branch, and a very polished-looking brochure that maintains the same relaxed, spa-like feeling as the rest of the box. We can only hope the package was also scented with some aromatherapy perfumes!
Get the Basics Right
While a physical press kit can give you a leg up over your competitors, it can also negatively impact your brand if not done well. Cheap paper, smudged ink, and including too little or too much information can give a media rep the wrong opinion of your brand. A media kit is often a first impression professionals receive from your company – you will want to make sure it's not their last!
It's important to opt for quality when sending a press kit. Budgeted options could end up leaving you with an unprofessional, dime-a-dozen style press kit.
Once you make sure to have the basics down, there a few options you can include to make your press kit stand out from others:
Functional items that will get used and even shared among recipients, such as branded pens or notebooks
Clever packaging that is relevant to your industry, such as the Spy Optics press kit placed in a paper bag you'd find in a pharmacy. Another example could be putting some of the contents of your press kit in a bank bag, if you're sending it to someone in the financial industry
A personalized touch that show the recipient they aren't getting the same, standard press kit as every other influencer and media outlet. This could be as simple as a handwritten note or letter included in your package
There are plenty of ways to make your brand stand out with a physical press kit; all it takes is creativity, clever promotional items, and packaging relevant to your industry. While an EPK is one way to send your information to a wide net of people, a physical press kit shows your more important prospects that you value their consideration, and that your brand itself is high-value.