10 Contest Ideas to Attract People to Your Tradeshow Booth
Updated: August, 2019
There is a huge amount of work that goes into preparing for an upcoming trade show: booking flights, hotel and booth reservations; ordering marketing materials and giveaways; packing electronic equipment and booth displays; choosing and training staff; and preparing a draw to your booth. That's a lot of boxes for your checklist!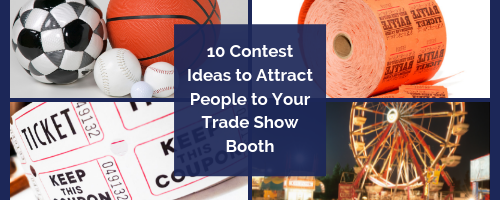 Don't let all that hard work go to waste by forgetting that last little detail. Even the most beautifully branded and enticing displays need a little extra something to attract attendees. While people are engaged in your game or contest, you have the opportunity to break the ice and start a conversation, making a lasting impression. In addition, you can often use a contest to collect contact information for your sales team to follow up on. Basically, everybody wins!
Boost traffic to your booth with these exciting contest ideas:
10 Ideas for Trade Show Contests
1) Photo Contest
This contest idea achieves two goals at one time: gain exposure on social media and bring traffic to your booth. Create a hashtag specific to your event and encourage guests to upload a photo of your trade show booth on whatever social media platform they choose. At the end of the day, choose a winning photo and invite the winner to your booth to collect a prize. In addition to great foot traffic, you'll also see a trackable boost in your online presence.
2) Charge & Check-In Contest
A charging station is a draw in and of itself. Long days plus the technology we depend on equals a significant need to charge up phones, tablets and laptops. This contest takes it to another level by having visitors scan a QR code to check in at your booth. After the event, you can randomly select a predetermined number of visitors to win an e-gift card or voucher sent straight to their social media account. This allows a reminder and follow-up after the trade show has ended.
3) Counting Contest
The counting contest is a classic! Have trade show attendees guess how many items are in a container. You can use jelly beans, M&Ms®, mints, beads, coins – whatever makes the most sense for your brand and industry. Participants simply write their guess on the back of their business card and drop it into a box at your booth. Announce the winner at the end of the event. Attendees will return to your booth to find out if and what they won, giving you multiple opportunities to make an impression in addition to their contact information to follow up in the future.
4) Egg Hunt Contest
During your booth setup (before trade show attendees arrive), strategically place branded postcards around the venue. People love a good search game, so make sure to notify everyone these postcards exist. Once found, the attendee has to simply stop by your booth to receive a prize.
5) Sports Event Contest
If there are any sporting events going on during the trade show, let visitors place a bet on the outcome of the next pitch or goal. Have an iPad® or radio playing the game at your booth for real-time betting. Hand out sports-related giveaways such as a branded football, water bottle or duffle to your winners.
6) Carnival Game Contest
A carnival contest can be anything from a ring, basketball or bean bag toss to golf putting or Plinko®. These fun carnival-type games give trade show attendees a much-needed break and allow you to make conversation as they play. With these types of games, expect many winners. Choose small, branded promotional items for prizes so you need to bring a lot of them with you to hand out in addition to your trade show giveaways.
7) What's the Difference? Contest
Take a new spin on a classic by sharing this contest on social media. Direct trade show attendees to your booth by having them stop by to point out the slight differences between two side-by-side photographs. Post the same photos on social media. Anyone who can spot the differences wins a prize. Another option is to post one picture of your booth and then change something to see if anyone can spot the actual difference when they stop by.
8) Trivia Contest
Industry-related trivia is a great way to make an impression. People love interesting facts, and people who know interesting (and sometimes "trivial" facts) love sharing them! Give visitors a chance to show off their knowledge by posting a teaser question prominently at your booth. Once drawn in to answer – or out of sheer curiosity, you can give them the full trivia quiz. This gives you a unique opportunity to educate potential clients about your company in a fun setting and provides a longer time to make a lasting impression.
9) Raffle Contest
A simple fishbowl raffle drawing is probably one of the easiest trade show contests to manage. It requires very little effort from attendees and very little preparation or equipment from you. You can go old school and have participants leave their business cards in a bowl or box; or you can bring it into the 21st century by offering an email sign-up raffle. Either way you get the attendee's contact information for a future follow-up opportunity. At the end of the event, randomly select the winner (or winners should you choose) and invite them to your booth to collect a coveted prize.
10) Prize Wheel Contest
The prize wheel is always a favorite because it's a hard game to lose! The wheel itself is usually large and colorful, attracting foot traffic to your booth. People also love prize wheels because they know they're going to get free stuff. The game works by allowing attendees to spin the wheel in exchange for a business card or email capture. Have a stock of personalized, branded items ranging in value for prizes. Smaller wins could be lip balms branded with your logo – with the grand prize being a high quality executive pen, embroidered suitcase or an imprinted leather computer bag.
While having experienced sales people, proper branding, and a visually appealing set up are all important for trade shows, they're only part the battle if you're struggling to get people to stop by your booth. Inject some fun into your brand's presence with one of these contests – it'll not only draw potential clients to your booth, but make sure your business is one they remember!
Contest Prize Ideas
If you're struggling to come up with some prizes beyond a branded trade show giveaway, here are few other ideas that participants will love:
• High-end promotional item
• High-end item with branded packaging
• Swag bag filled with branded goodies
• Free trial for your company's service
• Gift card or credit toward future purchase
• Sample or supply of your company's latest product
Games and contests are a great way to attract attendees to your trade show booth, make multiple impressions and capture contact information. Take advantage of this unique opportunity with our 10 fabulously fun contest ideas!