Corporate Gift Kits for Expectant Parents
Expanding the family is a special time in a person's life, and it can be an exciting experience for everyone in the office too! Seeing your co-worker prepare to have a baby or adopt a child is cause for celebration. You can give maternity-leave gifts that remind them of their workplace to congratulate them on the new chapter in their life and show your support and excitement.
Corporate baby gifts are a fun way to start your co-worker's maternity or paternity leave and help them prepare for their new family member. You can also find interactive baby toys that make a perfect gift when they return to work.
Let's take a look at some fun maternity- or paternity-leave gifts to celebrate this special occasion.
8 Baby Gift Ideas for Co-workers
A resourceful or sentimental gift is a great way to support your co-worker as they care for and entertain their new family member! This small gesture of support goes a long way, whether they're welcoming a newborn or an older child, their first or their latest.
Keep reading below for eight corporate baby gift ideas that show your encouragement to your fellow employee.
1. Baby Clothes
Promotional baby clothing makes the perfect baby gift for co-workers and comes in a variety of items, including toddler shirts, infant bodysuits and onesies. The best thing about getting baby apparel for your co-workers is the wide selection. You can order gendered or gender-neutral items, and the clothing also comes in a good color selection. Baby clothes make great gifts because they are:
A necessity: All parents need clothes for their babies, and having a few freebies from friends, family and co-workers can really help.
Heart-warming: Getting something from the company to welcome their little one into the family is a pleasant surprise, and baby clothes are a fitting gift.
2. Bibs
New bibs make lovely luxury gifts for expectant mothers and fathers. Promotional bibs come in multiple color options and a few different styles, so you can keep a variety in stock if you want to have corporate baby gifts in store for the future. Bibs make a good gift for expectant parents because they are:
Practical: Your co-workers will use the bibs for mealtimes as soon as their babies are old enough to sit in a high chair.
Lasting: Many toddlers continue to use a bib, so your gift will be long-lasting.
3. Baby Bottles and Sippy Cups
Keeping their baby fed is a huge part of a new parent's routine. You can send the gift of a new baby bottle or a non-spill sippy cup that will make feeding times fun and convenient. These items are a good choice because they are:
In high demand: Many parents choose to bottle feed their babies, and others will supplement the baby's diet using a bottle.
Suitable: Bottles and sippy cups are valuable items that make some of the most appropriate paternity- or maternity-leave gifts for co-workers. They're also one-size-fits-all, making them suitable for everyone.
Valuable: Bottles and drink cups for small children are valuable products, especially when they are made from quality materials.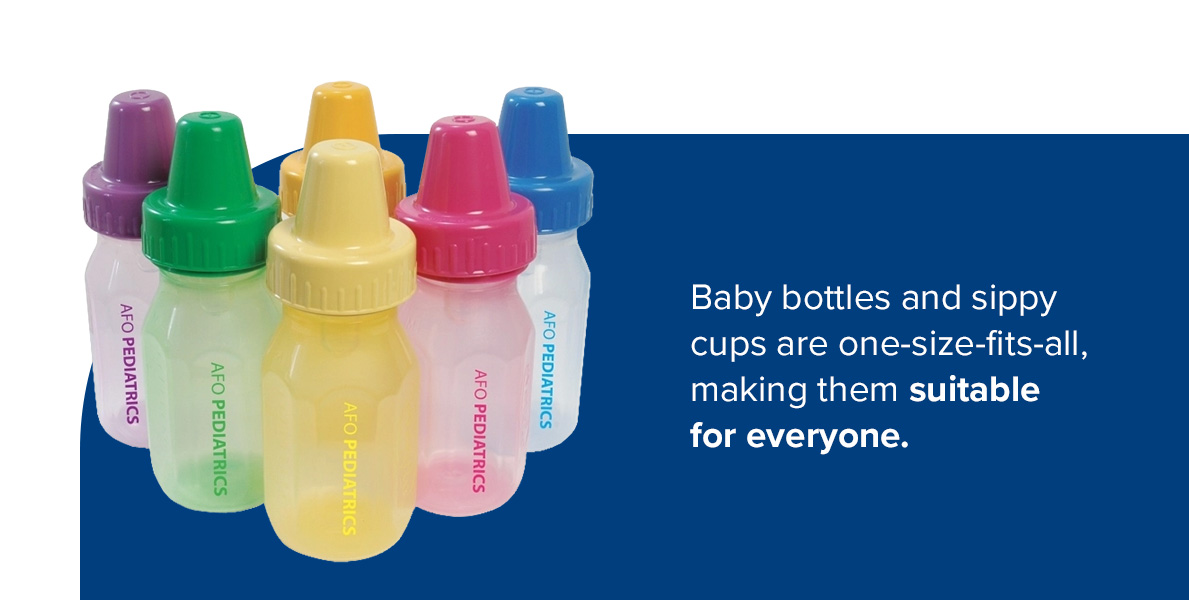 4. First Aid Kits
Every new parent needs to have emergency supplies for the baby's first scrapes. A promotional first aid kit comes with a variety of bandages and some kits are designed especially for children. First aid kits and bandage packages for kids are a good choice as a gift for expectant parents because they are:
Practical: Everyone in your co-worker's household could use a first aid kit in an emergency, so this gift is beneficial for all active kids and busy parents.
Good for the parents: If you want to provide something for the parents while still keeping the new child in mind, a first aid kit is one item that the parents will definitely appreciate.
5. Bubbles
Giving expectant parents something to entertain the baby is also a thoughtful way to show your support. Consider a bottle of promotional bubbles the parents can blow in front of the baby. Bubbles make a great baby gift because they are:
Fun: Bubbles allow young babies to learn from an intriguing visual experience. They are also fun for kids old enough to blow their own bubbles, making them a fun family toy overall.
Unique: Few others are likely to give bubbles to your co-worker. Bubbles can be a perfect choice if you want to express creativity through your gift.
6. Push Pops
Push pop toys are a good way for adults to ease stress, and they're fun for even the youngest children to play with. Include some promotional push pop toys in your gift for expectant parents. They make a welcome addition to any gift set for expectant parents because they are:
Fun: Push pops come in several designs and colors. These toys are colorful, have a delightful texture and are entertaining for children to play with.
Lasting: Kids will continue to play with push pops as they mature into toddlerhood, making this a lasting gift as long as you get durable products.
7. Baby Spoons
An appropriately sized spoon for the baby's meal times is another item that all expectant parents need. You can order promotional baby spoons for your co-workers, so they will have precisely what they need when their child is ready to start eating baby food. Baby spoons make good gifts because they are:
Practical: With a new addition to the family, spoons in the right size are a valuable item to have.
Suitable: This is an item that all new parents need, making it a fitting gift for your co-worker's parental leave.
8. Rubber Ducks
Give the gift of promotional baby rubber ducks to your co-worker before they go on leave. Rubber ducks are a family-favorite baby toy for your co-worker to use during bath time. These items are great for children and make a good choice as a parental leave gift because they are:
Fun: If your company values fun and wants to express that in the types of gifts they provide, a rubber duck is a choice that's sure to make babies and parents smile.
Meaningful keepsakes: Since rubber ducks are fun for kids of all ages to float in a tub, a rubber duck from a child's babyhood has the potential to last throughout their lifetime.
Create Thoughtful Baby Gift Kits With ePromos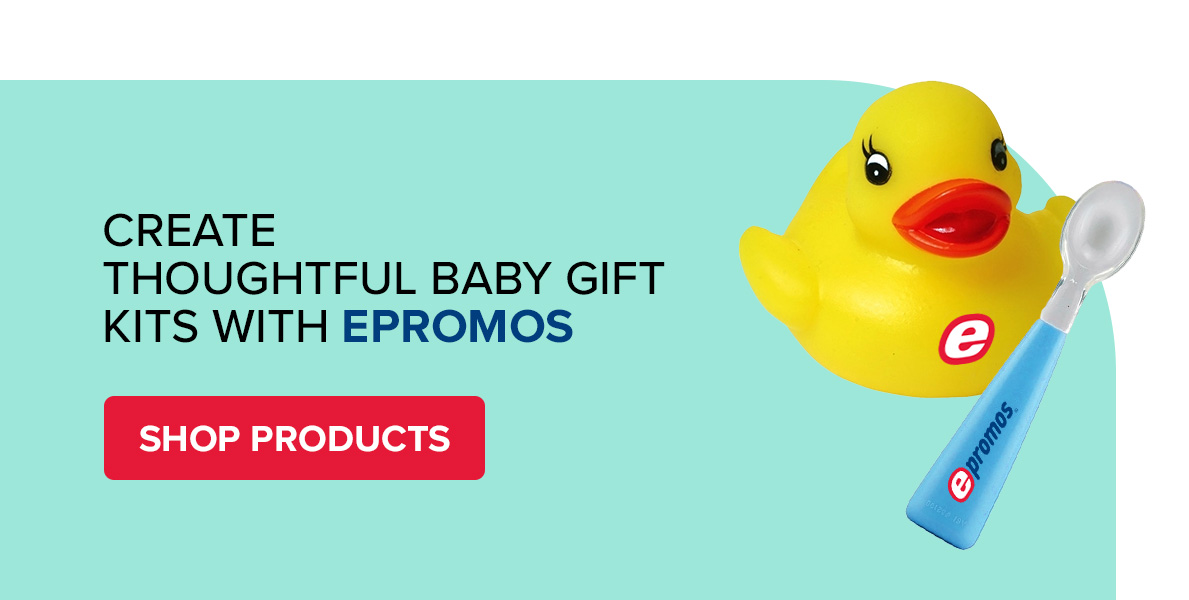 At ePromos, we have all of these gifts for babies and new parents. Show your co-workers how much you value and support them with quality promotional gifts you can order to showcase your company's logo. Browse our selection of gifts for your baby gift kit, or contact us if you have questions about a product or group of products.