Corporate Gift Kits for Newlyweds
Corporate Gift Kits for Newlyweds
Your co-worker's special day is quickly approaching! During this time, it's great to reflect on their dedication to the company and how much you appreciate their efforts that make the workplace thrive. To congratulate them on their highly anticipated wedding day, you can choose a special gift from your company that speaks to them on a professional and sentimental level. A corporate wedding gift is an appreciated gesture that lets team members know their employer values their new chapter in life.
Let's take a look at a few creative wedding gift ideas for your co-worker or employee that they can treasure for many years.
8 Wedding Gift Ideas for Co-Workers and Employees
Some of the best wedding gifts are simple products with sentimental value that the couple can share. You can get fancy with your gift options, or you can select items for specific co-workers, depending on their personal taste. Below are eight elegant wedding gift ideas for your boss, co-worker or employee:
1. Photo Albums
A photo album is perfect for helping a couple commemorate their wedding vows and all the happy moments from their big celebration. A promotional imprinted photo album makes a great employee wedding gift because it is:
A timeless classic: Taking wedding pictures is a traditional part of the ceremony and reception, and the newlyweds will enjoy having an album from work to store their photos in. Even if they already have an album, they will probably have more than enough pictures to fill a second one.
Valuable: A photo album has great value as a keepsake. It is also highly valuable as a promotional gift and more than affordable when ordered in bulk.
Sentimental: A photo album is one of the most sentimental mementos a couple can keep together. If they have children, it will also be a special item for their descendants to peek through.
2. Picture Frames
A picture frame is a wedding gift the couple can use to display one of their favorite moments together. Ordering promotional picture frames with unique features as wedding gifts is a good choice because they are:
Meaningful: A picture frame is a significant item for many people who want a visual memento of their special day.
Able to come to work: Your co-worker can set up the picture frame you provided in their office or on their desk.
Lasting: A framed picture can last generations as a testament to a happy moment in time.
3. Coasters
Coasters are a fitting ceremonial gift for any couple planning to move into a new home together or looking to tie the knot soon. Promotional coasters in a square or round form make a good promotional gift because they are:
Practical: Your co-worker will continue using coasters at meal times long after their wedding ceremony. Special coasters can be used casually or for dinner parties. They are a welcome part of a complete set of cutlery and other kitchen tools.
Able to come to work: If your employees bring coffee or other drinks to work, a personal coaster is a helpful item to have. It will keep their desk safe and dry, so they have one less thing to worry about.
4. Bride and Groom Stress Balls
A stress ball might seem like an unusual wedding gift, but the planning stage for a wedding venue can be a stressful change from your co-worker's usual routine. Promotional stress balls shaped like a bride and groom make fitting wedding gifts for employees because they are:
Fun: These items have a fun quality as wedding gifts and will come as an unexpected surprise. They are perfect for co-workers with a good sense of humor.
Unique: Special edition bride and groom stress balls are interesting novelty items that can be tricky to find. Quality stress balls of this type are truly unique items.
Soothing: A stress ball's primary use is to ease anxiety, giving it a calming purpose as a wedding-themed gift.
5. Custom Bottle Openers
Bottle openers are an often overlooked necessity your co-worker will find useful at the reception, honeymoon and beyond. Custom wine and bottle openers are good gifts for a co-worker who is about to get married because they are:
Practical: Having a bottle opener around the house is always useful, and the recipient will think so the next time they need to open wine or another favorite drink.
Sentimental: A bottle opener that reminds your co-worker of their wedding is a valuable keepsake.
6. Save-the-Date Magnets
Your co-worker might have save-the-date items made for guests, but giving them a special magnet for the memory is a welcome gesture. Promotional save-the-date magnets with customization options make fitting gifts for a wedding leave of absence because they are:
Lasting: A simple refrigerator magnet has the potential to last years as a treasured keepsake.
Able to come to work: If your co-worker has a magnetic whiteboard or is allowed to stick a personal magnet on the break room's refrigerator, they can bring this item with them to feel at home once they return from their nuptials.
Sentimental: A special magnet with the date of the ceremony will be incredibly meaningful to your co-worker.
7. Napkins
Napkins with a unique message to commemorate the couple's wedding are a fitting gift for a scrapbook. Custom promotional napkins with a special message can make a surprising but special gift because they are:
Useful: It's always helpful to have extra napkins for the main event and the accompanying parties. Your co-worker can also put the napkin set to personal use or reserve them for the honeymoon.
Sentimental: Many couples might save a few napkins to include in a photo album or scrapbook, especially if they were a gift.
8. Wine Glasses
Custom wine glasses for your co-worker and their spouse are a luxurious keepsake. They can save their own wine glasses to remind them of the reception, where they will serve guests with wine glasses of their own. This gift is especially thoughtful if your co-worker enjoys fine drinks. Promotional wine glasses with customization options make good gifts because they are:
Valuable: Custom wine glasses are a high-value gift, so your co-worker or employee will know they are appreciated at work.
Lasting: Your co-worker can use the wine glasses on their honeymoon, on anniversaries and during special occasions at home.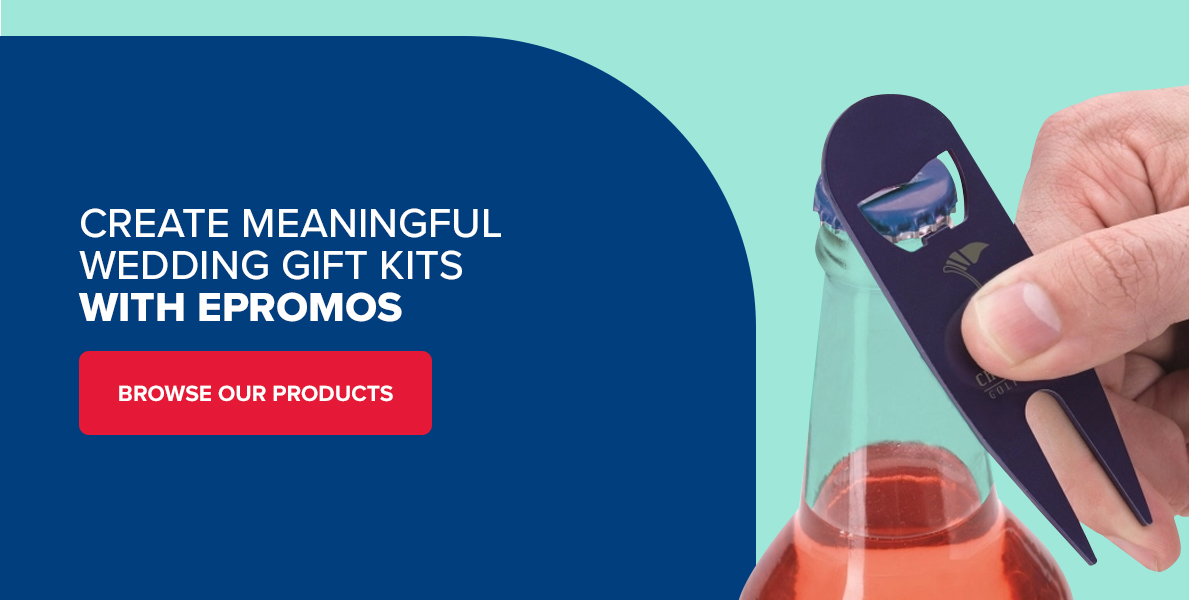 Create Meaningful Wedding Gift Kits With ePromos
We have all of the above wedding gift options in our online store. Browse our selection of gifts for your newlyweds kit to see more products. If you would like to make a request or have a question about ordering a product, please contact us for helpful information.