Employee Gift Ideas to Ring in the New Year
With the new year fast approaching, it's time to start thinking about building the perfect gift kits for your employees. New Year's is about new resolutions, bright futures and hope. This holiday is full of community, fun and looking forward together. It's the perfect time to hand out presents and remind employees that you're thinking of them. You can help lift everyone's spirits by giving out some thoughtful gift kits that show your team you value them.
While you might be excited to start your gift-giving, coming up with something to get everyone can be stressful. Figuring out what everyone likes and how to make everyone feel appreciated can leave you grasping at straws and running short on time. If you're looking for something special to gift everyone this season, gift kits are the perfect way to show your appreciation.
Gift kits are the ideal way to jumpstart team morale, and they can help boost productivity. The more valued and inspired your employees feel, the more motivated they'll be after the holidays. You could even assemble gift kits to incentivize new workplace programs or welcome the team back after a holiday break.
Consider these New Year's gift ideas for employees, which make a great gift alone or work perfectly as part of a themed gift kit!
8 New Year Gift Ideas for Customers and Employees
Giving happy New Year's gifts for coworkers is an excellent way to boost morale, improve connections and show everyone you care. There's nothing like getting a thoughtful present — it doesn't have to be large to make a significant impact. Here are some gift ideas to help bring a little joy to your team this New Year's:
1. Gift Cards
While plain cash is seen as a bit of a faux pas, everyone loves getting gift cards for their favorite places. Standard or virtual gift cards to popular places like Starbucks, Amazon and Apple can be a huge hit. You could also opt for meal-focused gift cards like DoorDash or gift them a card from a movie theater chain like Regal or AMC. Visa gift cards are for general use and always a safe bet, but they might seem less personal than a gift card from a business your employees like to shop at.
2. Goodie Bags
Goodie bags are tried-and-true classic New Year's gifts for employees. Fill them with some delicious food and candy treats — don't forget to check for allergies and try to keep some variety between the bags. Combine edible gifts with games and smaller items so the bags aren't just food.
Teas, sanitizers, candles and socks are other excellent goodie bag stuffers. Try to fill the bags with something people can use — the best gifts fit the person and are useable in some way. For an added touch, make their goodie bags into a gift too. Drawstring or reusable tote goodie bags double as gifts and practical items.
3. Self-Care Kit
Winter can feel a bit dark sometimes — with shorter days and cold nights, a little self-care can be the perfect pick me up. Cold weather can dry out the skin, and giving the gift of spa kits can help immensely. Pamper customers or employees with personal care items like massage gift cards, lotions, candles, gloves, face masks, moisturizers, Epsom salts and fluffy socks. Similar to edible gifts, check for any scent allergies or preferences to ensure everyone can enjoy their kits.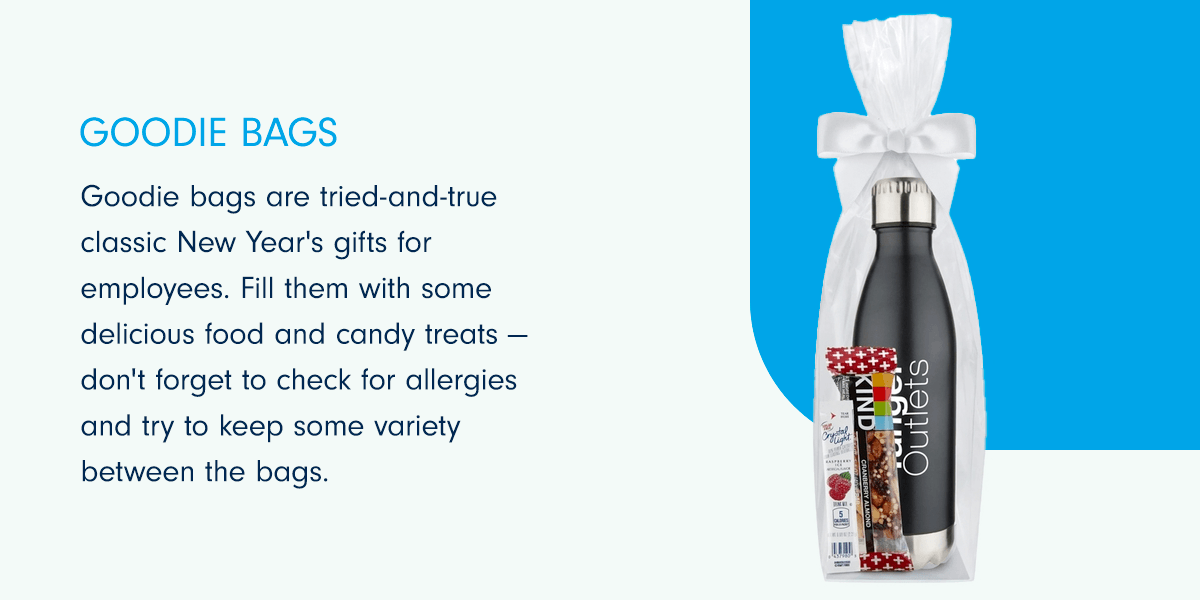 4. Work Desk Décor
Don't overlook useful work items when gift shopping — find desk decorations or work gadgets you can pass out to boost an employee's desk look. Get office-oriented items like desk caddies, pens, stationery, journals and folders to help employees organize their space. Consider small figurines, fake plants, paperweights or picture frames too. These can be used to personalize their workspace and make it feel brighter while they're working.
5. Event Tickets
This is a bigger gift expense-wise, but it really makes an impact. You can reserve these gifts for special awards or promotions to treat standout coworkers to something special. Tickets to movies, concerts and sporting events can be a wonderful New Year's surprise for someone not expecting them.
6. Tech Gadgets
Everyone loves technology, and tech gadgets can be an even better gift if you have employees who love these products. Some great electronic gifts are Bluetooth speakers, headphones, earbuds and computer accessories. You could also give out tech-related gift cards or offer vouchers for tech courses so employees can hone their skills.
7. Health
Health is a big New Year's focus. Many people decide to focus on bettering their physical and mental health as their resolution. You can get health-oriented gifts to go with this popular goal. Gift vouchers for local gyms, massages or fitness classes are perfect New Year's gifts for coworkers and customers. Not only do these go with many people's resolutions, but it offers employees a chance to clear their mind and de-stress from the holidays. Vouchers and gift cards work better than objects typically for health gifts since it's something that varies a lot from person to person.
8. Hobby-Focused
This is a broad category but getting an employee a hobby-focused gift shows them you know them well and are really putting in effort with your New Year's gifts. While this one will take some extra time, it's gratifying to give out. Some potential hobby gift ideas include:
Reading: Books on their wish list, book store or an Amazon gift card, e-reader, book lights or bookmarks.
Hiking/outdoors: Drinkware like water bottles, scarves, hats, outdoor store gift cards or trail mix.
Cooking: Cookbooks, kitchen or BBQ items or a unique food item.
If they're into art, music or some other hobby, focus on useable items or gift cards they can to work into their hobby. Additionally, you could get them items with hobby-related images or words on them to let them know you were thinking of them. Try to ask about hobbies during the year and write them down — you'll be able to better track everyone's interests so you can surprise them for New Year's and other events.
Celebrate the New Year With ePromos Promotional Items and Gifts
New Year's is a time of celebration and rebirth — give your employees and customers something to make their holiday special. Add a unique flair to your New Year's presents with branded company items from ePromos. Mixing promotional gifts with other presents can keep everyone feeling like they belong to something bigger than themselves without making the entire gift seem company-oriented. Use promo gifts to provide holiday cheer for all your employees and coworkers this New Year.
At ePromos, we offer a massive selection of quality promotional items and gifts for all occasions. Choose from tech, health and safety, kitchen, apparel and more when you browse our extensive online store. Our collection of holiday favorites has everything you need to bring joy to your coworkers and customers this holiday season. Contact us with any questions about our speedy rush service for last-minute orders or services, and start shopping today!