How to Celebrate National Golf Month
Whether you've been golfing for decades or looking to develop a new skill, there's no better time to pick up the clubs than August. When the weather finally cools down in the evening, you can enjoy the time outside with new gear, clubs and apparel to show your golfing appreciation.
There's no better way to celebrate National Golf Month than getting out on the green, but you can spice up your time on the course in plenty of ways. Get your company involved in the festivities, or take the opportunity to spread some business awareness. Either way, you can host or attend events that get you into new conversations on the green while celebrating National Golf Month.
When Is National Golf Day?
National Golf Day occurs on a different day every year. However, National Golf Lovers Day is every October 4. The day initially grew from a charity event, inviting golfers of every age, gender and skill level to promote the sport.
Although National Golf Lovers Day is in October, August is National Golf Month, and golf lovers across the country can celebrate the leisure sport every fall.
9 Ways to Celebrate National Golf Month
National Golf Month is the perfect time to bust out your clubs and hit the green. From visiting courses to attending tournaments, there are many ways you can get out to practice your stroke and enjoy this sport. Invite your coworkers or business clients to join you or enjoy time alone on the green. Either way, you can celebrate golf in many ways, including by doing these nine activities.
1. Getting on the Green
One of the best ways to celebrate National Golf Month is by hitting the driving range. You can squeeze in some strokes during your lunch break or make a weekend out of perfecting your swing. Invite your coworkers, friends or business clients to the green and enjoy a warm afternoon in the sun.
As a bonus, golf can improve your mental health and reduce stress, so you can celebrate this activity by getting outside to help your body and mind.
2. Invest in New Clubs
August can be a great time to find new clubs, especially if you've had your eye on a particular set. Many businesses offer deals during National Golf Month to encourage golfers to practice some strokes, so keep your eye out. Beginners can find a brand new set to practice with, and experienced golfers can replace any clubs that need an upgrade.
3. Find Some Gear
Grabbing some new golf apparel can be an excellent way to stand out on the green. You can find everything from polos to hats to seasonal outerwear to spruce up your game. These performance pieces give a classy and professional touch, and you can proudly display your company's logo with trusted brands and leaders in the industry like Nike, Callaway and Ashworth.
You can also treat your clients and business team to golf promotional products they can use on the green, like bags, golf balls and more to help them celebrate National gold Month with you.
4. Host a Golfing Event
Charity events and fundraisers can be an excellent way to get business exposure and show support for your company. Share your goals with your team and encourage coworkers to join you on the green. Pick a convenient weekend in August and spread the word to your community.
Make your business stand out by creating company golf polos so other golfers can strike up a conversation and easily learn more about your company and initiatives.
5. Take Golf Lessons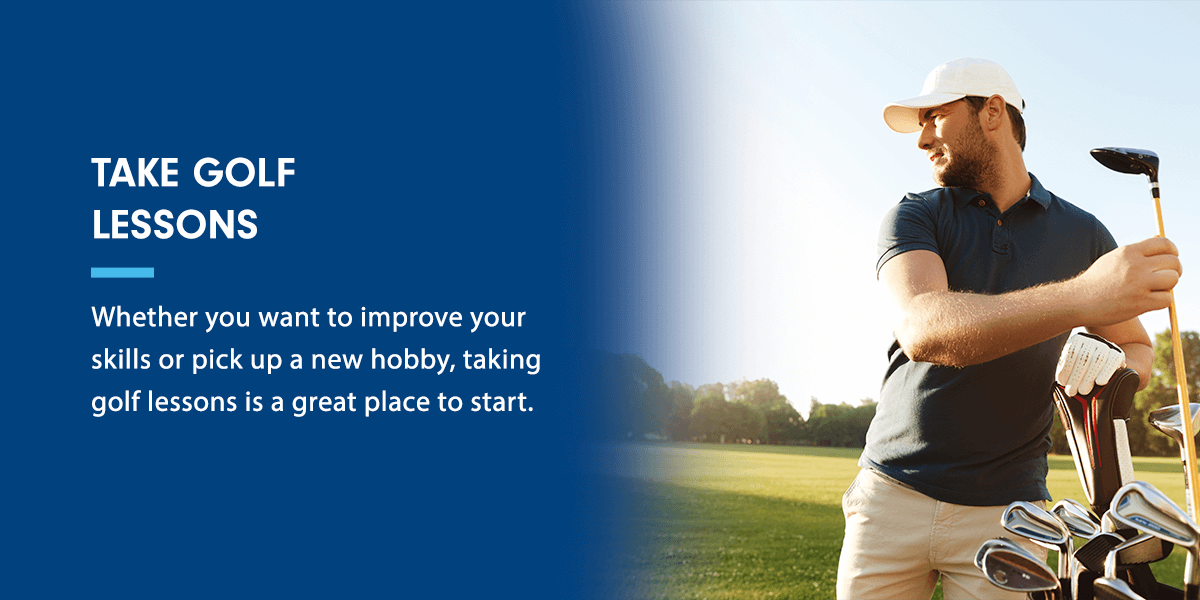 Whether you want to improve your skills or pick up a new hobby, taking golf lessons is a great place to start. You can find many golf courses throughout your state that offer lessons no matter your starting level. Golf lessons can help improve your game but are also an excellent way to make new connections. You can discuss golfing tips and tricks as you socialize with a new demographic of people.
6. Teach the Kids to Play
Teaching children to play golf can be a fun way to experience some family bonding. You can start small by taking your children to a mini golf course where they can practice hitting the ball and figuring out their strengths. A day trip to the green can be excellent practice and an enjoyable way to relax for older children.
You can even get your business involved by inviting coworkers to bring their children. Have a friendly competition or play a few holes before gathering for a company cookout to keep spirits high.
7. Watch the Golf Channel
If you don't have time to get on the course during National Golf Month or simply prefer to kick back and learn by watching other golfers, tuning in on your television might just be the way to go. You can invite your team to join you as you kick back with an ice-cold drink and a company can cooler.
8. Complete a 3-Par Course
You can challenge yourself and others by taking some swings on a 3-par course. Master getting the ball on the green in one stroke and putting it into the hole in two more. These short courses are when you want to get some practice but don't have much time. You can make this an evening practice or enjoy some time on the green over the weekend.
9. Plan a Tournament Trip
Sprinkle some big-time excitement into National Golf Month by attending a tournament. You can quickly check the PGA schedule to find the most exciting outing and attend a major golfing event. You can meet many new people with similar interests and enjoy these courses' beautiful views. Go by yourself or treat your business team or clients to this exciting event. Pair your flight or road trip with company travel bags to arrive in style and unity.
Celebrate National Golf Month With ePromos Gifts and Giveaways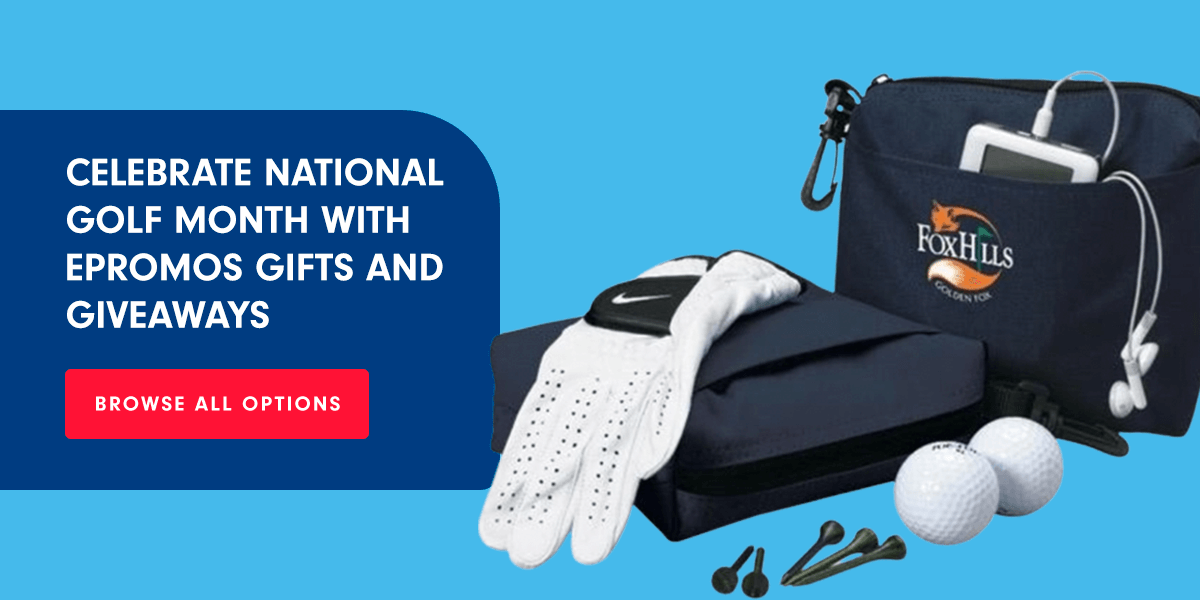 You can take any event you host for National Golf Month to the next level using ePromos gifts and giveaways. Branded items will increase your exposure, and you can show your clients, employees and customers how much you appreciate them with a thoughtful gift.
ePromos offers more than 15,000 products you can use to spread brand awareness and show appreciation. With tens of thousands of orders as experience, we know we can deliver you the personal attention you deserve. You can always order from ePromos with confidence. We offer free samples and digital proofs to ensure we meet your expectations in every way.
With ePromos, you can find tons of high-quality promotion golf gifts your clients and employees will love. From golf towels, pencils and balls to crewnecks, cooler bags and polos, you can create giveaway kits and prizes for any golfing occasion and get people talking about your brand. Contact us for more information about our branded products.