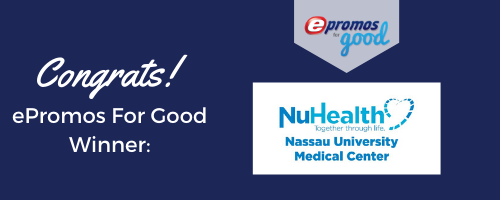 This month's ePromo for Good winner is Nassau University Medical Center in Uniondale, NY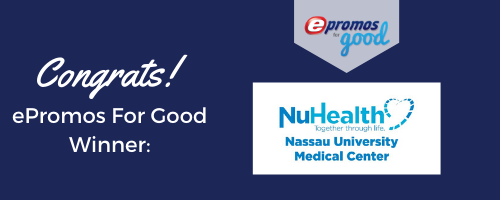 For many Americans, health insurance is out of reach due to the high price tag that comes along with adequate medical coverage. And for the team at the Nassau University Medical Center (NUMC), this issue is what drives them to carry on their core mission—to serve the most vulnerable populations in Long Island and to ensure they receive the medical care they need, no matter what stage of life they're in.
For thousands of uninsured singles, young families, and seniors in search of affordable health care, NUMC is a saving grace—and for most, the only option.
Aside from welcoming patients from all walks of life, NUMC also functions as a medical training facility for the next generation of physicians and nurses, who will carry on NUMC's legacy by serving the community by providing accessible, outstanding medical care, even for uninsured citizens.
NUMC offers both primary and specialty care for patients across the board. From family medicine to women's health, pediatrics, preventative and primary care for seniors, mental health, dental, oncology, and beyond, NUMC delivers top-rate care to patients no matter their needs. They're even equipped with a trauma center that provides 24/7 care and serves more than 1,500 patients every year.
NUMC is one of NuHealth's Centers of Care, along with the A. Holly Patterson Extended Care Facility, and the NuHealth Family Health Centers.
This work has been particularly important during the COVID-19 pandemic—a pandemic that has caused a surge in the need for medical care and medical supplies. NUMC's essential workers are struggling to acquire the personal protective gear they need to safely serve others. NUMC is considering using the $500 in free promos to purchase masks to ensure they maintain their strict standards for employee and patient safety.
About ePromos for Good
ePromos for Good organizations are chosen based on their commitment to doing good—good we've seen in each of our winners. Past recipients include the Rescue + Freedom Project, Save a Child's Heart and the National Youth Internet Safety and Cyberbullying Task Force.