Breast Cancer Awareness Promotional Guide
Considering 
about one in eight women
 will develop breast cancer in her lifetime, this disease has impacted almost everyone in some way. In response, the National Breast Cancer Foundation has declared October as 
National Breast Cancer Awareness Month
 to bring widespread attention to the disease, increase education about preventative measures and raise money for breast cancer research. Participating in National Breast Cancer Awareness Month is an excellent way for businesses to promote breast health, support breast cancer survivors and engage with their communities. With custom promotional products, businesses can raise awareness of breast cancer while deepening their connections with their clients and employees. Below, you'll learn how to choose corporate promotional items that communicate your brand messaging effectively, what type of promotional items are well-suited for Breast Cancer Awareness Month and where to get your custom promotional products. Keep reading to discover the best promo items for businesses this October.

Know Your Audience
Just like traditional marketing, most cause-related marketing revolves around knowing your audience. For National Breast Cancer Awareness Month, remember your target demographic will be older adult women. Because 
women over 50
 are the most at-risk demographic for developing breast cancer, you will want to cater your breast cancer awareness efforts to them. Breast cancer awareness marketing is also about togetherness. Consumers will trust your brand more if they see evidence of your corporation's passion for the community through actions such as hosting local events or donating to local charities. The more you engage with your local audience and familiarize yourself with its members, the more natural and effective your brand messaging will be. Finally, you will need to be aware National Breast Cancer Awareness Month takes place in October, when the weather starts getting colder in many areas. Recognize your audience is experiencing this change in seasons and will not want a promotional item specific to summer, such as flip-flops or sunscreen. Keeping your giveaways relevant to your audience includes their environment. The following five breast cancer awareness promotional items might be viable options for your audience.
Brand Messaging for National Breast Cancer Awareness Month
Marketing around breast cancer awareness allows your corporation to support a worthy cause, help your customers accomplish something fulfilling and build up its community. The alarming rate at which breast cancer cases have occurred in recent years has pushed numerous organizations to raise awareness about the disease via their marketing campaigns, and the results have been promising. Specifically, 
research
 has shown investing in marketing communications about breast cancer prevention measures has significantly improved public health. The findings indicate various marketing communication campaigns have helped improve screening use by increasing people's awareness, knowledge and understanding of breast cancer. The timely recognition of breast cancer is critical for reducing the mortality rate of the disease. In this way, a corporation's marketing strategies can contribute to saving lives. Consumers appreciate the gravity of this responsibility and tend to hold companies that raise awareness for breast cancer in higher regard. Consumers connect more profoundly with breast cancer awareness campaigns than other marketing efforts because most people emotionally relate to the disease. When your company makes a concerted effort to raise awareness about breast cancer, it sends the message you care about your employees and their families, which won't go unappreciated. Customers who perceive a brand's messaging to support women's health will engage more with the company's products and develop a more meaningful connection. The specific steps you take in breast cancer awareness marketing, such as which promotional items you choose, can reinforce these positive brand messages, or detract from them. Many consumers intentionally choose to purchase products from corporations that support women's needs through cause-related marketing strategies, meaning your promotional items need to draw more attention to breast cancer awareness than your company. You want breast cancer awareness to be the star of the show and your business branding to be subtle, such as a small company logo. Doing so will convey your company has its priorities in order. Ultimately, your breast cancer awareness promotional items should aim to advocate for breast health, champion survivors and empower your employees and customers while promoting your brand. One of the most effective ways to achieve this goal is through informative promotional items. With the right promotional products, you can equip your workforce to be breast-health ambassadors. Here are five of the most helpful promotional products your company can invest in this Breast Cancer Awareness Month.
Encourage Others With Your Breast Cancer Awareness Promotional Items
Once you've decided on the custom promotional products you want to purchase for National Breast Cancer Awareness Month, you will need to figure out how you want to distribute them. Because Breast Cancer Awareness Month is all about fostering community and encouraging others, try to host an event where you can rally for breast health and give out your promotional products. If you don't have the resources to throw a large event, you can set up smaller, weekly events such as a bake sale every Friday in October. Whether the initiative you organize is large or small and intended for customers, employees or both, make sure it is a time where everyone can come together and show support for those affected by breast cancer. Check out these seven breast cancer awareness-based activities your company can establish during October.
Pink potluck: Organize a company-wide potluck centered on raising breast cancer awareness. Embrace the pink theme by telling attendees to try to bring dishes that include pink ingredients like beets, rhubarb, watermelon, and raspberries. Encourage employees to bring their families and supply fun promotional products for kids, such as spinner stress relievers and sunglasses.
Scavenger hunt: Invite employees, customers, and community members to a breast cancer awareness scavenger hunt. For the hunt, hide breast cancer awareness promotional items throughout your corporation's facility for participants to discover. Let the attendees keep whatever they find and offer a larger prize to the winner. If you include a fee for doing the scavenger hunt, make sure the proceeds go to a breast cancer charity.
Road race: Hosting a road race is an excellent way to raise awareness for breast cancer. Donate whatever profit from registration fees to a foundation dedicated to fighting breast cancer and make sure the t-shirts you give participants are pink. You can also provide anyone who signs up for the race with a goodie bag containing their race number, t-shirt and other promotional products.
Ladies' luncheon: Hold a luncheon for all the hardworking women in your company who balance multiple roles as wives, mothers, caregivers and more. Consider inviting a health care professional or nutritionist to give a presentation on healthy habits that can reduce the risk of breast cancer. Make sure every lady takes hom a gift bag full of fun promotional products.
Pink Wednesdays: Embrace the "On Wednesdays, we wear pink" spirit by inviting all your employees to wear pink on each Wednesday of October. Provide promotional product prizes for those who show off their pink. As a bonus, you could allow those who wear pink to dress casually. For customers, offer a discount to anyone who comes to the store wearing pink on a Wednesday.
Social media spotlights: If you can't host an in-person event, consider posting content about Breast Cancer Awareness Month on your company's social media accounts. The posts can include personal testimonies, informative breast-health facts, or worthy foundations your followers can donate to and feature photos of your promotional products. You could also offer free promotional items to followers who comment and share the post on their personal accounts.
Virtual fundraiser: Like a social media spotlight, a virtual fundraiser is an ideal event option if you can't gather a group in person. Host a virtual fundraiser where all the proceeds go to the National Breast Cancer Foundation and participants receive a complimentary breast cancer awareness promotional item from your company.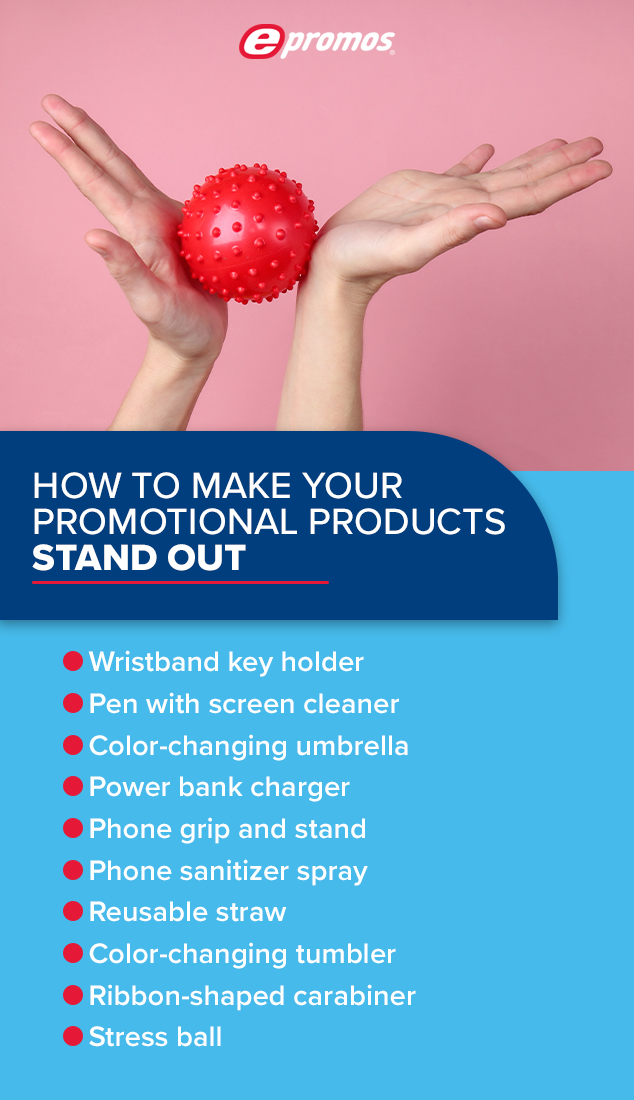 How to Make Your Promotional Products Stand Out
The best way to ensure your Breast Cancer Awareness Month promotional products stand out among other companies' promotional products is to make them unique. Offering promotional items people can't get anywhere else will make your products more valuable and your company more memorable. For example, while countless corporations offer inscribed pens, your company's pen can stand out by doubling as a stylus. Another way to ensure your promotional products stand out is to make them useful. If your promotional item is practical enough that people find themselves using it frequently, they will subconsciously think about your business more often. To encourage interaction with your brand, invest in custom promotional products that solve a simple, everyday problem. Below, you'll discover 10 promotional item ideas that will help keep your brand salient and showcase its uniqueness.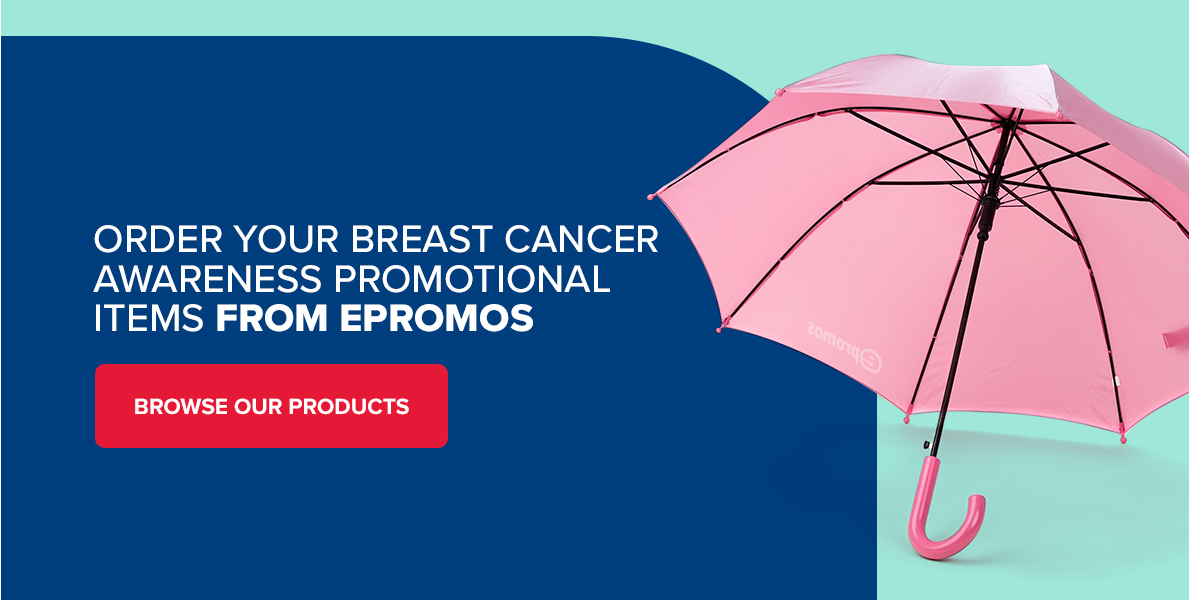 Order Your Breast Cancer Awareness Promotional Items From ePromos
If you're ready to purchase promotional items for Breast Cancer Awareness Month, place your order with ePromos. At ePromos, we offer a 
wide range of breast cancer awareness items
 you can use to promote your business. From pens and t-shirts to tumblers and umbrellas, we have the promo items your company needs to be visible and memorable. To make your mark this Breast Cancer Awareness Month, 
purchase promotional items from ePromos
 or 
contact us
 today.