A Guide to Promoting Breast Cancer Awareness
Participating in National Breast Cancer Awareness Month is a fantastic way for businesses to support breast cancer survivors, engage with their communities and promote breast health. Businesses can raise awareness while deepening connections with employees and clients through promotional products. 
Below, you'll learn how to choose corporate breast cancer promotional items that communicate your brand messaging effectively, what type of promotional items are well-suited for Breast Cancer Awareness Month and where to get your custom promotional products. Keep reading to discover the best promo items for businesses this October.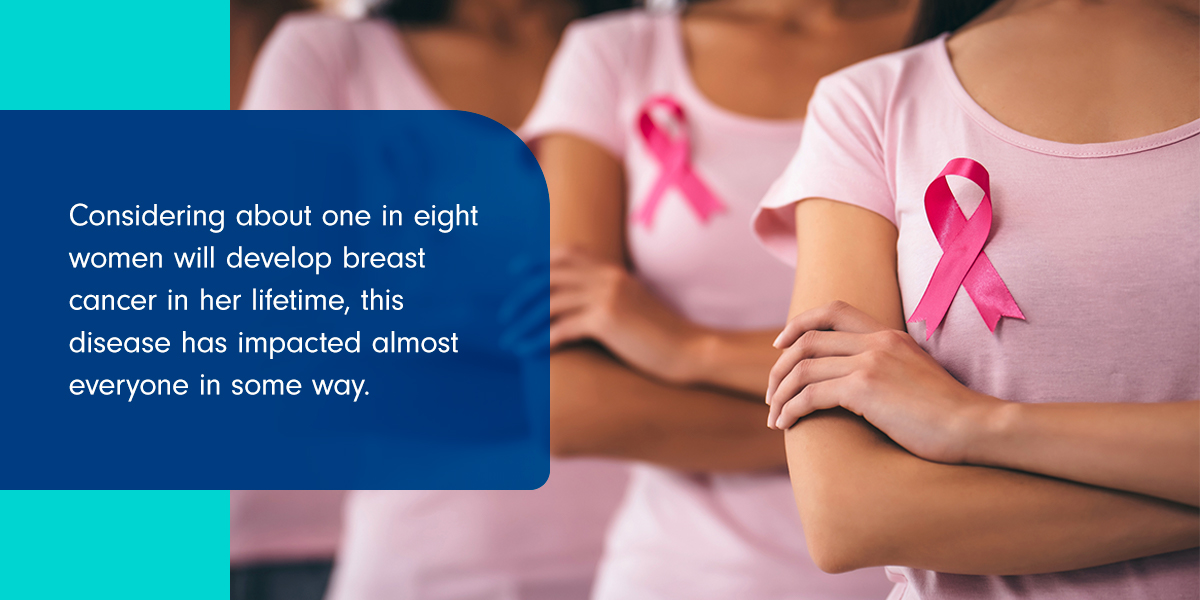 What Is Breast Cancer Awareness Month?
Considering about one in eight women will develop breast cancer in her lifetime, this disease has impacted many people in one way or another. In response, Imperial Chemical Industries Pharmaceuticals and the American Cancer Society declared October as National Breast Cancer Awareness Month. They formed part of AstraZeneca to bring widespread attention to the disease, increase education about preventive measures and raise money for breast cancer research.
Why Should Organizations Promote Breast Cancer Awareness?
Promoting breast cancer awareness helps support those affected by breast cancer, increase funds for research and encourage people to be more knowledgeable about the disease. When your organization supports breast cancer awareness, you contribute to the breast cancer community in a variety of ways: 
Encourage public education: Breast Cancer Awareness Month reminds employees of the importance of cancer education and regular screenings. During this month, your company can hold an event or campaign to teach employees about the symptoms of breast cancer and the prevention steps they can take.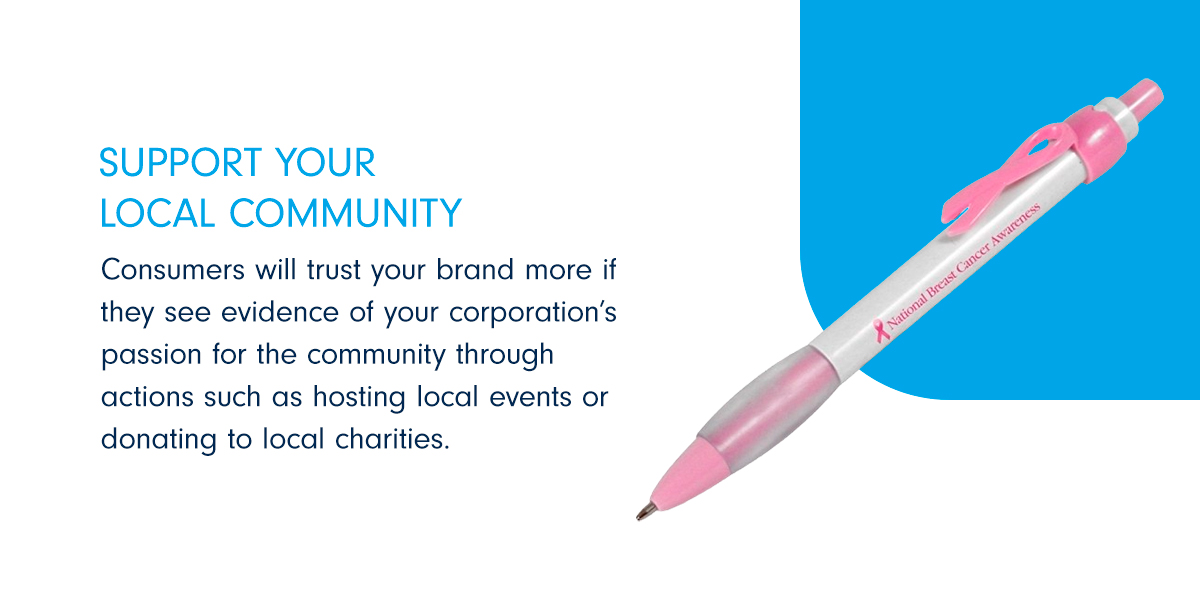 Raise funds for breast cancer research: Breast cancer awareness improves people's understanding of the disease and encourages them to donate money toward research for its cure, cause and treatments. Your organization can raise money through fundraisers and events. 
Remind employees to get tested: Reinforce the importance of regular mammograms. When an employee discovers they have cancer early on and is able to receive treatment, they have a higher chance of survival. 
Support the breast cancer community: Most importantly, recognizing Breast Cancer Awareness Month prompts organizations to support those who have breast cancer and celebrate with survivors. As mentioned before, the biggest goal is for organizations to raise money for research through a variety of events and fundraisers. This can help lower the mortality rate and fund new therapies and treatments for those in the breast cancer community. 
Benefits of Promoting Breast Cancer Awareness Month for Organizations
Marketing around breast cancer awareness has many benefits. Participating in Breast Cancer Awareness Month will allow your corporation to support a worthy cause, help your customers accomplish something fulfilling and build up your community. The alarming rate at which breast cancer cases have occurred in recent years has pushed numerous organizations to raise awareness about the disease via their marketing campaigns, and the results have been promising.
The benefits of marketing for breast cancer awareness include:
Making a difference: The timely recognition of breast cancer is critical for reducing the mortality rate of the disease. In this way, a corporation's marketing strategies can contribute to saving lives.
Supporting public health: Research has shown that investing in marketing communications about breast cancer prevention measures has significantly improved public health. The findings indicate various marketing communication campaigns have helped improve screening use by increasing people's awareness, knowledge and understanding of breast cancer.
Bolstering your reputation: Consumers appreciate the gravity of this responsibility and tend to hold companies that raise awareness for breast cancer in higher regard. Consumers connect more profoundly with breast cancer awareness campaigns than other marketing efforts because most people emotionally relate to the disease.
Appealing to customers: Customers who perceive a brand's messaging to support women's health will engage more with the company's products and develop a more meaningful connection. Many consumers intentionally choose to purchase products from corporations that support women's needs through cause-related marketing strategies, meaning your promotional items need to draw more attention to breast cancer awareness than your company. 
Raising company morale: When your company makes a concerted effort to raise awareness about breast cancer, it sends the message you care about your employees and their families, which won't go unappreciated. 
Making your brand more recognizable: The specific steps you take in breast cancer awareness marketing, such as which promotional items you choose, can reinforce positive brand messages. You want breast cancer awareness to be the star of the show and your business branding to be subtle, such as a small company logo. Doing so will convey your company has its priorities in order.
20 Breast Cancer Awareness Month Promotional Ideas 
If you are brainstorming breast cancer spirit week ideas or looking for promotional products for breast cancer giveaways, there are plenty of items that would make good choices. Ultimately, your breast cancer awareness promotional items should aim to advocate for breast health, champion survivors and empower your employees and customers while promoting your brand. One of the most effective ways to achieve these goals is through informative promotional items. With the right promotional products, you can equip your workforce to be breast-health ambassadors.
Here are 20 breast cancer awareness campaign ideas your company can invest in. 
1. Self-Exam Door Hangers
Pink door hangers with simple breast self-exam steps can provide women with the information they need to monitor their breast health. These educational items can help women recognize the warning signs of breast cancer early and guard their health. This type of item is perfect for breast cancer awareness month because it is educational — helping destigmatize self-exams — and fits the purpose of the promotional campaign.
2. Magnetic Promotional Memo Boards
A dry-erase magnetic promotional memo board can promote breast cancer awareness and serve as a helpful reminder for women to conduct their monthly self-examinations. They can write "monthly breast exam" on their to-do list and stick it on their fridge or somewhere else they'll see it. 
3. Calendars
Remind women to mark a day for a breast cancer screening by giving them promotional pink ribbon calendars. These calendars are a practical idea for promoting breast cancer awareness. Your recipients can use their calendars for multiple purposes, and themed calendars for Breast Cancer Awareness Month make it easy for women to keep track of their self-exams and annual doctor's visits.
4. Apparel
Wearing pink is an excellent way for your company's employees to raise awareness for breast cancer, make a statement and signal solidarity. Apparel in general is a valuable and practical promotional item. Even if you decide to only give away t-shirts, your recipients will likely wear them all the time. Switching your company's usual uniforms to pink apparel for October can also spark informative conversations with customers about the importance of breast cancer awareness and preventive measures. 
5. Pens
Similar to apparel, something as simple as switching to pink ribbon pens can contribute to an ongoing conversation regarding breast health. Pens can help your company promote awareness because they are both compact and affordable. Since promotional pens are so small and easy to store, it makes them easy to give away in bulk. They also offer affordability since you can purchase them in such large quantities.
6. Tote Bags
Most people would agree you can never have too many spare tote bags on hand. Boost your brand's visibility and raise awareness for breast cancer by offering pink ribbon tote bags. Busy moms might particularly appreciate a tote bag with extra side pockets. Your recipients can use tote bags for storage purposes or when shopping, and the pink ribbon design makes it clear that the item relates specifically to the promotional campaign.
7. Stationery
Any woman with a long to-do list will enjoy having extra stationery supplies. Keep breast health and your brand on the top of their minds by offering promotional pink pens and pads of paper. These items make nice gifts because they are so simple — perfect if you're looking for an affordable way to show your company's support that will be appreciated by your recipients.
8. Nail Files
Remind women getting screened for breast cancer is part of their self-care by giving them a pink nail file for at-home manicures or to keep handy in their handbag. These items are both compact and affordable. Nail files are small enough to store away easily before your next giveaway event. You can give them away to a large number of recipients or include them in a grab bag of several promotional materials.
9. Mugs
Those who enjoy sipping a warm beverage as they watch the leaves fall will get great use out of a pink breast cancer awareness mug from your company. These are the ideal promotional products for a campaign because they are so universal. People enjoy promotional mugs for any occasion, and you can always use another high-quality coffee mug.
10. Sweatshirts
While pink T-shirts are always excellent breast cancer awareness promotional items, your audience might especially appreciate receiving a pink sweatshirt for chilly autumn evenings. This item makes a good gift for a promotional campaign held in October because of its seasonality. Since Breast Cancer Awareness Month happens in the fall, sweatshirts and outerwear fit the season. Your recipients will likely appreciate this type of apparel for its lasting and practical value.
11. Wristband Key Holder 
Put breast cancer awareness, your brand and your customers' keys at their fingertips with a wristband key holder. These key holders come in the color pink, making them a good choice for a marketing campaign specifically for breast cancer awareness.
12. Pen With Screen Cleaner 
Put a practical twist on the classic promotional pen with a pink pen that doubles as a screen cleaner. These promotional pens are smaller, affordable items that are ideal for giveaways around the office, and their color theme is a simple acknowledgment of the campaign.
13. Color-Changing Umbrella 
If you're looking for something more unique, an umbrella is an item that everyone needs, and color-changing varieties come with special features like colors that are sensitive to moisture. Everyone will love watching the pink ribbon pattern magically appear on a color-changing umbrella as it gets wet.
14. Power Bank Charger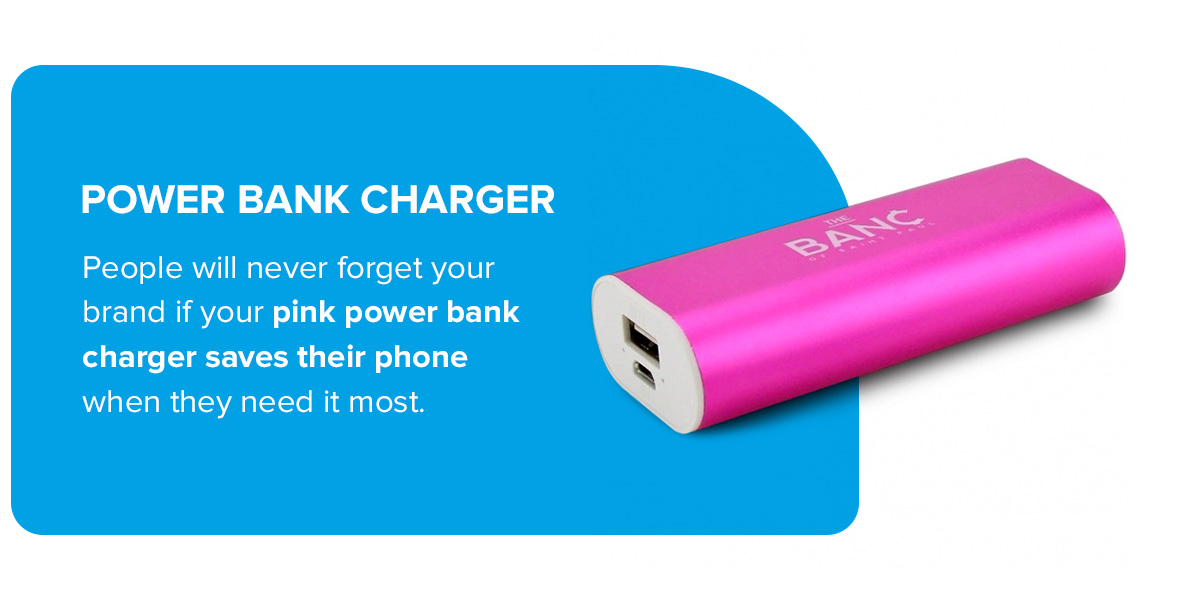 People will never forget your brand if your pink power bank charger saves their phone when they need it most. A themed power bank charger is a good choice if you are in the technology industry, but everyone can always use a new gadget for their phone. 
15. Phone Grip and Stand 
A handy combined phone grip and stand attaches to the back of a customer's phone, constantly reminding them of your brand and breast health. Both fun and practical, a phone stand is a great item for companies focused on electronics or technology.
16. Phone Sanitizer Spray 
Keep with the health theme and provide people with a promotional item they wouldn't think to get for themselves — a phone sanitizer spray. This item allows your company to promote its concern for public health along with Breast Cancer Awareness Month.
17. Reusable Straw 
Capitalize on the reusable straw movement and portray your brand as relevant and eco-friendly by providing reusable straws. If your company is committed to sustainability efforts and tends to market in this direction, giving away reusable straws is a good choice that also fits the breast cancer awareness theme if you order in the color pink.
18. Color-Changing Tumbler 
Inspire customers and employees to change their community as their cup changes by ordering color-changing tumblers for National Breast Cancer Awareness Month. These items have high value, and your recipients will use them all year round.
19. Ribbon-Shaped Carabiner 
Set your carabiner apart from other companies' giveaways by following a unique pink ribbon design. This gift is fitting for companies that specialize in gear, apparel or anything similar.
20. Stress Ball 
Help your customers and employees stay relaxed all day by giving out breast cancer awareness stress balls. Make your brand stand out even more with breast-shaped stress balls. These stress balls are the perfect themed items to show your support.
Event and Activity Ideas for Breast Cancer Awareness Month 
Events and activities are a great way to increase awareness and funds for support services, research and early detection. Caregivers, survivors and people affected by breast cancer often raise money, volunteer and join charity events to support those with cancer. This leads to empowerment for the breast cancer community. 
Breast cancer awareness campaigns have helped health institutions identify an increased number of breast cancer cases and those who need treatment. This has allowed health professionals to treat breast cancer earlier than before, during a stage in which they may likely be able to treat the cancer. For this reason, the promotional event you create can significantly contribute toward this positive change. 
Once you've decided on the customized promotional products you want to purchase for National Breast Cancer Awareness Month, you will need to figure out how you want to distribute them. Because Breast Cancer Awareness Month is all about fostering community and encouraging others, try to host an event where you can rally for breast health and give out your promotional products.
If you don't have the resources to throw a large event, you can set up smaller, weekly events such as a bake sale every Friday in October. Whether the initiative you organize is large or small and intended for customers, employees or both, make sure it is a time where everyone can come together and show support for those affected by breast cancer.
Check out these seven breast cancer awareness-based activities your company can establish during October.
1. Pink Potluck
Organize a company-wide potluck centered on raising breast cancer awareness with pink dishes and desserts. Embrace the pink theme by telling attendees to try to bring dishes that include pink ingredients like beets, rhubarb, watermelon and raspberries.
Hosting a themed potluck is a good opportunity for breast cancer awareness giveaways for your employees. Encourage employees to bring their families and supply fun promotional products for kids, such as spinner stress relievers.
2. Scavenger Hunt
Invite employees, customers and community members to a breast cancer awareness scavenger hunt. For the hunt, hide breast cancer awareness promotional items throughout your corporation's facility for participants to discover. You could hide promotional products like breast cancer awareness stress balls. You could also hide practical items like a magnetic memo board. Let the attendees keep whatever they find and offer a larger prize to the winner.
If you include a fee for doing the scavenger hunt, make sure the proceeds go to a breast cancer charity or foundation. Donating the proceeds from this type of event shows your support to the community and highlights the larger message of your event.
3. Road Race
Hosting a road race is an excellent way to raise awareness for breast cancer. Donate whatever profit from registration fees to a foundation dedicated to fighting breast cancer and make sure the T-shirts you give participants are pink. Since races are popular as community events, you can open your breast cancer awareness race to the public as a bonus for marketing your company.
You can also provide anyone who signs up for the race with a goodie bag containing their race number, T-shirt and other promotional products. This is another opportunity to make your campaign memorable with promotional materials.

4. Ladies' Luncheon
Hold a luncheon for all the hardworking women in your company who balance multiple roles. This event is a special opportunity to show your support for the demographics that are impacted most by breast cancer. Consider inviting a health care professional or nutritionist to give a presentation on healthy habits that can reduce the risk of breast cancer.
You can also incorporate promotional giveaways related to breast cancer awareness into a luncheon. For this type of event, you could provide your employees with pink self-exam door hangers or bundle smaller promotional items together. These can include a phone grip and stand, a pink wristband key holder and pink breast cancer awareness mugs. Make sure every lady takes home a gift bag full of fun promotional products.
5. Pink Wednesdays
Embrace the "On Wednesdays, we wear pink" spirit by inviting all your employees to wear pink on each Wednesday of October. Provide promotional product prizes for those who show off their pink. As a bonus, you could allow those who wear pink to dress casually. For customers, offer a discount to anyone who comes to the store wearing pink on a Wednesday. You may even provide them with a free carabiner with a pink ribbon design to promote Breast Cancer Awareness Month.
6. Social Media Spotlights
If you can't host an in-person event, consider posting content about Breast Cancer Awareness Month on your company's social media accounts. The posts can include personal testimonies, informative breast-health facts or worthy foundations your followers can donate to and feature photos of your promotional products. You could also offer free promotional items, like a pink power bank charger, to followers who comment and share the post on their personal accounts.
7. Virtual Fundraiser
Like a social media spotlight, a virtual fundraiser is an ideal event option if you can't gather a group in person. Host a virtual fundraiser where all the proceeds go to the National Breast Cancer Foundation and participants receive a complimentary breast cancer awareness promotional item from your company.
How to Make Your Promotional Products Stand Out
The best way to ensure your Breast Cancer Awareness Month promotional products stand out among other companies' promotional products is to make them unique. Offering promotional items people can't get anywhere else will make your products more valuable and your company more memorable. For example, while countless corporations offer inscribed pens, your company's pen can stand out by doubling as a stylus. Another way to ensure your promotional products stand out is to make them useful. If your promotional item is practical enough that people find themselves using it frequently, they will subconsciously think about your business more often. To encourage interaction with your brand, invest in custom promotional products that solve a simple, everyday problem.
Below, you'll discover 10 promotional design ideas that will help keep your brand salient and showcase its uniqueness:
Make it simple: Make sure your product has a simple design so that it is appealing to your audience. This will show that you value the quality of your product over simply making a sale. 
Use images: Use the right imagery to convey the purpose of your product rather than using too many words to explain it. This can include a simple illustration of women or a pink ribbon design with a monotone background. 
Make a unique design: Design elements such as font style or the template you use all matter. Your user will value a unique product over one that is generic. 
Add a message: Convey a message about breast cancer awareness to your audience through a thoughtful note. This can remind them of your important message about breast cancer every time they use your item. 
Include your logo: Try to add your logo to all your promotional items, especially if it is an everyday-use product, such as a mug, bag or water bottle. This way, your customers will remember your company's breast cancer awareness efforts whenever they use it. They also indirectly promote breast cancer awareness and your company when they go out with these promotional items.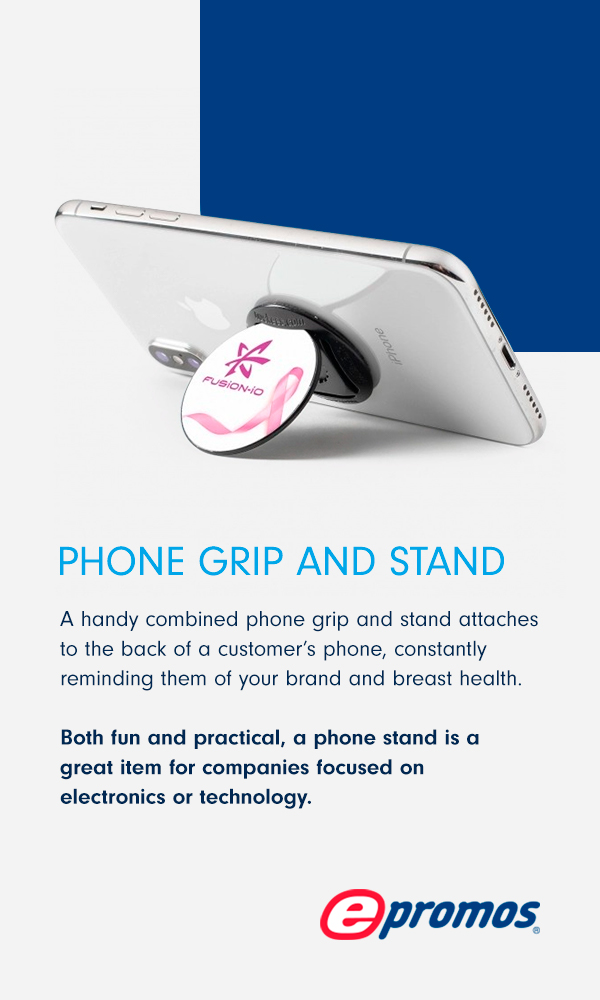 Increase Breast Cancer Awareness Promotional Items From ePromos 
If you're ready to purchase promotional items for Breast Cancer Awareness Month, place your order with ePromos. At ePromos, we offer a wide range of breast cancer awareness items you can use to promote your business. From pens and t-shirts to tumblers and umbrellas, we have the promo items your company needs to be visible and memorable. To make your mark this Breast Cancer Awareness Month, purchase promotional items from ePromos or contact us today.  
Additional Breast Cancer Awareness Resources: