A Guide to Protective Face Masks
In the unprecedented times of COVID-19, we've all gained a new accessory: the face mask. Studies continue to find that wearing a face mask in public is the best way to prevent transmission of the virus; infection rates flattened in both New York and Italy following mandatory requirements of face masks when in public. At the beginning of the COVID-19 pandemic, we weren't sure how effective masks were. Conflicting information said that it helped to prevent transmission and reduce risk, while other sources claimed that it didn't help or could even be detrimental. Now, more than a year into the COVID-19 pandemic, we know that they do help prevent community spread. Masks are still a necessary accessory, especially for offices that are trying to resume in-person operations.
State and federal officials are fighting over mask mandates in a number of states and the CDC has gone back and forth about whether masks to prevent the spread of COVID are required for indoor spaces. But as it stands right now, anyone who is spending extended amounts of time indoors or in close proximity with others — regardless of their vaccination status — should be wearing masks and continuing to social distance wherever possible.
With new variants emerging, it's more important than ever to take all necessary steps to protect yourself and the people around you. Both cloth and disposable masks are effective in preventing the spread of the lambda and delta variants, as well as the alpha variant we've been living with for so long.
Masks may not be mandatory in your area, and over the last year most people have developed a fairly impressive collection of masks. But it's still a good idea to have a supply on hand to help protect employees, clients, and their loved ones at home.
There are two main types of masks available — disposable and reusable. ePromos offers each style. Let's dive into them.

Disposable Face Masks 
There are two styles of disposable face masks — 3-ply masks and N95 masks. Both are commonly used in healthcare settings as part of personal protective equipment, often simply referred to as PPE. N95 masks are used in a variety of other settings, particularly when air quality is an issue, such as when painting or using chemicals that are harmful to breathe in. Some more info on these disposable face masks: 
3-Ply Face Masks
Made from a unique nonwoven fabric, used widely in medical accessories like gowns and bandages, 3-ply face masks are a loose-fitting, rectangular mask that sits over the lower half of the face and loops behind the ears. Why they do not explicitly protect against COVID-19 particles, they can help prevent against bodily fluids containing the virus, like contaminated saliva droplets. 
ePromos offers this disposable mask in two ways: the standard blue that is commonly seen on healthcare workers and a variety of colors that may more closely match your brand standards. 

Reusable Face Masks 
Most reusable face masks are made from fabric that can be washed and dried without changing the shape and fit of the mask. These masks are what you're likely seeing when venturing out, as many people made them at home before they were readily available from vendors. Cotton is one of the most popular materials to use, and it should contain multiple layers — at least two. The mask should fit snugly around your face, covering your mouth and nose fully. They include either an elastic loop to hook around either ear, or fabric ties that go behind your head. While these masks are not as protective as N95 masks, an upside is that they're available in a wide range of colors and patterns, so you can at least have a little fun and show off your personal style with one. ePromos offers a slew of customizable face masks that can be found here. 
Mask Accessories 
One thing we've all found out pretty quickly is that after being worn for extended periods of time, face masks can start to bug you. Thankfully, there are a few accessories that can make wearing them more comfortable. This is crucial for healthcare workers and other essential employees that need to wear masks for long hours for days on end. 
Clips 
Clips are a clever way to save your ears by foregoing having to loop the face mask onto your ears. Instead of looping the mask around your ears, the clip, which is placed behind your head, acts as a stand in for each ear. The elastic face mask loop simply grabs onto the clip instead. Clips are a simple but effective way to ease some of the discomfort of wearing a mask. Here are a few to check out: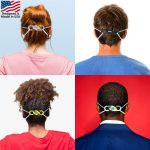 Fasteners 
Fasteners are another unique way to save ear irritation from a face mask. Instead of looping the mask behind your ears, you instead attach it to a fastener that is secured to a headband, hat, bandana, etc. Here is a great customizable option that can hook onto your own headband or hat. Here a few headband options: 
Face Shields 
Face shields are gaining popularity as a way to help protect face masks — meta, we know. They are especially useful to wear over disposable face masks that you may need to wear multiple times due to supply shortage, a predicament that many healthcare workers and other essential business personnel are facing. The face shield can help prevent particles or other contaminants from landing on the mask. It serves as a barrier, helping to keep the mask cleaner for longer so that it can be used multiple times. Here are a few styles from ePromos: 
Ordering Face Masks for Your Business 
ePromos is committed to making ordering face masks for your business a simple and smooth process. You'll need to first determine what style of mask is best for your employees — disposable or reusable. If you are in the healthcare industry, disposable masks are what should be used (including the use of a face shield). You then have the option to leave them blank, or have them customized. Customization is available, and can range from your business logo, name, colors, and any other artwork. Or, consider creating something new to customize your face masks, like an encouraging message or artwork to lift spirits. Get some ideas by seeing how brands have pivoted to join the #millionmaskchallenge. 
We hope this guide to protective face masks has shown the available possibilities you can provide to your staff and customers during these trying times. It's important to remember that  the leading health organizations, like WHO and CDC, recommend that everyone wear a face mask when in public. While they aren't a perfect solution to preventing COVID-19, they are one fairly simple step you can do to help limit your exposure to the virus, as well as help protect those around you when in public.  
Ready to place an order? You can do this online or over the phone — our Brand Consultants will walk you through each step of the process. Reach out today! 
Updated on August 27, 2021 at 9:00 am
Additional Promotional Guide Resources: