Top of the Line Golf Swag Bags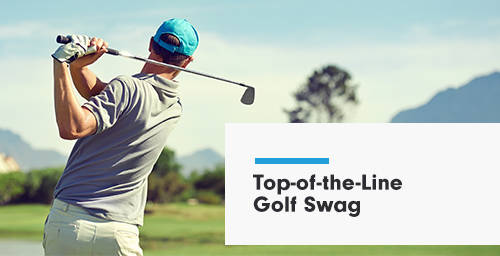 The number one thing on golfers' minds – besides that all elusive hole-in-one – is what kind of golf swag they're going to get at the next golf tournament or trade show! The average golfer remembers where they got their golf swag items long after the tourney wraps up AND they bring their swag to their weekly tee times. That means your business can be in front of dozens of people, dozens of times. But what should you include in your golf swag bag? Read ahead for the best ideas around!
The Best Promotional Golf Apparel for your Swag Bag
No golf attire is complete without the golf shoes, plaid pants, and of course, the golf shirt! The golf shirt is perhaps the most important part of the golf outfit. What makes the golf shirt so special? Exactly what is a golf shirt made of? Is one material better than another? Can one type of golf shirt improve your swing?!
The Golf Shirt – The Ace in the Hole Custom Golf Product
Custom golf shirts are a welcome promo product  . Many sports apparel giants are in the golf shirt game like Nike golf, Adidas golf, Callaway golf, and Under Armour golf. No matter if you are looking to outfit players in men's golf shirts, women's golf shirts, youth golf shirts, or even matching golf shirts – this promotional product is the right choice for your golf swag needs.
The Performance and High-Tech Material Golf Shirt
These golf polos are moisture wicking, flexible, and popular because of their stellar fit and feel. They are made from polyester microfiber and could improve your golf game because of the enormous give they allow in your swing.
Polyester Golf Shirts with Antimicrobial Treatment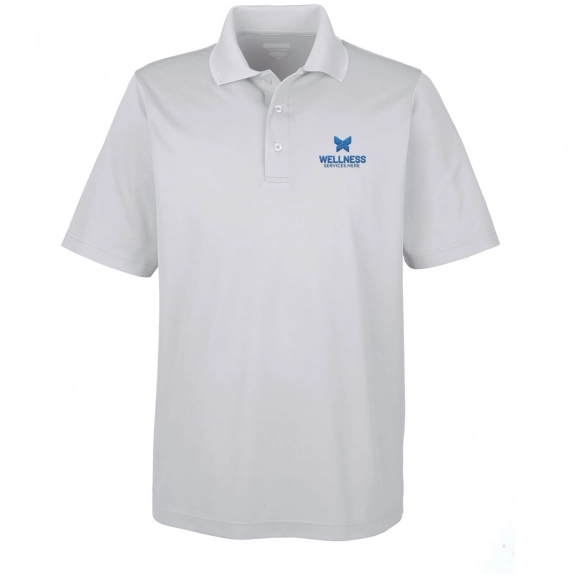 Keep odor and moisture at bay with these golf shirts made of a specially blended material. That hot mid-day sun will not be a factor when your golf shirt is as flexible and adaptable.
Cotton Blend Golf Shirts
These tried-and-true golf shirts have proven to be a golf staple over the years. Golf shirts made from cotton are as fashionable as they are practical. Every golfer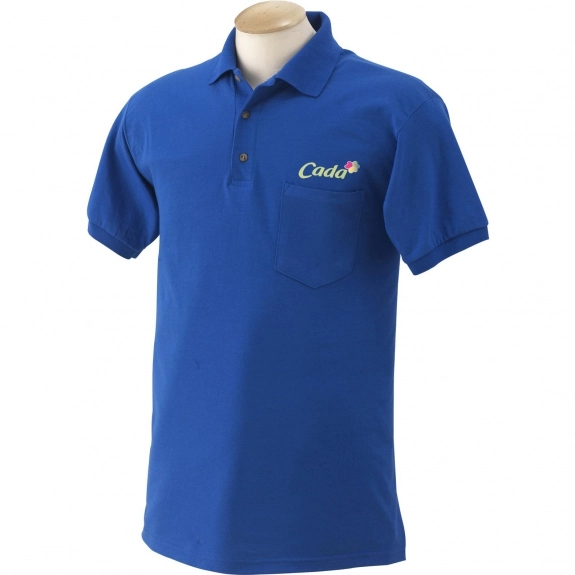 loves to add these shirts to their golf wardrobe.
Golf Hats for your Swag Bags
Hats, visors, caps, or lids – no matter the term you use, don't forget about this golf apparel accessory for your golf giveaways. Hats are necessary golf attire because of the natural elements like sun, wind, and rain that golfers are exposed to.
Custom Embroidered Golf Hats
These unstructured golf hats have a moisture absorbing sweatband that is perfect for days in the hot sun. They also come with an adjustable Velcro strap and a pull ring closure. The perfect hat for the perfect day of golf.
The Unstructured Twill Golf Hat by Nike
The 6-panel design and back buckle closure make this golf hat awesome for protecting even the most avid golfer from the afternoon sun – and they look good too! PLUS, the Nike swoosh is embroidered on the back –with your business logo on the front, this makes for a flawless golf hat.
The Golf Cap
The moisture wicking, and flexible properties of this golf hat make it a standout golf swag bag must-have. Golfers will be proud to don your business logo on the front of this golf cap and appreciate the comfort.
On-the-Course Golf Accessories
Neither rain, nor snow, nor sleet…can keep the golfer off the golf course, right?! Be sure golfers are protected from the elements and prepared for their game with custom golf accessories. These promotional products will be immensely appreciated every time they are used on the course.
Protect Golfers from the Elements with these Promo Products
It takes a lot to get a golfer off the course in the case of a weather event. Help golfers stay safe no matter what the weather is like with these golf products.
Promotional Sunglasses
Protect those precious peepers from the sun while proudly displaying your business logo. There are a huge number of choices in promotional sunglasses like frame style, lens properties, and coolness factor.
Sun Burn Alert Stickers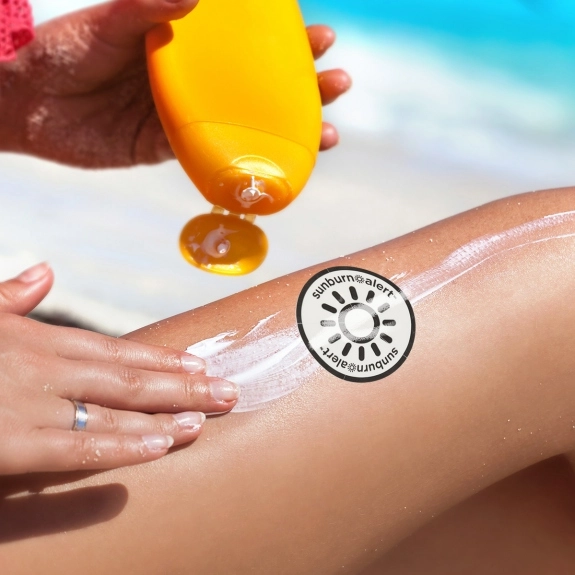 These are the ultimate sun block alert product! Apply these cool sunburn alert stickers directly to the skin and never have to guess again when it's time to reapply sunscreen. Golfers will love keeping their eye on the ball and not having to keep track of sunscreen reapplication times.
Sunscreen/Lip Balm Combo
Keep sensitive lips and skin protected from the sun on those hot summer days on the course with this nice sunscreen/lip balm combo. Each product contains SPF and is simple to clip onto a belt loop or golf bag for easy access.
Bring-Along Bug Spray
Bug spray keeps the bugs away in so many ways – spray-on pen style bug spray, custom silicon wristband bug repellant, or single use wipes. No matter which you choose, golfers will remember where they got the day-saving bug repellant.
Custom Promotional Umbrellas
Many golfers stay on the course even when rain clouds appear. Help those die-hard foursomes play through spring showers by providing umbrellas to keep with their golf gear. Promotional umbrellas come in large sizes to protect multiple people and are convenient to store in a golf bag or golf cart.
Personalized Rain Ponchos
Sometimes an umbrella just doesn't cut it in the rain. Who can drive a ball down the fairway while holding an umbrella?! In these cases, a rain poncho works best. Keep hands free for that perfect putt with promotional rain gear.
Must-Have Golf Gear for the Course
There is golf gear that goes beyond being stylish and offering protection, we are talking about the golf gear necessities. These are items that no golfer can do without and will use every time they golf!
Personalized Golf Balls
Golf balls are essential items in every golf game. Some golfers need buckets of golf balls for each game, while others need a few less than buckets full. No matter if you prefer Titleist, Wilson, or Callaway, promotional golf balls are a favorite golf swag bag item – they even come in unique packaging!
Branded Golf tees
No game is complete without golf tees. The tee is the foundation of the drive and the foundation of the golf swag bag. Tees are compact enough to use at every golf giveaway event and cost efficient enough to hand out by the handful.
Customized Golf Bags
Do you want to really leave an impression on golfers? Give them a customized golf bag! Imagine your business logo brandishing the side of a promotional golf bag as it is carried, pulled, or driven around 18 holes of golf. Your business will be the talk of the course!!
Golf swag for the 19th hole and beyond…
Of Course, no round of golf is complete without the 19th Hole Festivities! Celebrate victories and wallow in oh-so-close results with special golf accessories that are awesome on and off the course. These golf swag items are fun for the serious golfer, the eh-golfer, the even the it's-not-for-me golfer.
Golf Products for the After Party
These golf goodies are meant to keep your cold beverages cold, your body hydrated, and your hectic life right-on-track. Plus, they are prime advertising pieces for your business.
Custom Can Coolers
Custom can coolers are one of the most popular and effective promotional products on the market. They're light enough to bring to any golf giveaway event, like a golf tournament or golf trade show, and they stay in people's hands for ages. Add a golf theme and you have the perfect promotional product!
Promotional Water Bottle
A day of golf can be dehydrating; keep hydration at the top of minds by handing out custom water bottles at your next golf giveaway. These are a necessity because of the concern over health and safety. Show your concern- and your business logo- on these popular promotional items.
Golf Themed Calendar
Life can be hectic; it can be really important to schedule some me-time amongst the many things we must regularly do. Make it easy for people to make their next tee time, kids' activity, or special work event with a golf themed calendar.
Par 3 (Easy, right?) Golf Swag Bags
Love the idea of the golf swag bag as a promotional product, but don't have the time to put it together? Let us do the work for you! We have golf kits made easy-peasy because they're already assembled. Choose from coolers shaped like golf bags or kits that include other golf swag like towels or golf tees!
Golf Themed Promotional Products – The Ultimate Golf Swag Bags
No matter what you choose to include in your golf swag bag, one thing is for sure…your brand will be on the minds of tons of golfers that will notice the incredible looking golf products that are par for the course. Too many choices? No problem! Call one of our promotional product consultants today to talk through your upcoming events and choose just the right golf product for your business. FORE!
Additional Golf Resources