About Movember and Promotional Ideas
Are you considering running a monthly promotion campaign? Promotions can be an affordable way for businesses to market their brand while raising awareness for a good cause. The goal is usually to get employees involved in collecting charitable donations.
Awareness campaigns held in November include No Shave November, Native American and Alaskan Native Heritage Month, National Alzheimer's Disease Awareness Month, and others. Participating in promotional marketing shows you care and encourages your employees to feel excited about coming to work and using their new promotional items.
Learn more about Movember and how you can get your sales team to celebrate this special promotional event.
Movember Meaning
Movember focuses on promoting open conversations about health problems that affect men and people assigned male at birth. The event encourages positive morale and camaraderie among coworkers, and you can order fun merchandise to show your company's support.
"Movember" is a portmanteau combining a diminutive form of the word mustache, "mo," with the month of November. People are encouraged to grow out their mustache or wear mustache merchandise to participate in Movember events.
You can celebrate Movember by:
Keeping a well-groomed mo until December.
Wearing a fake mustache.
Wearing a shirt with an artsy image of a mustache.
Styling your mustache in a new, fun way.
Collecting donations in support of men's health and wellness.
Individuals and companies often get creative with Movember. Some passionate ladies wear black or pink mustaches throughout the month to show their support of the movement. Raising money is one of the most common ways to offer tangible support.
You can raise money for Movember by:
Donating privately to researchers or organizations whose work suits the movement's message.
Holding fundraisers dedicated to Movember.
Buying Movember promotional items.
Offering customers and clients Movember merchandise in exchange for monetary donations.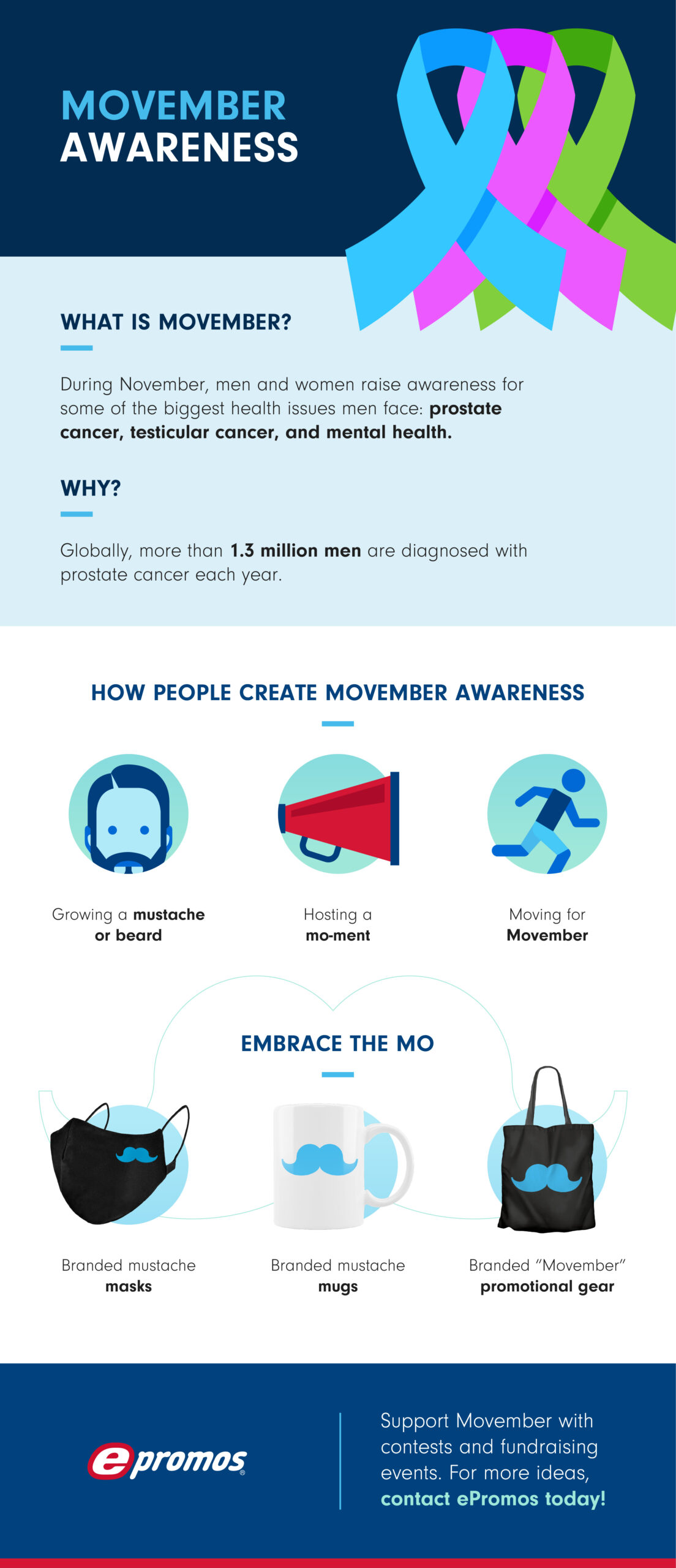 Common Movember Causes
Movember raises awareness about health problems such as prostate cancer and testicular cancer. The campaign also supports mental health by addressing men's high rates of depression and suicide. Wearing coordinated mustache shirts promotes connection and encourages others to think of those diagnosed with life-threatening health problems.
The movement encourages employees to reach out and support each other, but it also aims to garner attention related to cancer detection and suicide prevention. The Movember Foundation encourages people assigned male at birth to be aware of their risk factors and take steps to live a healthy lifestyle with health screenings, honest conversations, and educational materials. The goal is to target problems that lead to preventable deaths, increasing patient awareness and the medical industry's drive to address the statistical data with more effective preventative measures.
Celebrating with a Movember promotional campaign allows for the following:
Raising funds: Vendors collect money from the sales of their promotional Movember items for donation. The money goes to various research programs and health advocacy campaigns.
Normalizing help for mental health: Researchers believe one reason men suffer high rates of suicide is that they may avoid seeking help. This campaign encourages men to seek therapy and medication, and it presents the message men who need help are still productive and independent.
Encouraging routine exams: Patients who know the statistics are more likely to talk to their doctors and seek preventative exams. The subject of testicular and prostate cancer is somewhat taboo in casual conversation, and people can be hesitant to ask medical staff about potential symptoms. Movember encourages society to break the stigma.
Offering support for problems: The campaign brings everyone together to raise awareness for issues men commonly face, focusing on having open discussions about health and wellness and how they relate to these common issues.
Supporting relevant industries: The campaign helps raise money for independent researchers in the medical and psychological industries and gets people interested in donating to large foundations.
Use Corporate Promo Items to Spread Movember Awareness
One way, businesses can get involved in Movember is by investing in merchandise to exchange for donations or to give away to customers or employees as gifts. Getting started can be as simple as requesting employee participation and ordering a set amount of Movember products for the month.
Although Movember focuses on men's health, you can easily make your promotional event inclusive for everyone with the right items. Cause marketing that targets certain demographics is fun for all employees, and almost everyone knows someone affected by mental and physical health issues or harmful societal stigmas.
Movember is similar to October's Breast Cancer Awareness Month, which focuses on women's breast cancer but encourages boys' and mens' sports teams to wear pink Breast Cancer Awareness Month merchandise. Their participation makes an impactful statement, as many of the players' mothers, sisters, aunts, and grandmothers have experienced breast cancer.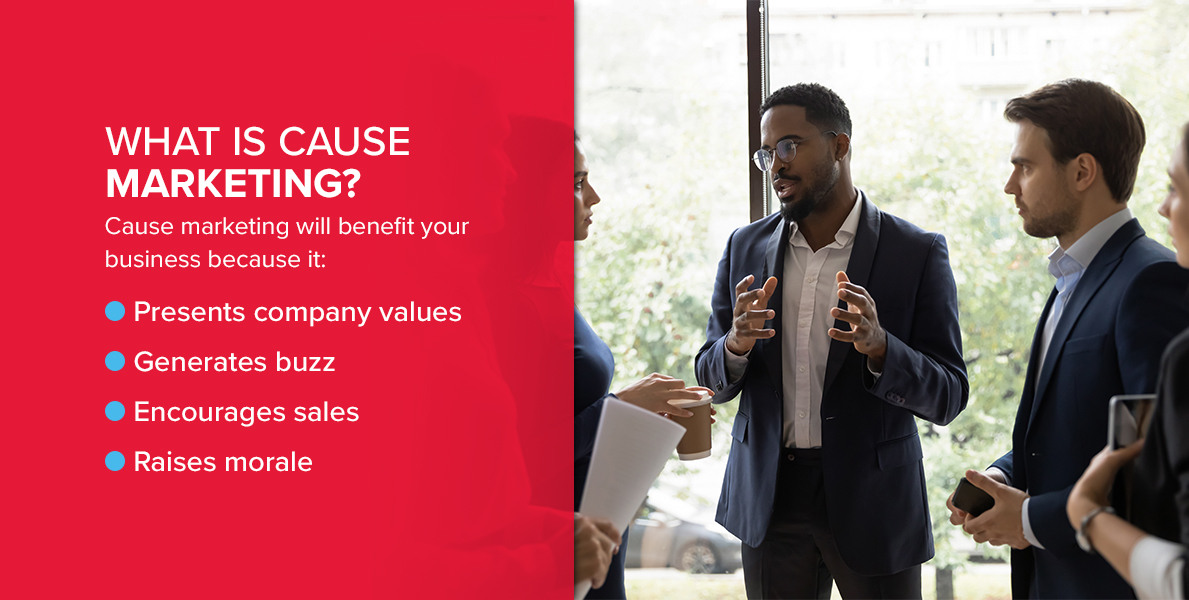 What Is Cause Marketing?
Cause marketing increases support for a business in several ways, possibly leading to an increase in revenue. Spreading promotional campaigns such as No Shave November and Movember works like other marketing strategies to shape positive perceptions and increase customer traffic.
Cause marketing will benefit your business because it:
Presents company values: Fundraisers and awareness events show your company is philanthropic and has commendable core ethics.
Generates buzz: Customers find promotions interesting, like other seasonal events or changes in activities a company makes.
Encourages sales: Customers enjoy getting promotional cause marketing products and making a difference in a fun, simple way.
Raises morale: Employees enjoy participating in special events such as Movember and getting thoughtful awareness gifts from their company.
Ideas for Cause Marketing Events
If you're looking for cause marketing ideas to promote Movember at your business, consider the following:
Have an office party: Office parties give employees something exciting to look forward to and foster stronger relationships between employees and management. A mustache-themed party makes for a fun workplace experience.
Host a competition: Encourage employees to drive up sales or increase their productivity by offering special Movember deals as rewards.
Hold a giveaway: Offer to reward a random employee with a special promotional giveaway. If your reward package includes something thematic, like shaving products, it's best to have at least two options, so the winner can choose which package they most want.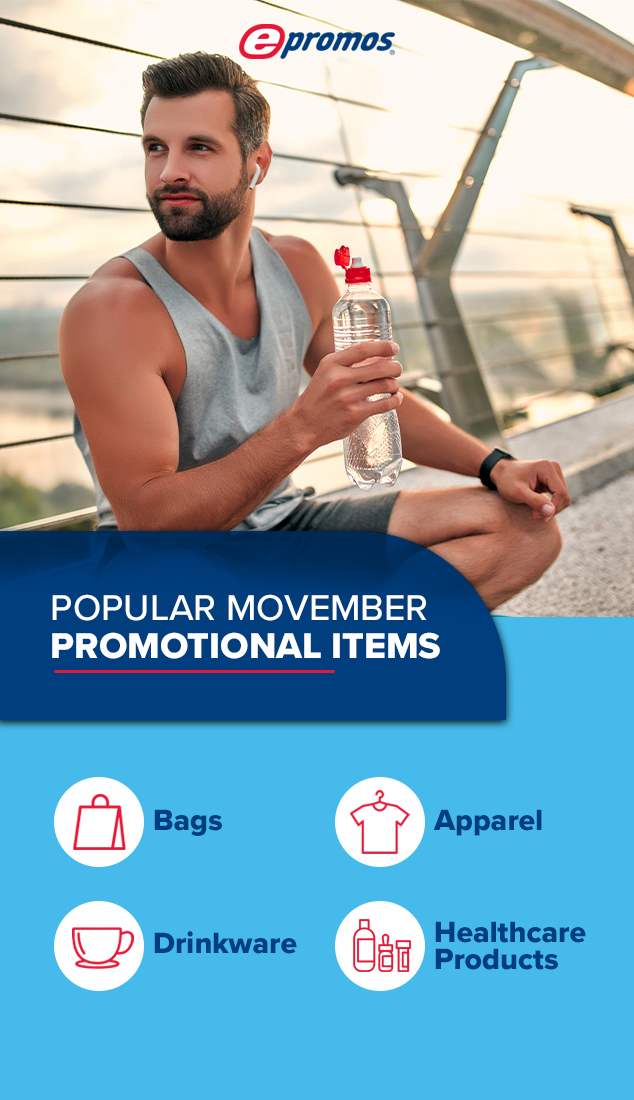 Popular Movember Promotional Items
If you want your company to participate in Movember, the first step is ordering promotional items that work for the movement. Your items can display positive Movember messages, your company logo or both. For workplace competition prizes, you can order neutral, company-branded items employees will enjoy using all year long.
Popular Movember promotional items fall under the following categories:
Bags
Bags are a universal product. They are a good choice when you're buying for a crowd. Unlike clothing, you can order a single size for everyone. Maybe your target audience fits into a niche, or your employees share a common interest that has brought them to work at your business — use Movember bags to express that.
Promotional bags come in many different styles and sizes. Options include:
Backpacks: Book bags and backpacks are great promotional products for educational industries, students, parents, and retail stores with back-to-school supplies.
Drawstring bags: An affordable choice with many practical uses, drawstring bags work well as a promotional item for numerous industries. You can order a selection of colors and fill the bags with smaller promotional products to give away as "care kit" bundles.
Tote bags: The fashion and retail industries can make use of tote bags, as they have a large imprint area to showcase their creativity. Customers can use them while shopping, on vacation or for extra storage in their homes or vehicles.
Duffle bags: If your business has a gym, duffle bags with your company's logo will make a thoughtful gift your staff and customers will love. They are also helpful for storing supplies or as light luggage on a trip.
Laptop bags: These are especially great for the tech industry and office workplaces but are also popular across many industries.
Lunchboxes and coolers: If you're buying for employees, they will appreciate having new lunchboxes to bring to the breakroom. These are also great if your target market is composed of campers, students or clients who play sports.
Apparel
Apparel makes a universal fit for any promotional campaign, even one as specialized as Movember. Order promotional apparel for your business that reflects your company's unique style and shares a positive message.
Options include:
T-shirts: You can find themed t-shirts at venues, amusement parks and special events. Movember tees are often sold for this event specifically. T-shirts are one of the most common promotional products available, and casual Movember shirts can help employees feel even more connected.
Polos: If t-shirts don't fit your company dress code, polos offer a more professional appeal while still being comfortable to wear.
Sweatshirts & hoodies: Since November is a cool month, you might want to invest in some warmer apparel. Sweatshirts and hoodies are good ideas for employee gifts, whether your workplace is formal or casual, since they can put on warm hoodies for their commute home.
Outerwear: Promotional outerwear comes in a variety of styles, and some employees may prefer a light jacket over a sweater.
Accessories: Maybe you have jewelry, baseball caps or other products in mind? These are also viable options.
Drinkware
Another valuable product for promoting Movember is drinkware. People generally store their tumblers and bottles in plain sight, making drinkware valuable as promotional gifts.
Examples are listed below:
Water bottles: Your customers and employees will take a reusable water bottle everywhere, with or without a logo. This makes it a good choice to use as advertising for Movember and your company — it could also cut down on plastic waste around the office.
Tumblers and travel mugs: These are similar to reusable water bottles in value, and they're appealing products because they give people access to hot drinks on the go.
Coffee mugs: Your recipients will use promotional coffee mugs regularly. Mugs are common for morning coffee, and the logo or design will remind the user of your business and the Movember campaign.
Healthcare Products
Want to give out personal care packages for Movember with shaving tools and other hygiene products? You can make the bundles special with some promotional healthcare products. Including healthcare products fits the Movember theme while also advertising your business.
Below are some options:
Antibacterial items: A travel-sized bottle of hand sanitizer goes a long way and is useful for all industries.
Masks: Employees who work in the medical industry or with the public go through many face masks, so it's always nice to have more.
Antimicrobial items: You can stock a variety of antimicrobial products such as mousepads, water bottles and pens, to keep around the workplace.
First-aid kits: Giving out first-aid kits would make a suitable addition to a Movember care kit or in a drawstring bag bundle.
Stress balls: Stress balls are simple and small, making them perfect additions to a larger care kit. They can even promote the mental health awareness aspect of Movember.
Pedometers: Step counters promote healthy lifestyle changes, making them fit perfectly with Movember's message of living a healthier life.
Hot and cold packs: Your recipients can use hot and cold packs the next time they get sore muscles from a challenging workout or when feeling under the weather.
Skincare items: Skincare items include lip balm and lotion, which are useful for combating dry skin common in November.
How to Place an Order
Once you've chosen the perfect Movember promotional items, follow the steps below:
Create a budget and select the products that work best for your plans.
Determine the number of products you need. Will you give them out throughout November, or are they for a one-time-only giveaway? Ordering in bulk will result in a more affordable overall cost, so ordering extras would be reasonable if you plan to give the items to clients or customers.
Decide on the art style and a printing option for your products. Depending on the items, you can get single or full-color artwork done. If you're ordering apparel, embroidery is a great option. Contact your provider about the options available to you based on the items you want to order.
Once you have double-checked your budget and crunched the numbers, place your order.
Order Promotional Products From ePromos This Movember
Movember is one of many awareness campaigns that bring people together around a good cause. You can help the movement by holding a giveaway or special event to raise money for charity, all while promoting your business.
Have ideas for a Movember-themed cause marketing campaign? Order promotional products from the online ePromos store, and we can personalize them based on your brand's unique vision. Contact us to learn more about a specific order type or browse our collection for more products that fit a men's health theme.
Follow ePromos on Facebook, Instagram, Twitter, LinkedIn and Pinterest to keep up with the latest promotional marketing trends.